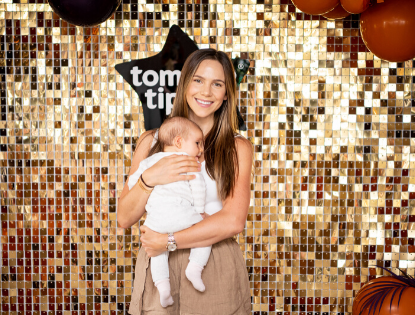 Tommee Tippee has launched their new 'Made for Me' breastfeeding range featuring three brand new additions alongside newly improved favourites. Created with the different needs of mums in mind helping to provide support for mums at every stage of their nursing journey.
As Tommee Tippee – a global leader in baby products – knows no two mums are the same, so the 'Made for Me' range has been developed and tested with real women in mind. The range includes five different products, tailored to support mums whatever feeding style they choose.
New mum of two, Alex Pendlebury has partnered with Tommee Tippee to help spread awareness of the products she uses. She says; "Caring for a newborn while also looking after a toddler is a totally different experience to the first! Like for all parents, it's a bit of juggling act to make sure I'm doing the best for Darcy and Jax, getting everything done and also trying looking after myself too.
"I believe that all women should be given the freedom to work out their own path when it comes to nursing and parenting. As a society I think we would all benefit from being kinder to each other as well as ourselves. There are so many factors to consider when it comes to being a parent these days that any added pressure from outside is really not necessary.
"For me, any support or tools that can ease the pressures of being a new mum are more than welcome and Tommee Tippee's new Made for Me range of breast pumps and accessories supports all types of nursing for all types of mothers. For me the new pumps and storage bags are great to be able to pump and store breast milk for when I have work or a wedding etc. The silicone pump is a winner for when I'm feeding to catch any excess milk on the other side, you would be surprised how much you collect! The organic nipple cream is a favourite too and can even double as a lip balm!
"I urge all of us to support and celebrate each other. Let's put the focus on how amazing it is to be a 'mum', how great we all are at it - and at all of the other roles we manage too!!"
The range includes three different breast pump options: electric, manual and new silicone, offering the flexibility to express wherever and whenever they please, as well as steriliser bags and nipple cream.
The Single Electric Breast Pump is an exciting redesign of the previous pump. The new version is not only smaller (fitting perfectly in a handbag) but significantly quieter allowing for discreet pumping on the go. Mums can also choose from five massage and nine express settings that can stimulate milk flow in a way that's most comfortable for them.
The Manual Breast Pump has been redesigned with the understanding that manual pumping can be exhausting. With a narrow neck and curved handle, it requires less pumping power, so it won't tire mums' hands out, leaving more time for herself or even older siblings!
The third and newest edition to the Tommee Tippee range is the Silicone Breast Pump. Made from 100% food grade silicone, its design is truly transportable, gentle and completely quiet. It can be used in tandem with other breast pumps to catch milk (no more crying over spilt milk!) and has two sets of measurements (ml/fl oz) to help monitor milk flow.
The range also includes Travel & Microwave Steriliser Bags for on-the-go sterilisation of the manual breast pump, the silicone breast pump, bottles and soothers.
Each product is BPA/BPS free meaning they are safe for baby and mum.
The range sees the introduction of a Tommee Tippee Nipple Cream. Made from 100% natural ingredients (avocado oil, beeswax and shea butter) this handy little partner aims to soothe and protect from chapped and dry nipples.
Vanessa Gonzalez, Tommee Tippee Marketing Manager, said: "Becoming a new mum is an amazing time in any woman's life but it can also be seriously overwhelming. When getting to grips with feeding a newborn it's so important that mum is able to make her comfort a priority as well as her child's.
"At a time when all focus is on baby, we wanted to create a range that put mum at the center and encourages a little bit of self-care.
"Our goal is to support mums through the many unique experiences of her breastfeeding journey. Breastfeeding is an extraordinary effort and commitment by mum which should be celebrated. That's why the 'Made for Me' range was developed specifically with mums in mind because we understand that each one is truly one of a kind."
The 'Made for Me' range is available to purchase at Baby Bunting now.
For more information visit the Tommee Tippee website: www.tommeetippee.com.au.