CHOICE, together with The Parenthood and Kidsafe QLD, are calling on the Federal Government to implement stricter safety standards on the sale of products that contain button batteries. The reason behind the call is due to the death of two young girls from button battery related injuries and an estimated of 20 hospitalisation each week nationwide after children swaller ow insert button batteries.[1]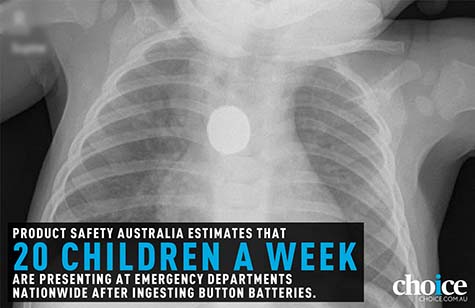 "Button batteries are powerful, slim and light but they can also be lethal. It vital that the Federal Government acts to reduce the number of children ending up in emergency departments across the country having swallowed a button battery," says CHOICE Head of Media Tom Godfrey.

"We are calling on the Federal Government to tighten the law around the sale of button batteries to ensure they are screwed in place and sold in child resistant packaging in a bid to arrest the alarming number of hospitalisations. At the moment only toys designed for children under three years of age are required by law to have secure battery compartments,[2] which means that other everyday household items have no mandatory safety standards. A quick scan of your home will find poorly secured button batteries in everything from bathroom scales and calculators to remote controls, musical greeting cards, games and toys," Mr Godfrey says.
Button batteries, if not handled properly, can cause chemical burns when ingested. Further, when stuck in body tissue, this can be fatal even when a consumer believes the battery to be flat.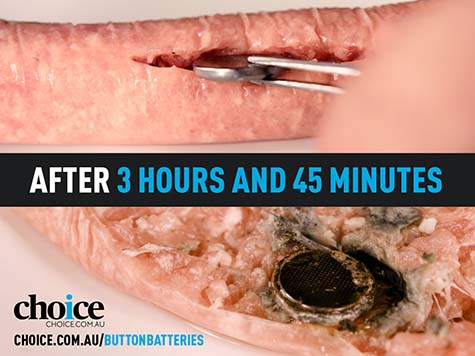 "One of the problems with these batteries is that they can be swallowed easily without getting stuck or causing the child to cough, so unless someone sees it happen, parents or carers will be none the wiser. The symptoms are also varied, ranging from feeling slightly ill to having a mild cough. To make matters worse, children are often reluctant to tell anyone if they've swallowed something they weren't supposed to. With button batteries being used in a growing number of products, it's time to make products with button batteries child resistant," Mr Godfrey explained.
Safety tips:
Prevent any injuries by keeping all disc battery operated devices out of sight and out of reach of children.
Ensure that the battery compartment of devices using disc batteries are secure.
Dispose used button batteries immediately.
Immediately call the Poisons Information Centre at 13 11 26 or bring your child to the emergency room if you suspect that he/she swallowed a button battery. Do not let your child eat or drink, nor should you induce vomiting.
Tell others about the risk associated with button batteries, and how to keep their children safe.
For more on CHOICE's button batteries campaign, please visit: choice.com.au/buttonbatteries
[1] http://www.productsafety.gov.au/content/index.phtml/tag/batterycontrolled
[2] https://www.productsafety.gov.au/content/index.phtml/itemId/974860