Fans of Entertainment One's (eOne) hit preschool show Peppa Pig will be delighted with this new range of Peppa Pig play sets from Big Balloon. Designed to encourage imaginative play, the sets feature favourite characters from the show with an interactive play environment. These include a kitchen playset, slide & swing sets and Miss Rabbit's train & carriage.
Peppa fans can play with the individual sets and characters, or build a whole Peppa Pig world and interact between the sets for endless hours of role-play fun.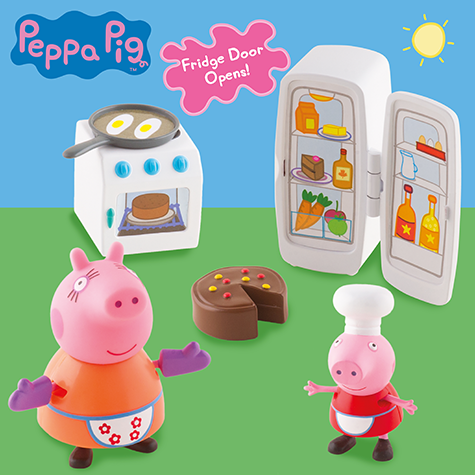 Kitchen Playset – RRP: $21.99
Make up your own cooking stories! Includes articulated Mummy Pig figure with her oven gloves on and Peppa Pig in her cooking outfit. Open up the fridge and see all the lovely food inside. Includes a cooker and pan, plus a yummy chocolate cake! For ages 3 years and over. Styles may vary.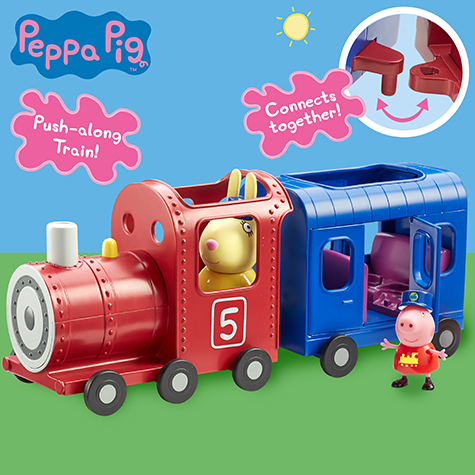 Miss Rabbit's Train & Carriage – RRP: $34.99
Take Miss Rabbit and Peppa articulated figures for a ride on this free-wheeling train. The carriage attaches to the train and you can open up the doors to put the passengers inside! Cute and chunky design for little hands.
For ages 3 years and over. Styles may vary.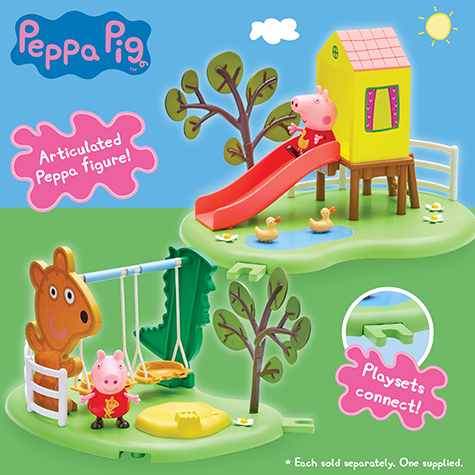 Outdoor Fun Playsets – Slide & Swing sets – RRP: $21.99 each
Have fun with these cute Peppa Pig Outdoor Fun Playsets. Push Peppa down the slide or on the swing. Playsets connect together so collect them all! Each set includes one articulated figure. For ages 3 years and over. Styles Vary. One supplied.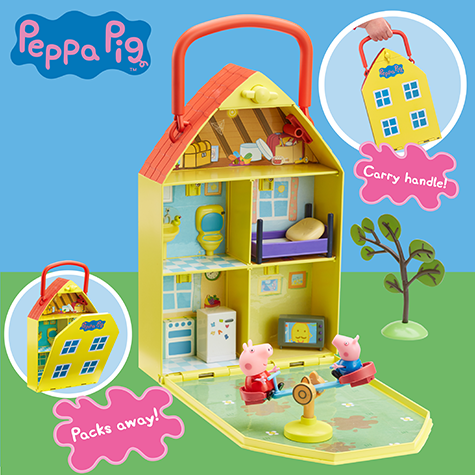 House & Garden Playset – RRP: $44.95
Open up Peppa's House to reveal lots of rooms and a garden area! There's lots of furniture, two articulated Peppa and George figures, plus a see-saw and tree for outdoor fun! Make up lots of Peppa Pig stories, push Peppa & George on the see-saw, then pack up and carry away with the carry handle. For ages 3 years and over. Styles may vary.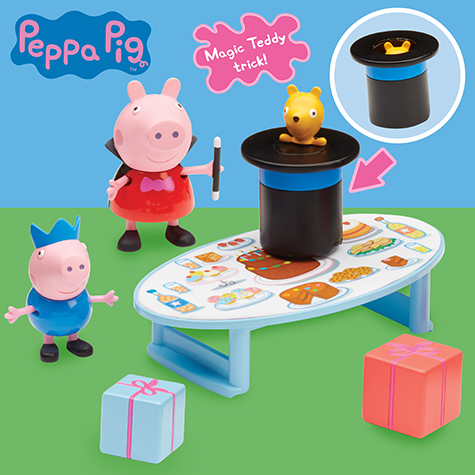 Magic Party Playset – RRP: $21.99
Make up your own magic tricks with this Peppa Pig playset. Includes Peppa and George articulated figures in their magician outfits. Hide Teddy down in the hat and then press on the table to reveal… hey presto! Also includes a party table and 2 presents. For ages 3 years and over.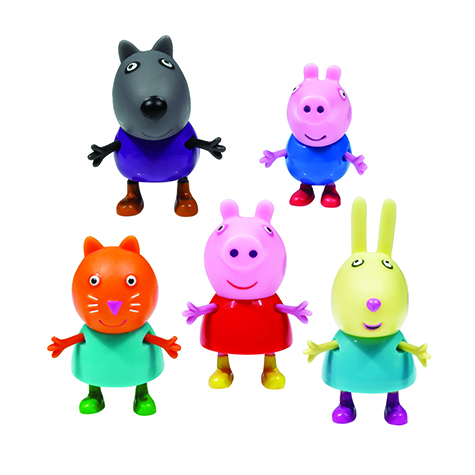 Five Figure Pack - RRP: $21.99
All your favourite Peppa Pig characters are featured in this fun five-pack. Create your own Peppa Pig stories with Peppa Pig and all her friends. There's George, Rebecca, Suzie, Zoe, and of course Peppa herself! An ideal gift for kids aged 3 years and over.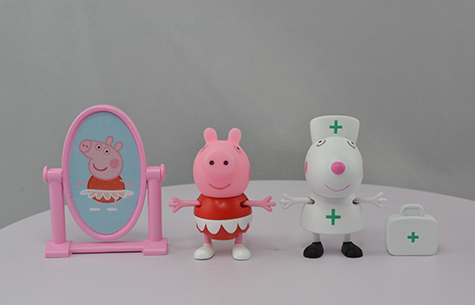 Two Figure Pack with Accessories – RRP: $11.99
Make up your own Peppa Pig stories with these cute figure and accessory packs. Each pack contains two articulated fun figures with two themed accessories. Collect Peppa and her friends! The figures and accessories are scaled for play with other Little Characters vehicles and playsets. There are lots to collect! One pack supplied. Styles may vary.
The new range of Peppa Pig toys will be available from September 2016 at Target, Big W, Myer, Toys R Us, Kmart and Toyworld stores.
Go to www.peppapig.com for more information.