The cold months can be very harsh on the skin. By the time spring rolls around, it may be looking dull, dry and irritated. Thankfully, an Australian skincare brand has the answer with a combination of three of its clinically proven products.
zk'in Line Smoothing Serum (RRP ($59.95) is the only Australian certified organic product with clinically proven active ingredients that work within 24 hours to reduce the signs of crow's feet and wrinkles. It is nature's answer to injectables, with proven wrinkle minimising actives that have instant results. It features Paracress extract which works similarly to well-known injectables but is completely safe, non-toxic and pain free. The vegan suitable serum is gel-based and can be used on all skin types.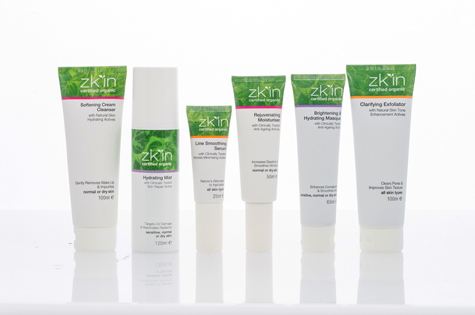 Once lines have been smoothed, the skin is energised and revitalised with zk'in's organic Clarifying Exfoliator (RRP $39.95). The orange and coffee scrub clears out pores, removes dead skin cells and brightens skin for the party season. Soothing aloe vera means the exfoliator calms skin while it cleans. The product has zero microplastics to keep waterways clean and aquatic life out of danger. With 95% certified organic ingredients and superfood actives such as oat kernel flour, coffee seed, aloe vera and red mandarin oil, this scrub is toxin free for the ultimate detox. The product can be used once or twice weekly, depending on skin type.
Finally, the zk'in Brightening & Hydrating Masque (RRP $39.95), made with divine cocoa, will brighten dull and tired skin for summer. With clinically proven brown seaweed extract and the antioxidant nature of cocoa, this masque gives skin an instant lift. Clinical active Maritech® Reverse impedes skin breakdown while preserving natural collagen to enhance overall skin appearance, smooth wrinkles and improve skin elasticity.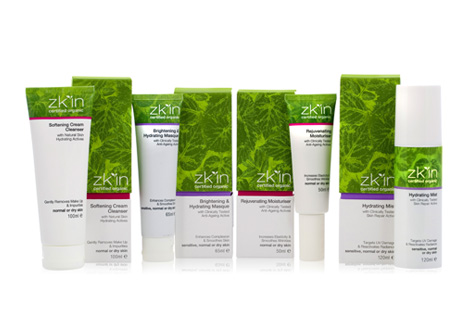 The masque can be applied 1-2 times a week following exfoliation. After ten minutes, simply remove the masque with a wet cloth.
"The z in the zk'in name represents zero tolerance to anything less than the best," says Karen Varker, General Manager for zk'in. "We demand organic ingredients that are toxin-free and non-irritant but that also deliver results, from clinically proven superfood ingredients through to a unique, all-natural preservative system. zk'in products are ACO COSMOS approved. COSMOS is the highest international standard for the organic skincare industry. In fact, zk'in was one of the first manufacturers in the world to achieve this certification. It takes into account ingredients and product formulation as well as packaging to ensure the brand is eco-friendly and safeguarding the health of the planet as well as consumers," says Karen.
zk'in zero tolerance policy is broken down into the following areas:
Zero tolerance to unnatural ingredients – these include petrochemicals which most organic beauty standards allow for. It also includes parabens, sulphates, GMO ingredients and nano particles.
Zero tolerance to unsustainability – all zk'in products are free from BPA and the brand only uses recyclable PET, PP and PE packaging. All outer packaging is made from board created from sustainable forests. The brand strives to be carbon neutral and its waste management practices have achieved 95% diversion from landfill with all organic waste collected for energy creation.
Zero tolerance to animal cruelty – zk'in passionately supports the 'end cruel cosmetics' bill to ban animal testing in the cosmetic industry. The entire zk'in range is also proudly vegan.
For more information and to purchase products visit www.zkinorganics.com.au.