More and more people are taking up crochet as a hobby. There are groups popping up of Facebook and writers that exclusively blog about it, and no wonder. For just a few dollars, you can whip up something beautiful and unique- plus it's a great stress reliever. If you're in the process of learning how to crochet, and you want to choose a first project, this article is a great place to get ideas and find free patterns you can use. Most of these patterns are suitable for all. Need more convincing? Here are free crochet projects that will make you feel like a pro.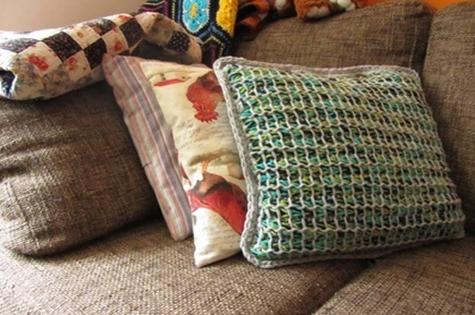 Tunisian Style Pillow Cover - Have you always wanted to learn how to Tunisian stitch? It certainly makes some lovely patterns, like this Tunisian Style Pillow Cover. This crochet pillow pattern has a unique design that you can achieve using super bulky yarn. You'll love this unique, free crochet pattern for throw pillows. Liven up your living room with Tunisian style crochet.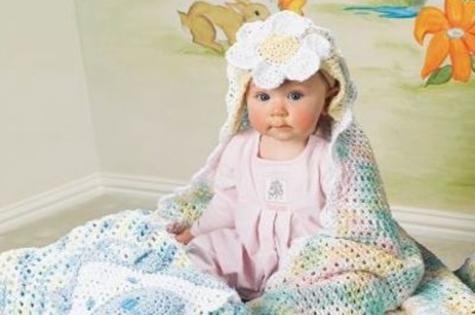 Cozy Hooded Baby Blanket - It's time to discover why everyone is falling love with Cozy Hooded Baby Blanket Crochet Pattern. Baby blanket crochet patterns are fun to make when the recipient is a special someone like a new mommy and their baby. Make a Cozy Hooded Baby Blanket Crochet Pattern for your favorite little one.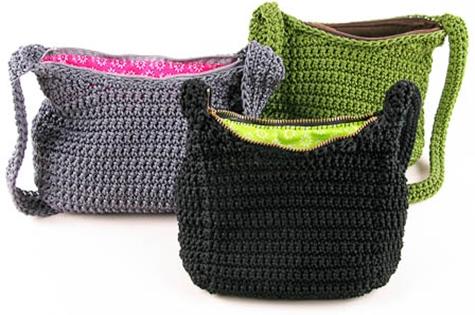 Grab N Go Crochet Bag - It's always fun going out, whether it be to the park, beach or shops. So going out is fun, but what makes any journey beyond the gates of your house ten times better is if you don't have a thick handbag strap burying down into your shoulder bone! The Grab N Go Bag is your perfect go-to bag for everyday use. This crocheted bag will keep all of your belongings safe and sound. Plus, the classic design of this free crochet pattern is quick and easy to crochet.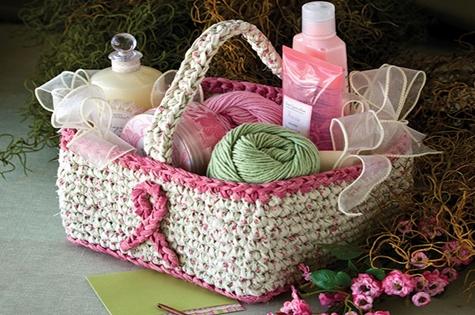 Crochet Gift Basket - Make a fabulous Crochet Gift Basket for just about any occasion. Using the single and double crochet stitch you can make this free crochet basket pattern in no time. Decorate it with flowers or embellishments of your choice. Once the basket is ready you can fill it with all kinds of goodies.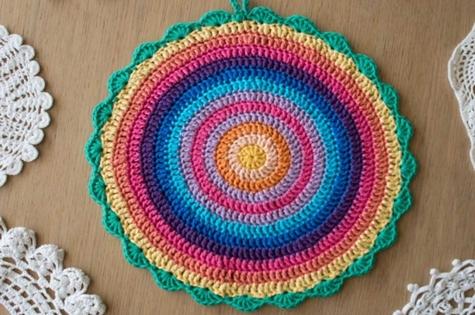 Little Spring Mandala - Mandalas are hot right now – big, small, or used as the basis for a whole pattern, these circular crochet patterns are fun to make! No longer used only as a religious symbol, they can still be meditative to make and admire. Little Spring Mandala on Crochet, beautiful colors interesting rounds make this one a popular project.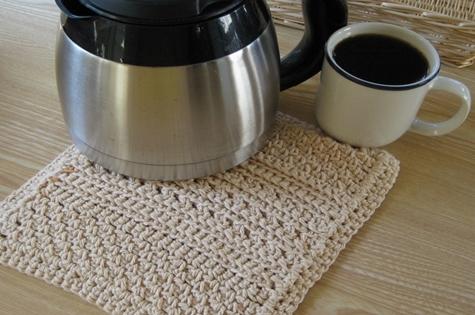 Big Girl Pot Holder - One of the most popular ways to decorate your kitchen is by making pot holders. You don't even necessarily have to use them. Just having a pot holder with a picture or theme that meshes well with your kitchen décor is easy enough to do with the many crochet pot holder patterns available.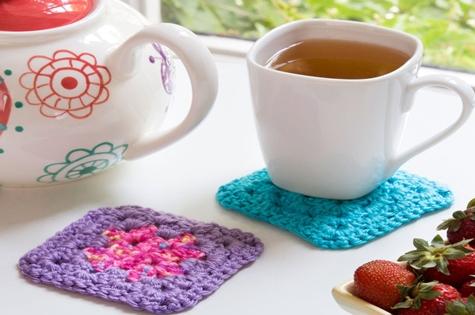 Single Square Coasters - Begin your granny-making adventure by making grannies to use as coasters. Use a multi yarn for color interest or use assorted, solid colors in line with your décor.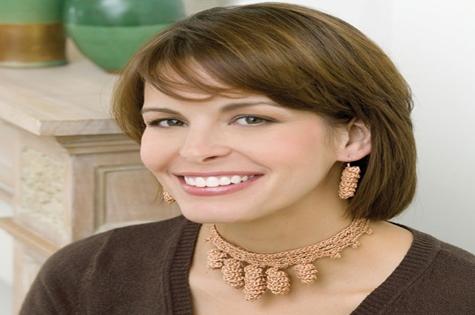 Curlicue Necklace & Earrings - These curlicues are perfect for decking out in any casual or fancy outfit.These will be perfect and lovely for weddings and casual birthdays if crocheted up in white, pink, red or any colors that you want to use.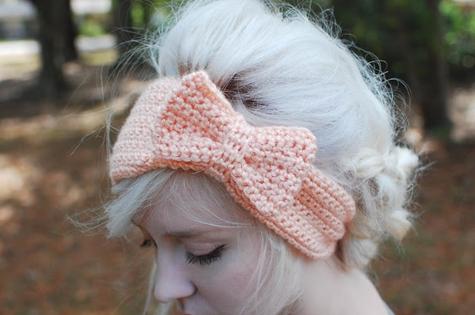 Crochet Bow Headband - Crochet bows are a must have for your hair accessories. Crochet headband patterns are great to have on-hand as they usually work up quickly. They also make great gifts or stocking stuffers around the holidays. Let's dive into these cute crochet designs no matter what time of year it is, because free crochet headbands are great.
Lacy & Lovely Crochet Scarf - If you don't have a lovely scarf crochet in your wardrobe, you are missing out on one of the most fun and versatile accessories ever invented. You'll be amazed at how easily the scarf comes together.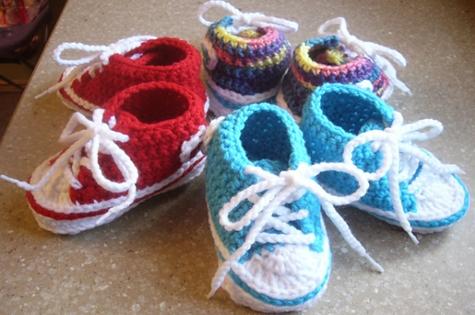 Crochet Baby Converse Booties - Stylish and comfortable crochet baby Converse booties for the Converse fans. These booties are little projects that can be finished quickly and without the need of too much yarn, making them a great option for last minute baby shower presents, you can even finish more than one pair in a day.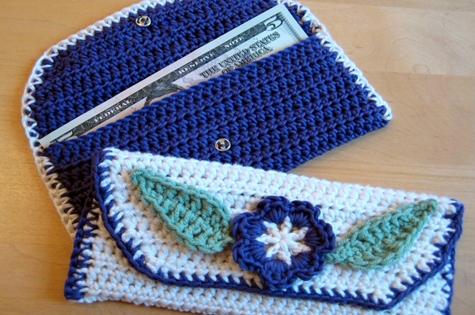 Dollar Size Purses - This is a quick, fun pattern to make a gift for a loved one. You can easily adjust the size of the purse to match your local currency if you so desire.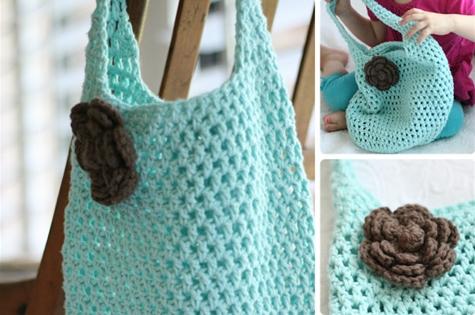 Mini Market Tote Crochet - Need a quick gift for a little girl in your life? This free market tote crochet pattern might be the perfect thing! Whip one up in a couple hours while spending time with your family, add a flower or other embellishment, and you're good to go.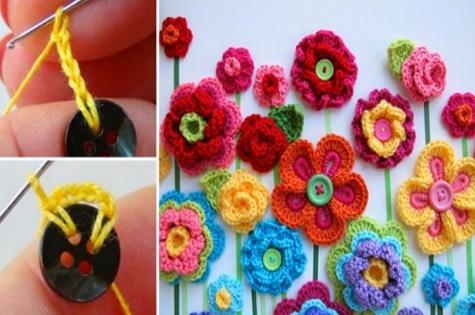 Crochet Button Flowers - Button Flowers are so very cute. They used real buttons in the middle of the flower. It gives is an artistic homemade appearance which we find very appealing. These easy crochet flower buttons which transform just a few basic bits and pieces into the kinds of gorgeous goodies you won't believe you have made yourself.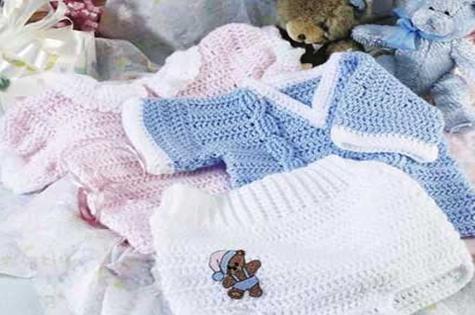 Mix-and-Match Crochet Sweater - Finding cute crochet sweater patterns for baby girls is easy – there are hundreds to choose from. But finding crochet patterns for baby boys, or even unisex patterns, can be more of a challenge. Check it out these Mix-and-Match Crochet Sweater and these will be the perfect baby sweater you will consider to make.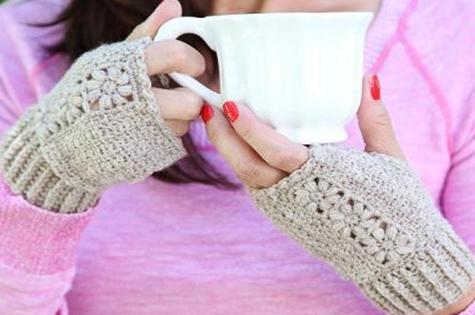 Fancy Lady Fingerless Gloves - Crochet fingerless gloves are one of the most practical winter accessories. Designed to keep your fingers free, you can still do things like text on your phone or work with your hands without all that bulky fabric hindering you. These Fancy Lady Fingerless Gloves are an amazing example of this type of glove.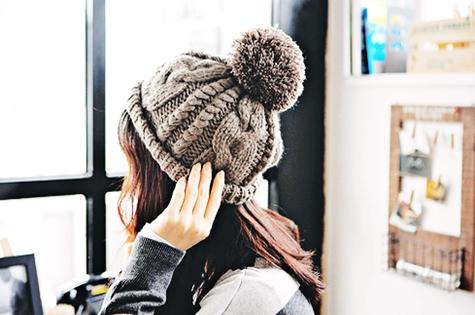 Slouchy Crochet Hat - Want to crochet a slouchy beret, slouchy beanie or other slouchy, relaxed hat? Check out these free patterns, and help yourself to any that you think you might like to make for yourself or a friend. This super simple slouch hat is perfect for beginners looking to play with some basic shaping and textures.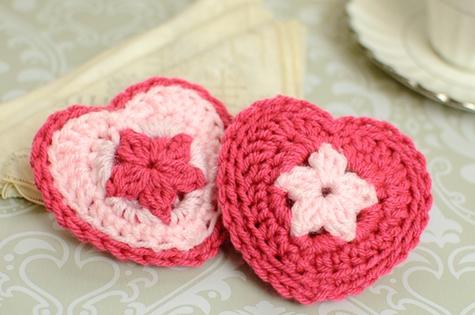 Crochet Heart Sachet - They are very simple and work up quickly. Just fill them with your favorite potpourri or dab with some lavender essential oils or any other scent you love.