Leading US allergen-free brand, Enjoy Life Foods, is set to change snacking for Australians with food allergies, when later this month it brings out its new range, free from seven major food allergens.
A US leader in the 'free from' category, Enjoy Life Foods is launching in Australia with two of its signature products – Crunchy Cookies and Chewy Bars – which are made to be free from the seven major food allergens; gluten, milk, peanuts, tree nuts, egg, soy and sesame.
These allergens account for the majority of most common food allergies and intolerances in Australia 1 .
Enjoy Life Foods is the first product to market in Australia that is free from so many food allergens. It offers Australians, especially those with a food allergy, a range of snacking options they have never had before.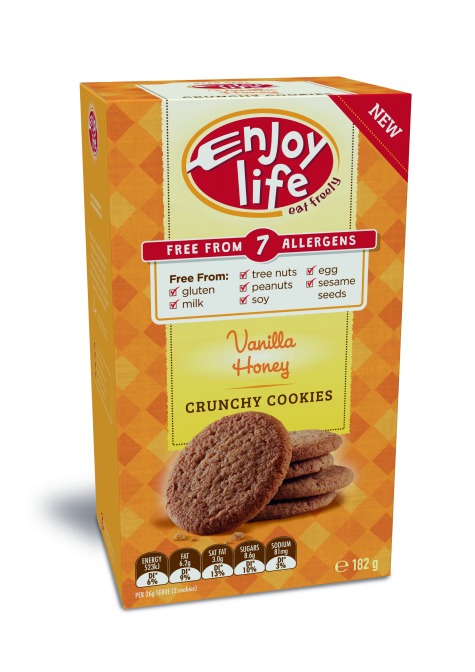 Australia has reported a dramatic rise in food allergies in recent years, with one in five currently living with food allergies and intolerances 2 . In addition to that, one in three of these Australians has more than one allergy 3 , while ten per cent of infants develop a food allergy*.
These rates are similar to those in the US, making Australia a natural market for Enjoy Life Foods to extend its brand to.
Acclaimed dietitian, author and speaker Melanie McGrice has thrown her support behind the launch, saying: "Food allergies can take a heavy toll on your health and wellbeing and it is a growing problem in Australia.
"Research shows there was a four-fold increase in food allergies and intolerances over a 12 year period 4 and that is why I am so excited to be involved with the launch of Enjoy Life Foods in Australia.
"Living with an allergy can be hard. Those with allergies are often limited with their food choices and don't have access to the same convenience and variety that other Australians do. Not only does Enjoy Life Foods provide an unrivalled snacking option in the 'free from' segment, the products are also delicious – which isn't always the case in the 'free from' sector. Made to be free from seven major food allergens, snacking options for Australians affected by food allergies just got easier!
Enjoy Life Foods' delicious Crunchy Cookies have a delightful crunch and indulgent flavour. The Chewy Bars are a handy snack, coming in three tasty flavours to satisfy everyone's cravings.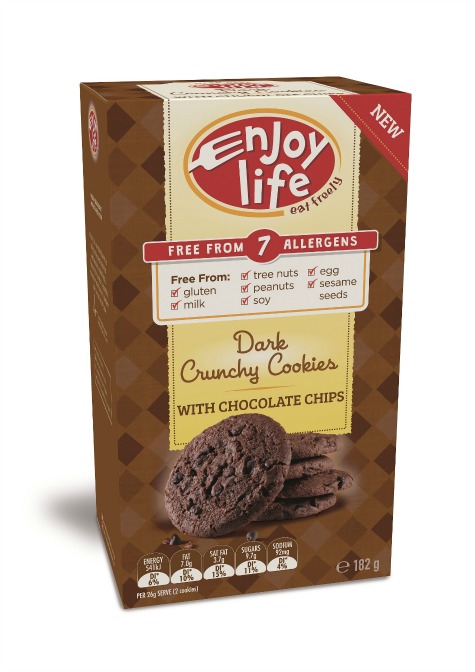 The range available will be:
182g Chocolate Chip Crunchy Cookie
182g Dark Crunchy Cookies with Chocolate Chips
182g Vanilla Honey Crunchy Cookie
140g Mixed Berry Chewy Bars
140g Cocoa Choc Chip Chewy Bars
140g Roasted Sunflower Seed Chewy Bars
Enjoy Life Foods snacks will be available nationwide in Woolworths next week. To learn more about Enjoy Life Foods and its range made to be free from seven major food allergens, please visit www.EnjoyLifeFoods.com.au, 'Like' them on Facebook, or follow them on Twitter, Instagram, Pinterest or Snapchat.
Sources:
1 Source, The Australasian Society of Clinical Immunology and Allergy (ASCIA), 2016: https://www.allergy.org.au/patients/food-allergy/food- allergy
2 Source, ASCIA, 2013: https://www.allergy.org.au/ascia-reports/allergy- and-immune- diseases-in- australia-2013
3 Source, ASCIA 2007: http://www.allergy.org.au/images/stories/pospapers/2007_economic_impact_allergies_report_13nov.pdf
4 Source, The Medical Journal of Australia (MJA), 2007: https://www.mja.com.au/journal/2007/186/12/paediatric-food-allergy- trends-community- based-specialist- allergy-practice- 1995