Wading through a 'to-do' list is the day to day reality of many parents, and what's not often considered is that decluttering and organising a workspace – whether it's used for work projects, family admin or kid's homework – can help facilitate greater clarity, headspace and productivity.
To help Australians families become clutter-free, Officeworks has teamed up with Professional Organiser and Declutter Expert, Georgie Rees of Clutterfly, to provide practical tips for busy parents.
1. A good way to stay clutter-free is to keep track of the family's schedule
Start off with a weekly or monthly planner that the whole family can feed into. Officeworks has a variety of colours and styles available, so you can choose one that suits your current colour scheme
Planners will clearly show all the commitments you and the family have week to week and also highlight where there are time slots for adding additional tasks, such as organising paperwork or put toys and games away
My pick is this J.Burrows A4 Weekly Planner
2. With a busy family life simply locating where things are can be tricky
To save time for you and encourage children to take ownership of their possessions, label a small drawer unit with each family member's name or picture
These drawers can store anything from toys to important documents and will ensure everything has a home
Officeworks has a variety of storage options, label makers, as well as plain stickers so children can create their own labels with designs and drawings
3. Wires and cables can often lead to added clutter and mess
Designate one area to keep all your tech devices and their chargers, cables and wires
This will help reduce excess wires, but also will act as a set area where all these items are kept, meaning less time searching for what you or the kids need
You can add a simple document drawer to give you a platform to stand up tablets and use desktop drawers to keep cords neatly tucked away inside
I worked with Officeworks on this clever video about creating a gadget garage: https://www.youtube.com/watch?v=71dO0Vel91M
4. Organize and store wrapping papers properly
At Christmas or peak birthday times, rolls of wrapping paper can be hard to store without getting damaged or misplaced.
Keep the wrapping paper rolls secure on a spare shelf by using a pair of humble bookends in front, at the edge of the shelf with the base facing in. Hey presto! the wrap stays put and in perfect condition for the next birthday present.
For stylish, yet affordable bookends, these Marbig Metal Bookends in black will do the job perfectly.
5. Store little trinkets in a designated box
We all know when you have children you collect a lot of random things collected from a day at the fun fair to your last family holiday. To store these 'random' yet meaningful things, designate a box or jar to keep them in. A good spot is usually on a shelf in the office, as it avoids clutter and is out of reach.
Sure enough there will be a rainy day where the children want to see what they collected and you'll know exactly where to find it.
6. Keep your mail organized with a mail catcher
Most families will get an abundance of mail each day and sometimes there isn't enough time in the day to wade through everything. Mail is also a well-known cuprite when it comes to clutter!
To avoid excess build up and give you the clarity to sort mail out in your down time, pick up a simple inbox tray or magazine rack to store mail during the week. This Keji Document Tray in clear will fit in with most home styles and can be popped on a desk or counter.

ABOUT THE EXPERT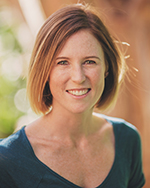 Georgie Rees is a Professional Organiser and Declutter Expert at Clutterfly.