Target Australia has announced its latest 'Designers for Target' collaboration, partnering with Australian celebrity Dannii Minogue to create fitting fashion for the petite women of Australia.
The new range launches as more than a third of Australian women aged 14-39 and 43% of women over 40 stand less than five foot three inches tall, with many struggling to find stylish clothing with a great fit, according to Target Managing Director Stuart Machin.
"The collaboration with the X Factor judge arose in response to feedback from petite Australian women that their fashion choices were limited."
"We think the Dannii Minogue for Target Petites collection will give smaller statured women fantastic on-trend apparel specifically designed for the petite frame."
Mr Machin said Dannii was a natural choice to join the renowned 'Designers for Target' program.
"We're absolutely thrilled to be working with Dannii Minogue, she is one of Australia's most celebrated stars and is very passionate and interested in fashion," Mr Machin said.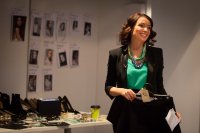 Dannii, only five foot two inches and petite herself, understands the fashion needs for smaller frames.
"Good things come in small packages," Dannii said.
"I've spent a lifetime having to get clothes altered to my size and this new range is aimed to take the hard work and additional cost out of finding petite fitted clothing.
"If you've ever had to take up the sleeves of a garment, found the shoulders are too wide or the body of an outfit is too long, then you are a petite shape – regardless if you're a size 4 or 16."
"Petite shoppers will finally be able to go into a store and feel like they exist in the fashion world."
I've been shopping at Target since I was a little one and still continue to shop there for me and my son, so I'm delighted to collaborate with Target on this exciting concept.
"I can't wait to see this collection come to life on the runway and available for all of us petites out there," Dannii said.
The Dannii Minogue for Target Petites collection will launch in-store and online at target.com.au mid-late July, with prices ranging $39 to $89.