The definition of a family holiday is changing and increasingly Australian parents are looking for holidays and destinations which provide experiences for the family to participate in and which provide longer lasting rewards.
The Lonely Planet recently released the top ten destinations for families and Canberra edged ahead of the sun drenched and roller coaster laden Gold Coast. Canberra's range of family centric immersive experiences, that are more than just a tour round the museum, was a key factor in Canberra's ranking and an indicator of changing attitudes to the family holiday.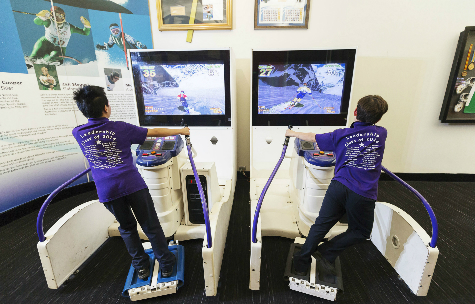 Nanette Louchart-Fletcher, Community Learning Coordinator at Museum of Australian Democracy at Old Parliament House, comments "Our new exhibition 'PLAY UP – The Right to Shelter' reflects the interest of parents and children alike in exploring more about the world around us and truly walking a step in someone else's shoes – becoming involved in a story rather than just reading the book."
"The exhibition, which explores a child's right to shelter, has been specifically developed for a cross generational audience, to allow adults and children to learn and have fun together. However, especially in the school holidays, busy parents need down time too so PLAY UP has comfortable bean bags, books and good music for adults to enjoy as their children explore the space."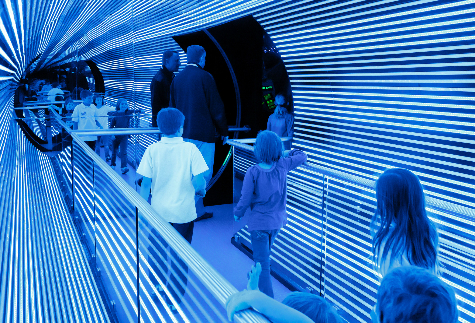 The demand for exhibitions and experiences like PLAY UP as part of a family holiday or outing is clear, with the exhibition already increasing the Museum of Democracy's family audience by 86% and children's audience by 131%.
It's is these type of exhibitions and Canberra's increasing cultural and outdoor offerings as well as family friendly accommodation which is putting Canberra firmly on the map as a family holiday destination for the now and the future.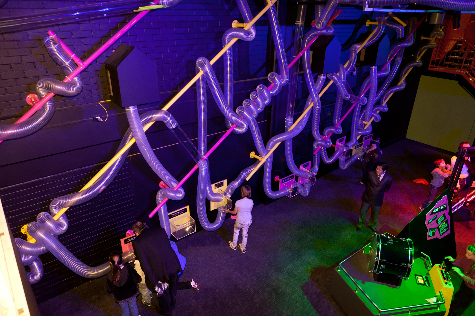 This spring in Canberra it's all about nature and culture with many new additions and some old favourites for the whole family to enjoy.
Our top eight things to do with your kids in Canberra this spring:
1. Tackling a serious issue facing children across Australia and giving children the chance to get hands on, Play Up – The Right to Shelter, is a not to be missed exhibition and experience at the Museum of Democracy. Young visitors will get to play out how different life would be without their bedroom, favourite food or a warm jacket, in a fun and engaging environment.
Location: 18 King George Terrace, Parkes, Canberra
Opening Hours: Open daily 9am–5pm
2. The very popular KSpace family space at the National Museum of Australia has undergone a transformation. Primary school aged children can build a robot of the future using touch screens and then journey back in time to learn about that era in Australia's history.
Location: National Musuem Australia, Lawson Crescent, Acton Peninsula, Canberra
Opening Hours: Weekends, public holidays and ACT school holidays, with Kspace sessions starting between 9.15am and 4.00pm
3. For five fabulous nights in late September, Commonwealth Park becomes an illuminated wonderland during Floriade NightFest. Night markets, food stalls, flowerbeds bathed in colourful lights, music and comedy entertainment and inspiring presentations combine for some after dark fun for the whole family.
Location: Commonwealth Park, Parkes, Canberra
Opening Hours: NightFest opens at 6.30pm and closes at 10.30pm from Wednesday September 23 until Sunday September 27.
4. For families who like to get active head to Tidbinbilla Nature Reserve to explore more than 20 marked walking trails, ranging from an easy 15-minute stroll to an all-day bushwalk. Some of the most popular trails allow for glimpses of platypus, possums, wombats, echidnas, emus and many other birds and reptiles.
Location: Tidbinbilla Ring Rd, Paddys River,ACT (access is off Paddy's River Road, via Cotter Road (Weston Creek)
Opening Hours: Visitor Centre: 9:00 am - 5:00 pm. Reserve Gates: Winter: 7.30 am - 6 pm, Summer: 7.30 am - 8 pm in summer (AEDT)
5. For budding scientists Questacaon's Q Lab offers an ever-changing array of intriguing experiments, explosive demonstrations and interesting displays. Also on during the school holidays is 'Perception, Deception' where kids can discover the world inside their heads and explore how people perceive the same thing in different ways.
Location: King Edward Terrace, Canberra
Opening Hours: Open 9.00 am to 5.00 pm
6. For future financers or kids who always shotgun the banker in Monopoly, the interactive model 'making a mint' at the Royal Australian Mint offers a fun insights into the world of money.
Location: Royal Australian Mint Denison Street, Deakin, Canberra
Opening Hours: Monday to Friday: 8.30 am to 5 pm, Saturday, Sunday and public holidays: 10 am to 4 pm
7. Join the club and take a swing at Canberra's newest family attraction, Weston Park. As well as the 36 hole mini golf course which features Canberra's ionic attractions in miniature, there is also the Petite Park Petting Zoo and Miniature Railway.
Location: 9 Pescott Lane, Yarralumla ACT
Opening Hours: Wed-Fri: 09:30–15:00 -Sat-Sun: 09:30–17:30
8. Sportex at the Australian Institute of Sport is a favourite for sports lovers of all ages as it lets everyone in to the secrets and science behind the success of Australian champions. Visitors can also try out different sports such as alpine skiing on the unique machinery.
Location: Leverrier Street, Bruce, Canberra
Opening Hours: 8:30am to 5:00pm. Public tours 10.00am, 11.30am, 1.00pm and 2.30pm