New York and back in four days. Business class. Its sounds glamorous - but it's not. It's approximately 20-21 hours in the air, elapsed time with transfers of 23-25 hours, and having to be bright-eyed and bushy-tailed for the business meeting at the other end.
At the best of times, I'm not a great flyer and I can be quite reluctant to choose an airline I haven't travelled with before. So it was with some nervousness that, for a quick business-related purpose, I had to travel with Delta Airlines from Sydney to New York.
Cost
The Delta Airlines Business Class return fare from New York's John F Kennedy Airport was $7,800 while the equivalent with Qantas for the same dates was $18,300. Both had connections via Los Angeles which made the elapsed time for both options around 23 hours.
(It should be noted that Qantas' Economy Class airfare is less expensive –$2,900 return compared with Delta's $3,200, but this didn't deter Australian or American travellers. On all four sectors, both the Business and Economy class cabins were at capacity.)
But for the $10,000 price gap, was there a noticeable difference? Having arrived safely – which is always the number 1 priority – the short answer is 'no'.
Business Class Lounge
The biggest contrast between the Delta and our national carrier probably begins and ends at Sydney Airport.
As you would expect, Qantas' lounge facilities at Sydney Airport are the best of all airlines, whereas Delta customers use their alliance partner's lounge – in this instance, Air New Zealand. The Air New Zealand lounge has everything a business customer would want or need: good internet connection, comfortable and varied seating, basic snacks and drinks and clean bathroom facilities, but it's nowhere near as upmarket as the Qantas counterpart.
On the return trip, at JFK, the Delta Lounge is large, light and extremely busy. When I arrived at the airport for check-in, I was proudly informed by a very friendly Delta employee that the lounge was rated one of the top 3 in the world by Conde Nast Traveller magazine. It wasn't clear why this was the case, especially when told that the drinks and food were either 'standard' or 'premium' and the latter had a cost attached to it. A business class airfare generally means there's no additional cost attached to any part of the flight.
Cabin crew
Assuming you arrive safely, and the flight isn't too bumpy, what makes or breaks any flight – a short domestic hop or a long haul international flight – is the cabin crew.
The cabin crew on the outward journey to New York (two crews with two flights) could not be faulted. They were friendly, efficient, attentive and patient with their customers who were older and slower as well as helpful with parents who were travelling with young children.
On the return flight, they were less so; they were not unfriendly or inefficient – just not the same high standard as the previous two flights.
Special mention must also be made of the flight crew. Without exception, Delta's flight crew – captain and first officer - are good communicators. They keep in touch during the flight; if there is turbulence, they say why and how long it will last; and they farewell passengers in person at the aircraft door as they disembark.
Food and Beverage
The food and beverage were variable. Mostly, the food was well-prepared, fresh, nutritious and offered good choice. The wines were a mix of American, Australian, Chilean, French and Spanish.
The exceptions were:
the two breakfasts served on the flights into the US. We were served a breakfast before touching-down in Los Angeles, and then the exact same breakfast a few hours later taking-off from Los Angeles, and
the long-haul flight on the return journey from Los Angeles to Sydney. The food was more of a supper menu with limited choice, yet the timeframce of the flight deserved a dinner menu.
In-flight entertainment
It could be because there are not too many good movies around recently but the 'new releases' section of the movies was disappointing, but nonetheless offset by the complete movie library. There was every genre available – including a good children's selection – across all ratings and from 'oldies' to more recent classics.
Some other aspects of the entertainment were not as good as they could be – for example, the audio selection and the flight tracker - but the games section seemed to keep the handful of children in the business class cabin happily occupied (not to mention a few adults!).
Cleanliness in-flight
After several hours with several hundred people on board, toilets on an aircraft always need a general clean, refresh and tidy. This wasn't always attended to on the long-haul flights across the Pacific, especially on the return journey, but it was attended to promptly by flight attendants when asked.
Seating
Delta has a configuration in their long-haul Boeing 777 aircraft which is very similar to Cathay Pacific's herringbone-style flat-bed seating. It's terrific for travelling alone one a business trip as it gives privacy and comfort. The seating across the aircraft is 1+2+1 with approximately 47 business class seats spread across two compartments.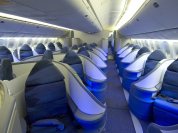 The business class cabin in the Boeing 777
It would be less convenient if travelling with someone – especially for a non-business trip – or with children as there was on both the outwards and return journeys.
But it is the trans-continental flight in the US that is really impressive. Delta has the newer Boeing 767s with wingtips. The aircraft itself is quiet and spacious. The interiors are configured in more conventional straight-on style with plenty of space and level of amenity to really get some work done, especially with the WiFi available on board! The seating was also in 1+2+1 configuration.
Connection
On each occasion, the connection between the domestic and international sector was simple and relatively seamless, with through passengers given priority access. There is a requirement to collect luggage at Los Angeles Airport for immigration and Customs purposes, but Delta Airlines staff are on the other side of the barrier to re-collect it and book it through to the onward domestic journey.
Conclusion
Delta does not position itself as a premium airline. While its Business Class fare reflects this, the level of safety, comfort, service and amenity does not. If you want a trip in comfort across the Pacific and across the United States, either for business or leisure if you can afford it, Delta has been tried and tested and is recommended.
Four stars.
* * *
Bonita Mersiades does not work for, consult to, own shares in or receive funding from any company or organisation that would benefit from this article, and has no relevant affiliations. The airfare was paid for privately.