Parents can now free themselves from baby baggage while on the go with the new Fisher-Price Baby Dome.
A combination of a playpen and a safe place to have a nap, the light-weight Baby Dome eliminates the need for a travel cot – a world-first innovation.
With its two-fold action, the Fisher-Price Baby Dome is simple to set up and dismantle as it folds flat and has handles for transport ease.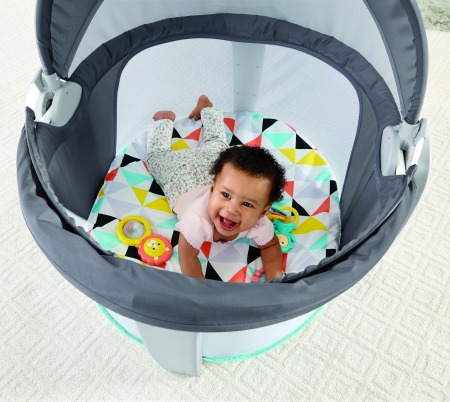 Suitable for newborn to 12 months, the Baby Dome is equipped with colourful dangle toys to keep your baby entertained and engaged during play time; as well as a padded base for cushioning and support come sleep time.
Made of breathable mesh with high UV resistance, it provides your little one with sun and bug protection when used outdoors.
The Baby Dome's stylish good looks are no accident as it was designed by Fisher-Price creative director Jonathan Adler, a renowned ceramicist and interior decorator. Jonathan's influence is best demonstrated with Fisher-Price fashions on Baby Gear, as well as its new newborn peg toys.
THE PRIZE
Two (2) Fisher-Price Baby Dome
JOIN THE GIVEAWAY
To join the giveaway, please follow the instructions below:
Win 1-of-2 Fisher-Price Baby Dome Giveaway )
Thank you, you have entered the competition.