Keeping on top of the cleaning in your home can be a mammoth task. Scrubbish, wiping, sweeping, packing, folding and drying - they are all perpetual chores that you have to tackle everyday to ensure your living space is tidy. And while cleaning can be physically exhausting in itself, remembering what needs to be done and how best to approach it each week can be mentally trying too. Luckily there are myriad apps out there aimed specifically at helping you keep on top of everything.
From tools to help you organise your cleaning schedule to motivational apps for keeping on the right track, there's something out there for everyone. Here are 5 excellent FREE apps to help keep your home tidy and organised.
OurHome
The default iPhone and Android to-do apps are fine for everyday use, but for the homeowner with a never-ending flow of chores to keep on top of, something with a little more functionality may be necessary.
OurHome is an excellent organisational tool for creating lists of chores and ensuring they are done on time, every time. With the app you can create a list of tasks, set how regularly they need to be done and reminders for when they are due.
Seems fairly standard right? Well, the feature that sets OurHome apart from the competition is the interface, which lets you assign different chores to different members of a household. Say you live in a sharehouse and want to assign tasks to your housemates - OurHome lets you easily do so, and keep track of who has been assigned what.
If you have kids, OurHome is a great way to encourage them to do housework; you simply assign them tasks that, when completed, award points for "good behaviour", which can in-turn be traded for virtual prizes ("Monsters"). Very cool.
Home Routines
The Home Routines app is better if you are the sole person in your home that takes care of the cleaning and need a way to stay organised. Home Routines allows you to divide your home into "focus zones". Each zone (such as your garage or yard) can be allocated to a specific time or day, which is a great way to ensure you don't miss anything.
Other features include a easy to use to-do list, daily reminders, a handy timer function that is great for making sure you don't procrastinate!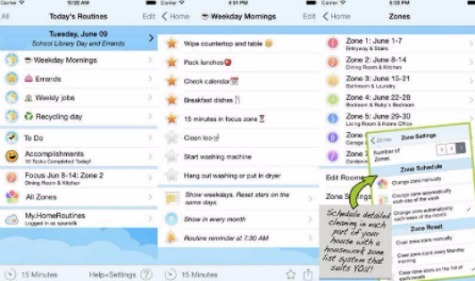 BrightNest
Keeping on top of cleaning can be hugely time consuming, meaning you may end up putting little into making your home the way you want it. This app great for making sure you are spending as much time ensuring your house is the best it can be.
BrightNest is all about giving you ideas; the app is packed with information on basic maintenance, home décor and how to make your home a better place to live in. There are articles on everything from how to unclog a shower head to how to clean your oven. And best of all, you can customize it to be relevant to your home and what goals you wish to achieve.
Check out the BrightNest website to get a feel for the kind of information the app provides and how it can help make your home as pleasant as it can be.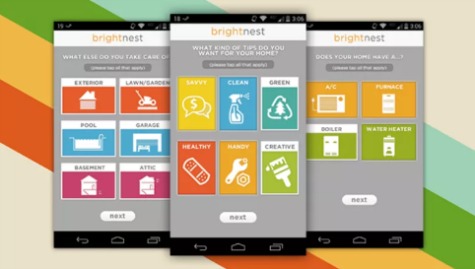 HomeZada
Your home is your personal haven, so naturally it will be filled with your favourite possessions. Over time, you amass more and more, and keeping track of everything you own can become near impossible. HomeZada is here to help.
HomeZada's Mobile App lets you quickly and easily create a digital inventory of your home. It lets you photograph and organise your home by rooms, so you can easily keep track of what you own and where it lives, which can be very helpful in the case of an accident like a fire or robbery! It even provides you with a formatted Household Inventory PDF and an 'Export to Excel' function for reporting purposes. Neat.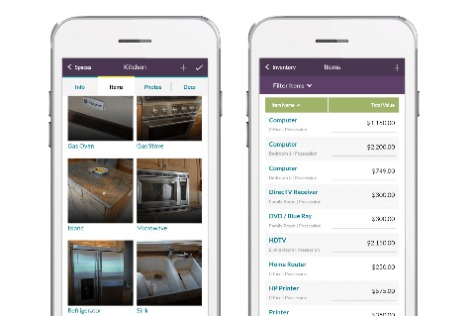 Handy
Sometimes, you might simply just not have enough time on your hands to do everything yourself. In this case, finding someone else to do a job for you is the best option. And hey, there's nothing wrong with seeking a helping hand.
Handy gives you access to thousands of home service professionals. Whether you need a rubbish removal service, a plumber or someone to help you pull up your old carpet, you'll find them on Handy. It's super easy to use and only takes a minute or so to book, leaving you with more time to kick back and relax.
___________
Remember, when it comes to homemaking, your phone or tablet can be your best friend. We hope these 5 apps will help to keep your home clean, organised and pleasant to live in. Good luck!