Australian-owned toy manufacturer Colorific is partnering with Chillafish to bring Australian families the Bunzi 2-in-1 gradual balance bike, a unique children's bike with a sleek European design that seamlessly transitions from 3-wheel to 2-wheel mode to transform as kids grow and their needs change.
Children can learn to balance in a fun step-by-step way by beginning in 3-wheel mode and switching to 2-wheel mode when they feel ready to balance and walk on their own. The Bunzi 2-in-1 gradual balance bike can transition without tools so that children can switch back and forth as many times as they need.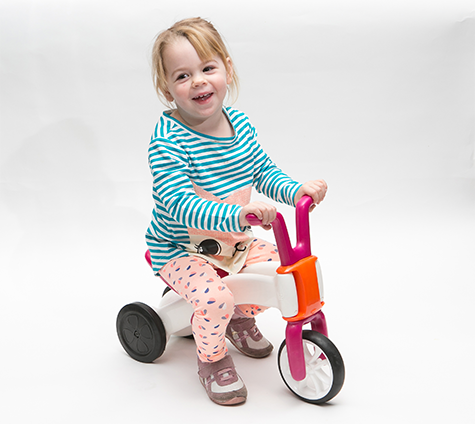 The Bunzi gradual balance trainer adapts to the child's growth, making it a budget friendly approach for young families. To facilitate the development, the seat position in 3-wheel mode is low to the ground for comfort and added stability whilst the seat position in 2-wheel mode is higher, allowing for more speed as the kids get more confidence.
With a light weight design and easy to carry handgrip, the Bunzi 2-in-1 gradual balance bike has silent indoor and outdoor TPE wheels and a nice little storage trunk in the seat – for snacks, toys or their very own drivers licence. Made of high-quality ABS material and wrapped in a unique bunny-style design, the Bunzi 2-in-1 gradual balance bike allows children to develop coordination and physical self- confidence in a fun and gradual way.
The ChillaFish Bunzi 2-in-1 is now available from www.chillafish.com.au for $99.99. For more information and updates on the ChillaFish Bunzi, check out the Colorific website at www.colorific.com.au and follow Colorific on Facebook and Instagram @Colorifictoys.
Colorific is one of Australia's leading family-owned toy and educational resources companies with products available in 50 countries over 4 continents – including Australia, the United Kingdom, United States, New Zealand, UAE, Spain, Malaysia, Singapore, Canada and South Africa. In 2015, Colorific celebrated 25 years of creating fun for kids around the world.