The Cry Babies Australian family is delighted to welcome a host of new arrivals – Cry Babies Star Babies, Cry Babies Goodnight Dreamy, Crawling Jenna and First Emotions Dreamy.
Cry Babies cry tears and make realistic baby sounds when their dummy is removed. Just give them back their dummy to see them stop crying. Each interactive Cry Babies doll is designed to captivate children's hearts, with big expressive eyes and cute, themed outfit. The dolls awaken a child's imagination, encourage expression of feelings and foster empathy and responsibility.
These little babies also have big personalities! Which is a big part of their success story and popularity around the world. With more than 4.5 million loyal fans, and over 10 million dolls sold in the last 2 years, Cry Babies are one of the best-selling Special Feature Nurturing Dolls for young girls across Europe and USA.
And, they star in their very own TV show! The animated series Cry Babies Magic Tears is celebrating its 5th Anniversary this year, with more than 5.2 billion views the series is a true phenomenon! It has been nominated by the Kidscreen awards as Best Web/App Series Branded in the Digital - Preschool Category and is available in 25+ languages in over 190 countries.
You can watch Cry Babies Magic Tears on YouTube (@KitoonsinEnglish), Netflix, Amazon Prime, its own OTT www.kitoons.com and Free-to-air in Australia on 9Go.
Boys and girls will love nurturing their Cry Babies, recreating their favourite moments from the show - embarking on exciting adventures and caring for their Cry Babies in worlds where their tears have special meaning.
With products suitable for kids aged 18 months and above, the Cry Babies Dolls make an ideal gift for any occasion. They bring laughter, love, and imagination into children's lives, establishing a deep bond between them and their new best friend.
Cry Babies Star Babies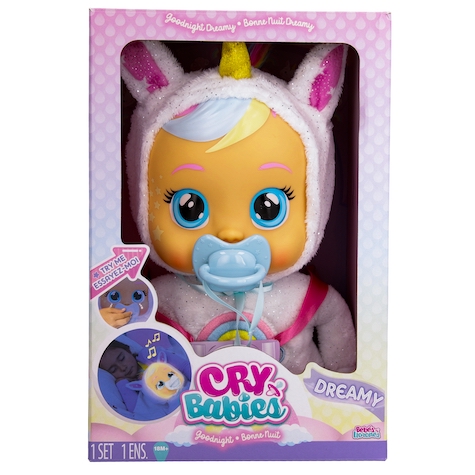 Recreate all your favourite moments from the latest series Cry Babies Magic Tears: Planet Tear with the Cry Babies Star Babies! You'll love them all to the moon and back with their cool new iridescent outfits with matching shoes. Just like a real baby, your Cry Babies Star Babies will feel so sad without her dummy. When you remove it from her mouth, she starts crying real tears and her eyes light up. Pop her dummy back in or offer a favourite bottle to stop the tears.
Cry Babies Star Babies come with batteries, iridescent outfit, shoes, a dummy and bottle. They are available at Big W and Target retailing for $35 and are recommended for ages 18 months and up.
Cry Babies Goodnight Dreamy
Cry Babies Goodnight Dreamy is the perfect cuddle partner to help little ones to get to sleep. Goodnight Dreamy wears the softest unicorn-themed pyjamas making her super cuddly and as soft as the clouds. She cries LED light up tears and makes realistic baby sounds when you remove her matching dummy.
Give back her dummy and Goodnight Dreamy stops crying, then watch as her face lights up.
Goodnight Dreamy also plays five different soothing lullabies - when you press her belly, she plays up to 10 minutes of music to help soothe your child into a dreamy sleep. Goodnight Dreamy's head also lights up making her the perfect night light for sleeping children. Are you ready for sweet dreams with Goodnight Dreamy?
Cry Babies Goodnight Dreamy comes with batteries and her dummy. She is exclusive to Big W retailing for $39 and recommended for ages 18 months and up.
Cry Babies Crawling Jenna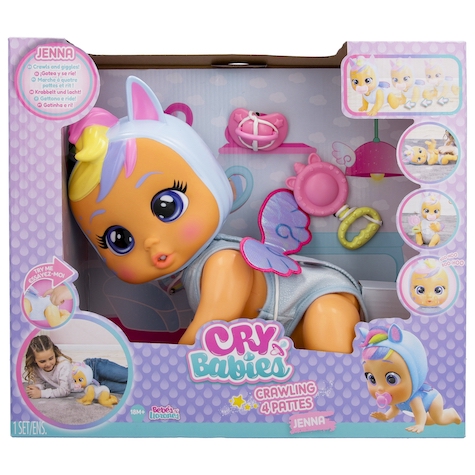 Jenna is on the move with the all-new Cry Babies Crawling Jenna! When you press the button on her back, Cry Babies Crawling Jenna crawls across the floor just like a real baby. With every little crawl, Jenna is discovering new wonders and taking you on the adventure as you follow. And just like your favourite Cry Babies dolls, she cries real water tears. Put her dummy back in her mouth to help soothe her and stop her from crying. When you lay Jenna on her back you can pretend to tickle her, and watch as she moves her arms and legs, giggling and having fun. She makes over 35 realistic baby sounds. When Jenna is sitting, she loves to play with her baby rattle and shake it around and giggle.
Cry Babies Crawling Jenna includes batteries, removable onesie, rattle and dummy. She is exclusive to Target retailing for $49 and recommended for ages 18 months and up.
Cry Babies First Emotions Dreamy
Meet the new Cry Babies First Emotions Dreamy, an adorable interactive baby doll that gives kids the chance to care for and play with a lifelike baby doll. Children can nurture and care for the doll like a real parent. From the moment she opens her eyes and wakes up, First Emotions Dreamy will amaze with her life-like facial expression and sounds. She cries real water tears, babbles and plays just like a real baby. She laughs when you tickle her belly, sleeps when you lay her down, eats when you give her a bottle, and is soothed when you give her a dummy when she's crying. With over 65 expressions, movements and baby sounds, she really comes to life. First Emotions Dreamy has beautiful rainbow hair and wears a cute removable unicorn baby outfit with matching shoes. She also comes with an ice cream cone rattle to play with and a brush to comb her rainbow hair. First Emotions Dreamy is made to be cared for and will make every child feel like a parent when they care for their very own baby doll!
Cry Babies First Emotions Dreamy comes with batteries, removable onesie, rattle, dummy and brush. She is available from Big W, Target and Toymate retailing for $129 and recommended for ages 3 years and over.
Cry Babies, Cry Babies Magic Tears, Cry Babies Stars, Cry Barbies Star Babies, Good Night Dreamy, Cry Babies Crawling Jenna and Cry Babies First Emotions are IMC Toys products.
About IMC
IMC Toys first burst into the market with its flagship brand, Cry Babies, which quickly rose in popularity and became the number one selling baby doll across the European and US total markets. Since its inception, the company has expanded to operate in 50 countries and has bolstered its product line-up to include a wide range of impressive brands. IMC Toys' commitment to providing toys for "every age and every stage" has led to its internationally renowned reputation for providing customers across the globe with high-quality and attractively designed toys at a competitive price point.
IMC Toys brands are supported by custom content that can be found on the company's very own YouTube channel, Kitoons. Offered in 25+ different languages, Kitoons has gained popularity with a globally collective 6+ billion views, 8+ million subscribers and 700+ million watch time hours. Each colourful episode features fan favourite characters from Cry Babies Magic Tears, and more as they go on adventures, learn about friendship and teamwork along the way. Additionally, fans of the Cry Babies Magic Tears content series can also enjoy episodes on Netflix, as well as audiobook content on Spotify. Further to this, in September they will be able to join their adventures in first person thanks to the first Cry Babies Magic Tears Video game "Cry Babies Magic Tears: The Big Game' that will be available for Nintendo Switch, Play Station 4&5, Xbox and Steam.
For the latest information on our company and our newest product launches, you can visit us at www.imctoys.com/en-us.