With the Aussie summer of cricket just around the corner, it's time to get those backyards cricket-ready for family and friends to enjoy a little healthy competition.
Legendary pitch maker, Les Burdett, who was Head Curator at the Adelaide Oval for more than 40 years, says that regardless of your turf variety, preparing a backyard pitch is easy and can be done in just a few simple steps.
"You don't need to be a turf or cricket expert, or have a specific type of lawn to create a great pitch. The only tools you need are probably already lying around the house - a lawn mower, spray can of grass-friendly acrylic paint and a garbage bin or esky!
"Taking the time to create a simple pitch will pay off in countless hours of entertainment and fun for friends and family, especially during the upcoming holiday season.
"I've been privileged enough to travel the world making turf cricket pitches, but nothing is quite like a good old game of backyard cricket," said Mr Burdett.
Les Burdett's 3 steps to the perfect backyard pitch:
Select the best open space in your yard and give it a good water. Every space will have characteristics that give your cricket game its own personal character, whether it's a shed, the hills hoist or an established tree.
Mark out your desired pitch and mow the grass low. Use string lines for a professionally cut, straight pitch and a cylinder mower if possible, as it will provide a light roll and a beautifully manicured pitch surface. If the grass is thatchy, lower your mower's cutting height and repeat to remove more grass.
Mark the batting and bowling crease on the grass with either a grass-friendly spray can or create your own appropriate paint by watering down white water-based acrylic paint with 2 parts water, 1 part paint. Paint onto grass with a 25-50mm brush.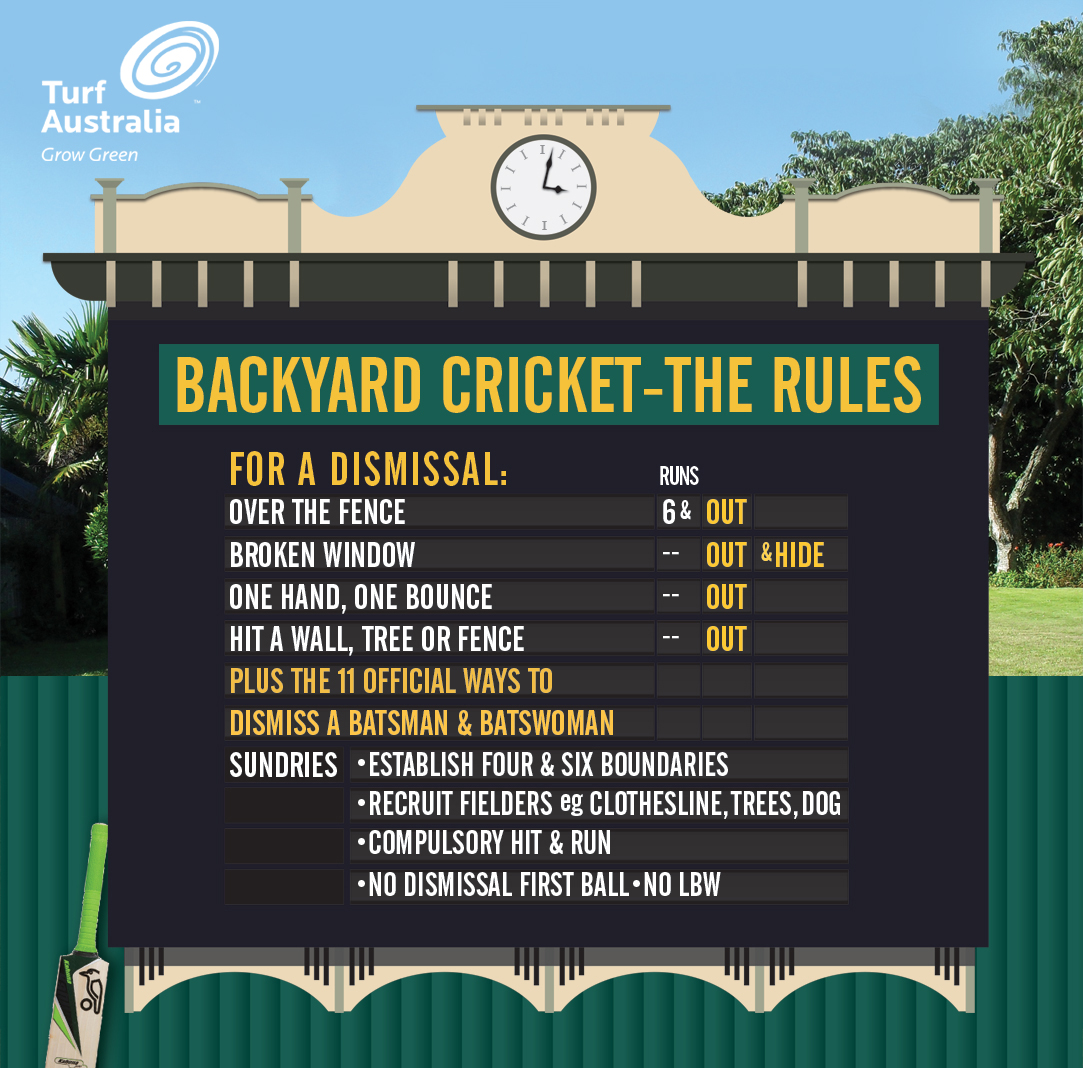 Want to make your pitch more pro? Top dress the pitch with a sandy loam to fill in any ridges or holes. This will provide an even better batting surface.
Post a photo of your very own backyard cricket pitch on our Facebook page, Lawnspiration, and go in running to win tickets to the KFC Big Bash in your nearest capital city.

ABOUT TURF AUSTRALIA
Turf Australia is the non-profit representative body of the turf industry comprising of more than 200 levy paying turf producers and individual members Australia wide. For more information visit turfaustralia.com.au or facebook.com/lawnspiration.