Fly Babee Sleep Easy Cover is a pop-up canopy that fits onto any stroller. It is also the first sleep cover to address the needs of putting a baby to sleep whilst on a plane. Fly Babee fits onto the in-flight bassinet to block out distraction.
Fly Babee Sleep Easy Cover is 100% breathable and blocks out 97% of the light. It can be used whilst travelling with babies and toddlers.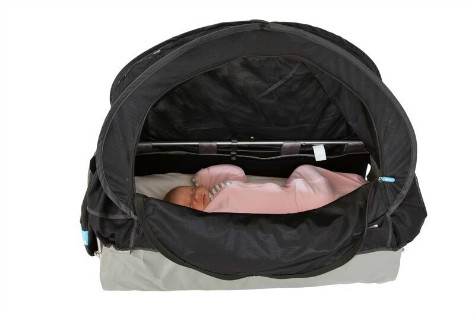 Fly Babee Sleep Easy cover is not only one of the best stroller covers on the market, it's also the first product in the world to practically address the issues of getting a baby to sleep whilst on an airplane. Fly Babee is a pop-up sleep cover that easily attaches to airline bassinets and all types of strollers - it blocks out 97% of light and movement, it's 100% breathable and provides your baby with a cosy, distraction-free environment so that your baby can sleep easily no matter where you are! A baby's sleep routine is so important and we all know that a sleeping baby is a happy baby and a happy baby means a happy parent!
Emma Lovell, owner and creator of Fly Babee, appeared on Channel 10's Shark Tank. She won over investor Janine Allis from Boost Juice.
Website: www.flybabee.com.au
THE PRIZE:
1 winner of Fly Babee Sleep Cover worth RPP $99.99
To participate, please submit your entry via the competition tab below.
Win one Fly Babee Sleep Easy Cover stroller
Thank you, you have entered the competition.