With Rugby Sevens to debut at the Rio Olympics in two years time, Nicole Beck hopes that next week's three-match series between Australia's Women's Sevens and Canada will give people a taste of what's to come.
"It's a rare opportunity for us to play such high quality opposition at home," says Nicole on a brief training break on the Gold Coast.
Canada finished third in the Women's Sevens World Series earlier this year, while Australia finished second. It's no surprise that New Zealand is the top-ranked nation.
But before Rio is the start of the Olympic qualification campaign in Dubai next month and, for 26-year-old Nicole, her daughter Sophie's second birthday on the day we speak.
Nicole says that becoming a mum was a big motivator for her in sport.
"The time I spent away from sport when I had Sophie gave me the extra motivation I needed to keep going, keep striving," she says.
"Being a mum is great and Sophie is a wonderful little person, but it's not all that I am."
While most of us have to push ourselves to do a gym session two-to-three times a week or a session at yoga or the pool, as professional sportswomen Nicole and her teammates do more than we could imagine.
Her pre-season includes a combination of gym sessions, sprints, weights, long-distance running as well as time on the park at least four days a week. During the season it's less intense but focussed on preparation and recovery. It also requires dedication and discipline.
"Some of my friends think I'm crazy," she says, "but a good kind of crazy."
Nicole says she's able to combine the demands of a professional athlete in an international sport with being a mum because of her support network.
"My partner is incredibly supportive as are both our families. I don't worry or stress about being away from Sophie at all as I know she's well looked after and loved just as much as if I was there. And technology today means that we see one another every day, even when I'm away, and we have a chat.
"I think I'll be a better mother in the long-term if I do this," she says, referring to the training regime, the travel and – hopefully – the Olympics.
"I've played every sport imaginable my entire life. It's what I'm good at."
Nicole was invited to take up rugby only six years ago after being involved in athletics, playing basketball, football (soccer) and touch football for which she represented Australia – as did her partner.
"I was asked to give it a go as the women's rugby sevens was getting a push along," she explains. "What has truly given it a big boost now is the fact that we're at the Olympics.
"That wasn't on anyone's radar a few years ago and it's a big motivator for all the girls."
She says it's also having an impact on player participation numbers at younger age groups.
"When girls who are good at sport realise that they can get to the Olympics through playing rugby sevens, that helps them make a choice about what sport they continue with. Not many sports offer that option and if you're an aspiring young sportswoman, having that possibility in front of you, makes a difference."
Despite Nicole and her partner's background, she has no expectations of Sophie when it comes to sport.
"I'm like every other mum. I want her to do what she wants to do. That's what my parents allowed me to do also which is why I played so much sport.
"The main thing is that she's physically active somehow. At the moment her 'thing' is dancing. If that's what she wants to do, rather than sport, that's fine."
After next week's Gold Coast Sevens, Nicole will have a short break at home before heading to Dubai for the beginning of the qualifying campaign for the Rio Olympics. Australia must finish in the top 4 of the Women's Seven World Series in 2014-15 to earn automatic qualification, but also have a second chance later in 2015 if required.
As well as the three matches being played by the women, the Gold Coast Sevens tournament involves a weekend of matches being played by men's teams from around the world.
"I hope people come and watch our team and meet some of us," says Nicole.
"On the pitch we're very professional. We're young, fit, fast. We have good skills.
"Off it, we have the same universal worries of all women – worried about how we look, what we're going to wear; and in my case, how my daughter is."
"Rugby Sevens is a great format. It's fast, exciting and there's always something happening."
The Gold Coast Sevens is being played at Cbus Stadium at Robina on Saturday 11th and Sunday 12th October. Tickets for the two-days start at $180 for a family, or $100 for a single day entry.
Further information on the tournament is available at the Gold Coast Sevens website. Buy tickets from Ticketek.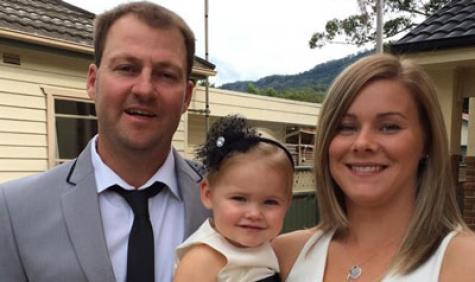 Nicole with her family