The 1970's, a decade of bold style, simple colour and the ultimate fashion statement, Corduroy! Australia's favourite family retailer Best&Less has cord covered this season with its new Retro Cord collection. Inspired by the 70's, the new range is full of textured fabrications and new season hues of berry, blush, brown, olive and tan which are sure to fulfil those flashback fantasies. Just in time for the cooler months ahead, the new collection consists of pieces perfect for layering in trans-seasonal weather.
Combining comfortable and cool, Best&Less has everyone covered with items for the whole family. From babies to toddlers, as well as Mum and Dad, the whole family can look chic together. Available in stores now, prices start from just $4 for long sleeve boy's retro tees, and go up to $45 for adults cord Sherpa jackets. The new collection has everything from pants, hats, overalls, skirts, jackets and even snowsuits for the littlest ones.
The baby range is available in sizes 0000 to 18-24 months and starts from just $5 for long sleeve print tees. A classic take on the popular parachute pant in the 70's with draw string detail, the slouchy cord pants are great for wiggling around! Available in a natural brown and mustard shade, bubs are sure to stay comfy whilst being on trend this season. Snow babies can also stay warm with the adorable snowsuit, retailing at only $40 and available in pink and brown. The funky bucket hats are the perfect accessory to match with any outfit in the range.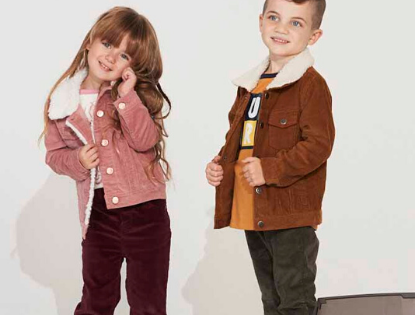 The dungarees available for toddler girls are the epitome of comfort. Paired with a long sleeve tee or sweater, they give an effortless look with an 70's flair – at only $28! The corduroy shirt available for the boys is an essential item to any winter wardrobe for a smart casual look. All items are available in sizes 0-6 and prices start at just $6.
For girls aged 7-16, Best&Less' take on the 70's classic straight leg trouser is bound to make a statement. The pants come in two colours: deep berry and bright gold. The long sleeve tees, available for both boys and girls are superb for layering under jumpers and jackets. With items starting at only $4, this collection is ideal for the price conscious parent.
Best&Less don't want the kids to have all the fun with trendy items for Mum and Dad too. Between shorts, tees and trousers for men, there's something for all kinds of weather. The classic draw string trousers are a favourite for lounging around. A matching corduroy shirt is available for men and boys. All items are available in sizes XS – 3XL. For women, the corduroy skirt retailing at only $25 can be taken from day to night and is an item not to be missed. The women's range is available in sizes 8 –26.
The biggest statement of the collection however, is the Sherpa jackets. Best&Less is really taking it back to the 70's with this ultimate layering item, available in matching tones of beige, tan, brown and yellow. The best part of this whole collection are the cord pants on offer for just $10 for baby/toddler (0-6) and $15 for girls/boys (7-16), an offer that will really make you say WOW!