Enjoy an ice-cold, delicious slushy at any time in just second seconds! No ice, no blenders, no mess. Easy-to-use, all you have to do is put it in the freezer, wait for it to freeze then add your favourite drink and squeeze, squeeze, squeeze! Watch as it turns into a delicious, refreshing slushy right before your eyes.
Believing that slushy lovers of all ages should be able to make their very own, long-lasting super chilled drinks, using the ingredients they want, when they want – the crew at ChillFactor set to work.
The result was the invention of Rapid Freeze Technology™ (that's R-F-T for short). They embedded RFT into each of the ChillFactor cups, and ta da… the magic is in the cup!
It's simply amazing, and amazingly simple. No need for ice or a blender. Just freeze, squeeze and enjoy! And there you have it – delicious slushies in seconds made the way YOU want with the flavours you love!
The ChillFactor is reusable and comes with its own spoon straw. Simply wash in warm soapy water after each use, refreeze and it is ready for you to make your next slushy.
For those playing along at home, there are now two new collections of ChillFactor just in time for Christmas which make great stocking stuffers:
Neon Slushy Maker RRP$14.00
In vibrant, neon summer colours, it's perfect for entertaining or long days by the pool. The new ChillFactor Neon Slushy Maker is available in Pink, Green and Blue exclusively at Big W.
Coca-Cola Slushy Maker RRP$14.00
Now featuring the classic Coca-Cola branding, ribbon and cherry red colour, you're guaranteed to enjoy your slushy in style. Available November exclusively at Big W.
These are our serving suggestions… but you are really just limited by your own imagination. What would you like to freeze, squeeze and enjoy??!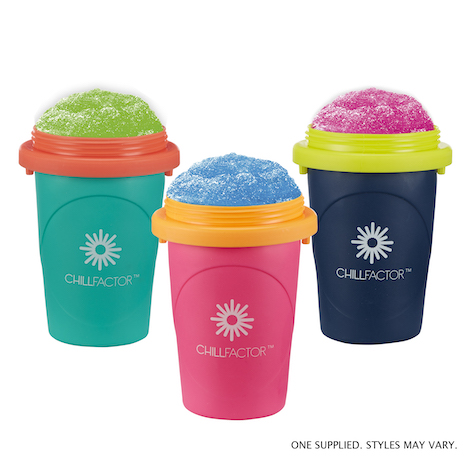 Suitable for the whole family, ChillFactor Slushy Makers are available now.