What is Nanoleaf?
You probably have light fixtures on your ceilings, but do you have light fixtures on your wall that are interactive? Yes, you read that right, Nanoleaf Canvas is the ultimate game-changer for you and your kids. Nanoleaf is literally lighting up spaces around the globe keeping kids (and adults) entertained in many ways possible during the workday and sparkling into the night and is a great way to bond with your kids in a different and fun way.
The Canvas panels are interactive including games suitable for children, serving as not only a great interior light but an even better distraction! Ranging from memory games to the classic 'Simon Says', Nanoleaf is the perfect addition to any space. Interactivity for children is becoming increasingly more important and trying to sway them away from a phone/tablet can be challenging. Nanoleaf Canvas is definitely perfect! It can even be arranged as any animal you'd like bringing more colour and joy to any space.
This is the first-ever modular smart lighting with elegantly unified shapes. The shapes available are squares and triangles. It depends on you which shape you'd like to be up in your wall.
This is one thing that a parent and their children would surely enjoy.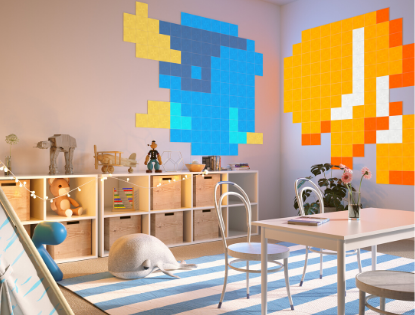 Different Features
1. Touch-Enabled Experiences. Control the lights or play touch games with the palm of your hand.
2. Modular Light Squares. Create your own designs and shapes
3. Music Visualiser. Activate Rhythm Mode and watch your light squares react to sound
4. Flexible Control. Control Square, voice, touch, or the Nanoleaf App
5. More than 16 million colours. For functional or ambient lighting
6. Simple Installation. Drill-free installation with the included mounting tape
It's about time that we take away our children from their screens, we all know the harmful effects of this but we just can't seem to find a cure to distract our children. Nanoleaf is the best solution to this, plus it's multi-functional! Beautiful, creative and more importantly, educational!