Cords, cords everywhere. Like a bio-engineered version of a particularly harmful Amazonian creeper vine, power cord clutter silently spreads around the house, taking over entire regions of it with amazing (and annoying) efficiency. How did it get here? When did this happen? And let's not forget the most important question: how to get rid of it? Here's our advice:
1. Seek and Store. Follow the cords and see if they're actually being used for something. If not, unplug those vampire energy suckers and store them away. Hint: remember to tag each one of the removed cords; otherwise, you'll find yourself with a box of unrecognizable cords – a whole new kind of nightmare!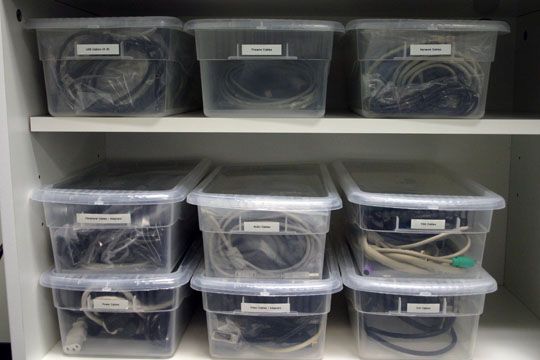 Image Source
2. The Magnet Way. If Physics 101 sounds like your cup of tea, go get a few magnets and place them wisely around the house. They work better with hanging cord ends than with cord-heavy areas, but still.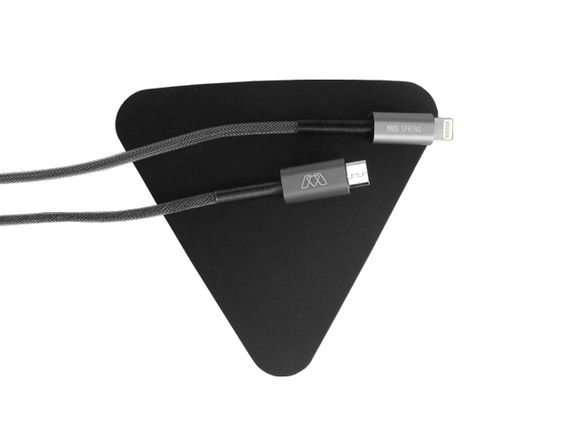 Image Source
3. Carpentry Works. If you're feeling confident and want to raise your multitasking-mom game, pegboards are a wonderful solution. Measure your furniture and order yours, then organize at will.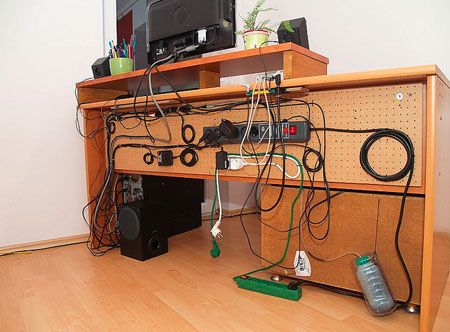 Image Source
4. Leave it to the pros. Don't feel like spending precious time resolving the cord issue? Understandable! Luckily, a couple of years ago the PowerCube was invented. Thank God! This little gadget is the ultimate cord clutter organizer. Plus, you can get it at places like Officeworks, Howard's Storage World and Harvey Norman. An easy, fast and reliable solution.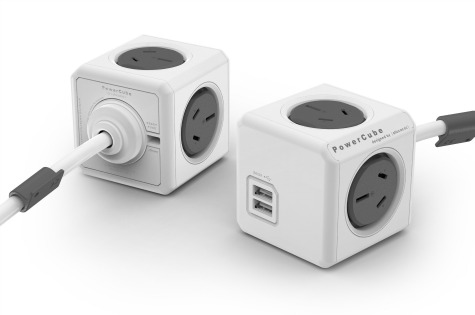 With the PowerCube you can reduce the clutter and make the area safer by mounting the PowerCube to a desk, wall or TV. This will ensure the cords are hidden away from curious little hands. The revolutionary mounting system allows the PowerCube to be easily fixated onto the dock. By rotating the PowerCube 90 degrees it locks into place. Remove it again without the risk of leaving any glue residue or scratching the desk's surface. Screws are also included to mount the dock in places where glue isn't practical.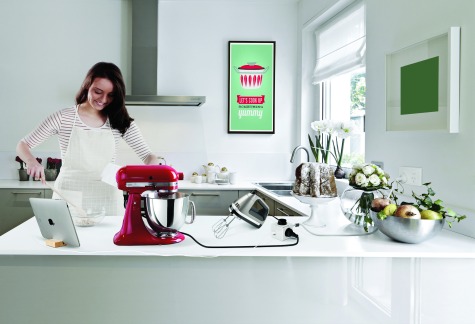 5. Velcro Tips. If you have appliances that you don't really use, improve the storage situation by placing Velcro strips to secure the hanging cords.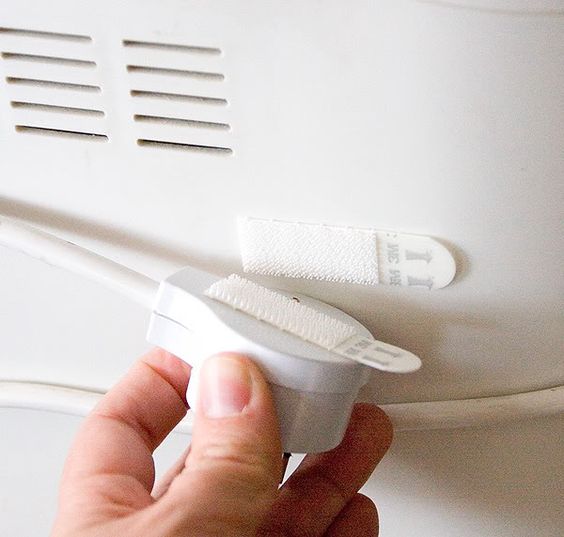 Image Source
6. Pad 'n Hide. Suction pads are your friends if you don't mind placing them in odd places. Very helpful for keeping electronics' cables off the ground and off the dust.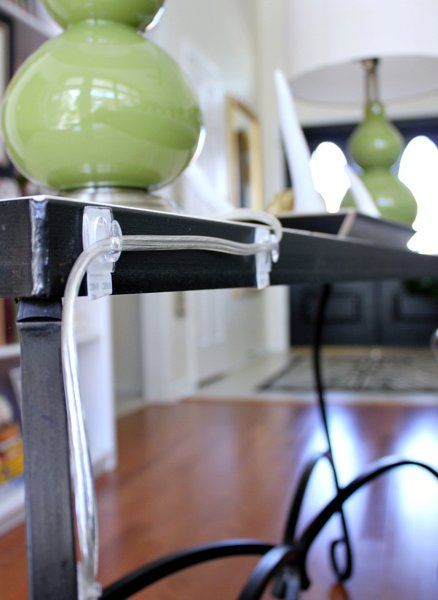 Image Source
7. Isolate and Forget. Hiding a bunch of cables into foam pipes will do the trick for a while. You'll have to repeat the process after a few months, so make sure you stock up on foam pipes.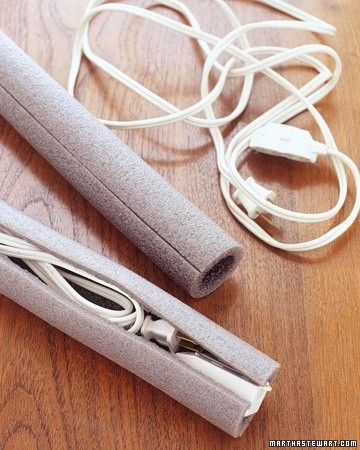 Image Source
8. Nail it. Paper clips, nail and a hammer is all you'll need. The downside? Can't be done on every surface.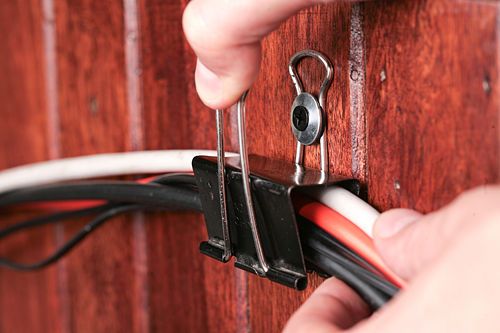 Image Source
9. The 'Trust me, I'm an engineer' solution. Resourceful people can have tons of fun with Velcro. Not the most stylish solution out there, but hey, if it works…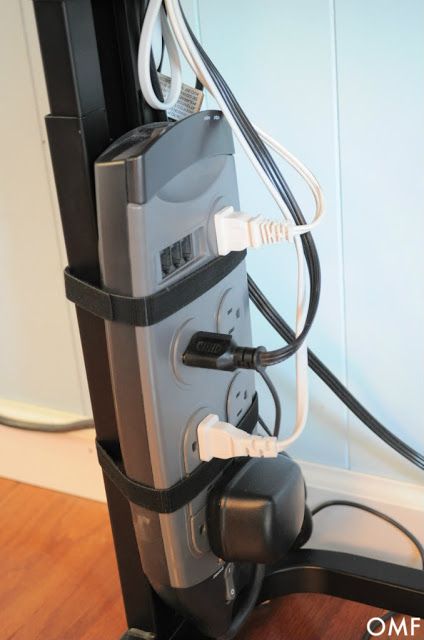 Image Source
10. Custom Clips. Widely available and good for desk spaces. Plus, they are quite lovely, aren't they?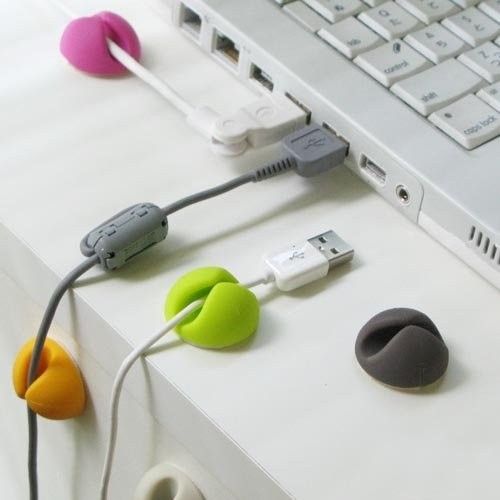 Image Source