The Australian love affair with entertaining and outdoor living is showing no signs of waning, with 79 percent of Aussie's planning to either make improvements or undertake new projects in their outdoor space this year. In addition, a backyard is high on the list of Aussie homeowner's must-haves, with over 80 percent of respondents saying it plays an important or very important part in the decision making when buying a property. This is according to the latest annual Adbri Masonry's Great Australian Backyard Survey, which interviewed over 2,000 Australians about the importance of their outdoor spaces and backyards.
Aussies "Time Out" In Their Yards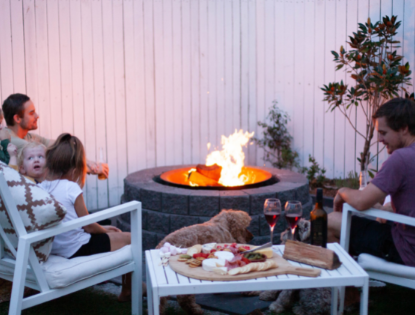 After the lockdowns of 2020 and 2021, our homes have become even more prominent in our lives with many working from home and seeking refuge in backyards and gardens for "time out".
"More than ever, Aussies are loving spending time in their backyards; relaxing, gardening, entertaining, and cooking," explains landscaping expert and Adbri Masonry brand ambassador, Jason Hodges. "More than a third of us spend at least one hour a day in our backyard and if you are a family with kids even more time as the backyard becomes a safe haven for playing and being active, as well as getting the kids off their devices."
Not surprisingly, Adbri's survey results shows that 78 percent of people use and spend more time in their yards now, than in previous years, with entertaining, gardening, relaxing and actively playing with their kids, as the top key uses. With these results, it's not surprising that those that will be renovating, or wish to, want to upgrade their entertaining area, add a veggie or garden patch, install a pool or create a kid-friendly area.
Entertaining Area A Must For Yards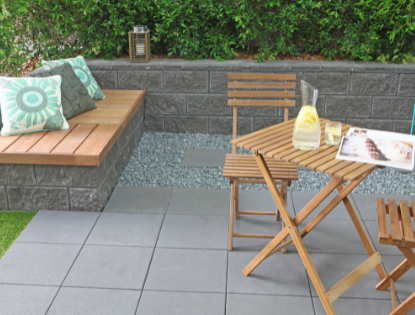 The survey results concluded that entertaining remains one of the top three uses of the backyard for many reasons. "The outdoors brings an entirely different dynamic to entertaining family and friends," says Jason. "The outdoor dining and entertaining area is a staple for every Aussie home because it adds a new dimension to how you can entertain while enhancing the appeal of your home. Outdoor dining areas allow homeowners to continue the meal experience and create more memories in an enjoyable outdoor setting."
When looking to refresh or renovate the area Jason suggests, "If you have a paved or decked area, you can give it a clean to inject new life. If you're starting with a blank canvas, consider creating your own design aesthetic with a small format paver such as Havenbrick, which allows you to create different patterns with a variety of colour tones to choose from. Also, adding a cosy fire pit as part of your outdoor entertaining area means your space becomes usable all year round. A fire pit is an easy DIY project using Adbri Masonry's Miniwall® garden blocks, which can create a straight, curved or circular wall to work into the space you have available."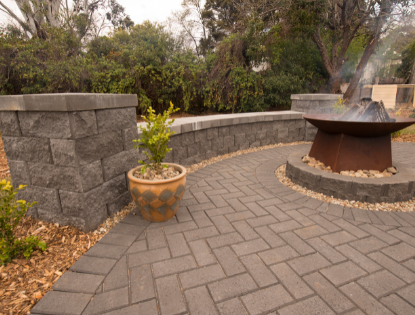 Kid Friendly Yards Score High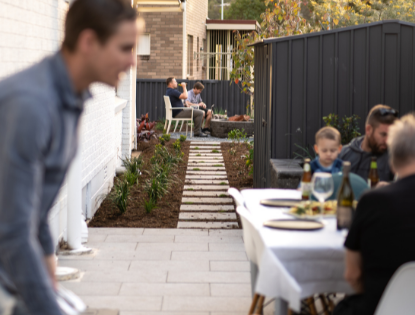 The survey results showed that kids spend on average three to seven hours a week playing outdoors, however, they spend double that time on digital devices such as phones, TVs and computers for entertainment purposes.
It's no surprise that the second top benefit of having a backyard for parents was for kids to spend more time outdoors and less screen time. Nearly 80 percent of parents felt outside "playtime' is "very important" for their child's development and considered the yard a safe space for them to play.
As a first step to a kid-friendly backyard, make sure your fencing is in good repair, add some informal seating such as raised garden beds, include a sandpit or cubby house, and provide plenty of room for sports and games. "Fencing can blend into the backdrop if you paint it a matte dark colour, and then plant a row of shrubs in front," says Jason. "You can also consider dressing up fencing with vertical green walls or decorative screening."
Adding a veggie patch scored top of the wish list for a kid-friendly yard. "A veggie patch provides you with so much more than just fresh homegrown produce, from building the patch with the family through to picking and growing the herbs and veggies you use in your cooking, it is an incredible experience and one which will bring everyone satisfaction," says Jason.
"The best part about veggie patches is they are easy to build. I tend to use concrete blocks, which will never rot and can be stacked together without glue or concrete. For larger projects try using Versawall Blocks, or if you want a premium-looking retaining wall you can't go past Adbri's Natural Impressions; a unique, easy DIY retaining wall system features varying face profiles which, when used together create the impression of natural stack stone walls."
Pools On The Wish List
For nearly half the respondents, a pool was their second choice to include in a backyard renovation. Pools and spas can add real value to a home while providing endless entertainment and enjoyment for homeowners and their families. Jason's top tip: "It's important to consider both the pool and the area immediately surrounding it. Be sure to buy a slip-resistant paver that is safe around wet areas and meets the Australian Standard. For concrete pavers, you can't go past the Adbri Euro range because it has options for different aesthetics with smooth and textured stone looks. As a finishing touch, if the budget allows, go for glass fencing, it really does set off an area."
Relaxation - The Winner!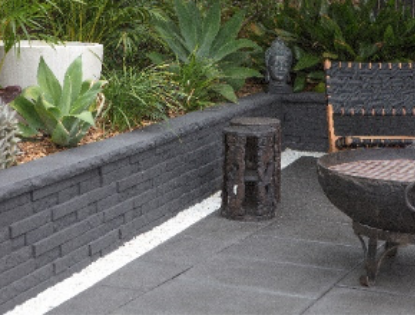 57 percent of Aussies stated that relaxation is the number one reason they spend time in their backyards. With our lives becoming increasingly busier and stress levels on the rise, people are choosing to relax at home by transforming unused outdoor areas into private retreats to enjoy a holiday at home. "The beauty of the backyard is its diversity, with a little effort and a dash of creativity it can be transformed into the space which is right for you, be it a Zen garden or sleek entertaining area, it's yours to define. Plus, it can reap financial rewards when selling," says Jason.
For more information or product samples, visit www.adbrimasonry.com.au