Twentieth Century Fox Home Entertainment invites you and your family to join Manolo, Maria and Chuy as they embark on a journey that takes them on an adventure through the Land of the Remembered in THE BOOK OF LIFE available on Digital HD now and 3D Blu-ray™, Blu-ray™ & DVD from 23 September. This culturally-based Day of the Dead themed animated feature is written and directed by Jorge Gutierrez and produced by Guillermo del Toro.
THE BOOK OF LIFE is a breathtaking animated comedy with a dazzling visual style unlike anything you've seen before. Torn between the expectations of his family and the desires of his heart, a young man named Manolo sets off on an epic quest, that spans three spectacular worlds, in order to reunite with his one true love and defend his village. Not your ordinary fairy tale, THE BOOK OF LIFE is a wondrous fantasy-adventure filled with magic, music and fun!
The film's fantastical journey on Blu-ray™ brings the party into your home with unforgettable special features for parents and kids alike. Follow the adorable pig Chuy as he embarks on an incredible adventure in his all-new motion comic, or sing along with Latin-inspired versions of popular songs by Mumford & Sons, Radiohead, Elvis Presley, Rod Stewart and more!
Fans of this magical adventure can experience THE BOOK OF LIFE anytime, anywhere on Digital HD and will be available at digital stores including iTunes, Google Play, Xbox Video, PlayStation.
THE BOOK OF LIFE DIGITAL HD SPECIAL FEATURES
The Adventures of Chuey
Closer Look at The Book of Life
The Music of Life
Digital Carpenters: The Art Direction of The Book of Life
"No Matter Where You Are" Music Video
Audio Commentary by Jorge R. Gutierrez
Gallery
THE BOOK OF LIFE DIGITAL HD & BLU-RAY SPECIAL FEATURES
The Adventures of Chuey
Closer Look at The Book of Life
The Music of Life
Digital Carpenters: The Art Direction of The Book of Life
Music Machine
"No Matter Where You Are" Music Video
Audio Commentary by Jorge R. Gutierrez
Gallery

THE BOOK OF LIFE DVD SPECIAL FEATURES
The Adventures of Chuey
Music Machine
"No Matter Where You Are" Music Video
Audio Commentary by Jorge R. Gutierrez
Gallery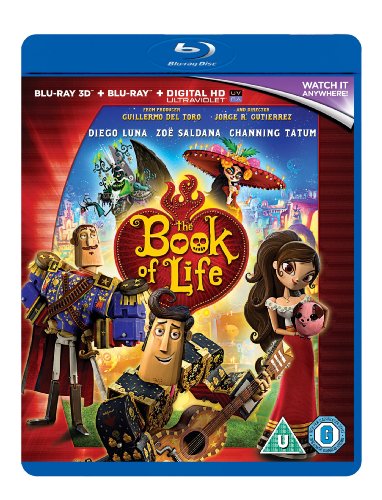 THE PRIZE
Win 1-of-3 Giveaway Packages, which includes:
Book of Life Drawstring Bag $20
Book of Life Playing Cards $15
Book of Life Stationery Set $35
Book of Life Blu-ray $31
Total Prize Value: $101.00
Win 1-of-3 Book of Life Blu-Ray and Merchandise Package