Can anyone be harder on us mums than ourselves? Well, no, not in my experience.
'Mother's guilt' is so common, it could be classed as a clinical condition! So, how have we gotten ourselves to this point as a society? And perhaps more importantly, how do we overcome it to become happy, confident parents, free to enjoy time with our children without the feeling that we are somehow always getting it wrong?
The problem is, we're always focusing on what we 'should' be doing for our children. It's that negative inner dialogue that gets us every time: "I should be doing more"; "Maybe I could be better, somehow, for my children"… and so it goes on and on.
So, let's just stop for a minute and consider why we do this. Undoubtedly, it is because our children are the most important things in our lives.
However, the problems arise when we fail to keep things in perspective. The fact is that most of us are doing the best we can.
We may not be perfect, but in reality, what is perfect? Most of us love our children wholeheartedly, and their interests are always front of mind for us. We need to take much more time to look at what we are doing right as parents and to acknowledge that it's the simple things that count.
Ultimately our children are like little sponges, soaking in the energy we put out, and if we're not happy in our role as parents, they will sense this and in turn become uneasy.
So instead of having a constant negative inner dialogue about what we aren't doing as parents, take hold of these thoughts as they emerge and instead take a moment to remind ourselves of what actually matters – our love and devotion to them. If we focus on our simple everyday interactions with them and making those interactions count, it will be fine.
This includes things such as giving them our attention by reading to them, playing with them and laughing with them. By doing these things they will learn that they are valued and cared for. This is what's important.
From this comes self-confidence, a positive sense of self and lasting ideas about whether they are loveable or not. Essentially, it sets the foundations for their life-long sense of emotional wellbeing.
Remembering that it is the simple acts of interacting well with our children that are most important, you can practice a few key gestures every day and say goodbye to mummy guilt about the things that don't really matter.
For example, practice mindfulness when going about your day with your child so that you are present in that moment to engage fully with your child. You may not have lots of time spare to spend with them, but making the moments you do have meaningful, speaks volumes to your child.
As I've told many clients over the years, even the act of simply sitting and reading a book with our child can reinforce the power of our connection with them. The child's experience is that we are noticing them, enjoying them and spending time with them.
You are teaching your child so many things by simply smiling, singing, talking, cuddling them, looking into their eyes, supporting them, comforting them when they are upset, sitting with them, playing with them, including them, noticing them, enjoying them, being silly with them, saying to them "I love you", and being accepting of their 'negative' emotions as well as their positive emotions.
These things are exactly what they need in order to develop into well functioning human beings in this social world.
So when we experience those negative thoughts about what we have to offer as parents, perhaps remember that we are doing amazing and HUGELY helpful things for them through the simplest of acts.
And from our children's perspective, that's doing a lot for their future as little growing human beings.
* * *
We have five copies of Lynne's new book, Best Start, available to five Motherpedia readers. Just let us know in 25 words or less what you do with your child (or children) to make them know they're special and loved.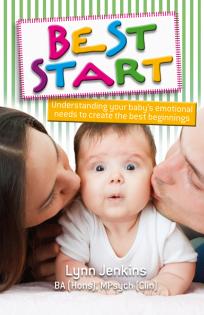 Thank you, you have entered the competition.