As a prominent mental health support worker, RichmondPRA Armidale Manager Jannelle Brandley has always known plenty about the risks and devastation of suicide.
But when Jannelle's 18-year-old son Jarrod Allcock took his life in May the scourge of suicide took on a whole new meaning.
Still recovering from the devastation of losing her son, Jannelle has decided to take a brave public stand to raise awareness of suicide with the hope that other local families might be spared the heartbreak her family is enduring.
Backed by her RichmondPRA mental health worker colleagues, Janelle will lead the region's "Out of the Shadows and Into the Light" walk in Armidale on September 10, which is World Suicide Prevention Day.
The open-invitation initiative supported by Lifeline will draw attention to suicide in the New England region, with an emphasis on what can be done to ensure more is done to identify and support people at risk of suicide.
"Jarrod was the eldest of four boys and had a normal upbringing," Jannelle explained.
"He was attentive and never in trouble at Duval High School Armidale and previously Holy Trinity in Inverell. He had a close circle of friends and worked part-time at local take away outlets before enrolling at TAFE.
"Things began to change when Jarrod began using cannabis. His moods changed. He became anxious, depressed and sometimes aggressive. Just before turning 17 he faced court on a drug charge but there was no conviction. He underwent counselling and was deemed a low-risk drug user."
"His life was in a downward spiral. Some thought it was just routine 'teen angst', until he ended his life on Sunday 18 May."
Despite Jarrod facing some difficulties and his mum doing everything to help him, suicide was never considered a likely outcome.
"It's difficult to describe the grief and devastation that goes with losing a child to suicide," Jannelle said.
"The impacts have been terrible on our family and everyone who knew and loved Jarrod.
"I've seen a lot from my daily experiences helping people struggling with lived experiences of mental illness, but you don't truly understand the impacts of suicide until it gets so close to home."
"What happened to Jarrod shows that suicide is a dreadful reality that can strike anywhere at any time - particularly in conservative rural areas where there can be a reluctance to talk about such a topic."
"It says something that I used all my professional knowledge and moved heaven and earth to try and help Jarrod but he still fell through the cracks."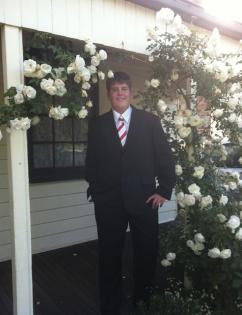 "You only get so many opportunities to engage with teenagers. If you miss the signs and symptoms that they're in trouble and don't respond in the right ways there can be no turning back."
"It's so important for local communities to be aware of and talk about the risks of suicide. You can never do enough to listen to and help people who might be at risk – particularly young people."
Jannelle will front next month's world suicide day awareness walk in Armidale
The Out of the Shadows and Into the Light walk will commence at Mallam House, 94 Rusden St Armidale at 10.15 on Wednesday 10th September and move to Central Park where a welcome reflection and memory book signing will take place.
There are other Out of the Shadows walks happening around the country. To find a walk near you or to organise one, visit: www.outoftheshadows.org.au