Australia's strong coffee culture was developed by the many thousands of migrants and refugees who started arriving here in large numbers after the Second World War, although its Australian pioneer was Russian Ivan Repin who arrived in Australia in 1925 after escaping the Russian Revolution in 1917.
Repin had several shops in Sydney and brought some of the culture and sophistication of what had been his home in St Petersburg down under in an Australian equivalent of the famous Russian Tea Room on West 57th Street, Manhattan.
Today, not only are there coffee shops at almost every suburban centre, but nearly everyone is an expert and has their favourite café. In fact, so important is the once humble cup of coffee in our lives that real estate advertisements will often boast of a residence's proximity to the much sought after café lifestyle, and there is a group of design and furnishing companies that specialist in café interiors!
Despite the European influence, we tend to prefer our coffee with milk – many varieties of which we 'invented'. It is a preference we share with Americans.
In Italy – considered by many to be the home of beautiful coffee as well as many other beautiful things – ordering coffee with milk almost automatically tells the barista you're from Australia or the United States, even if you speak in perfect Italian. And to order a milk based coffee, such as a latte or cappuccino after 10 or 11am is simply crass.
But unlike the US, franchises such as Starbucks and Gloria Jeans have been far less popular in Australia where we prefer our cafés to reflect the local culture, perhaps slightly bohemian, casually chic and certainly somewhere to sit back and spend many enjoyable hours.
Or even work. Walk into almost any café anywhere, and you'll see people holding work meetings or tapping away at their laptop or tablet computer. Interestingly, even this is not so new: during the Depression, many companies that could no longer afford office accommodation would hold staff meetings at one of Repin's cafés.
A few years ago it was important for coffee aficionados to know where their coffee came from and what type of bean it was – and so we all flocked to Fair Trade, organic certified coffee, and learned the difference between Arabica and Robusta.
Now, the cafés du jour are those that are boutique and bespoke ventures where the coffee is roasted on the premises.
Although the Italians have laid popular claim to perfecting coffee making, the first coffee tree is thought to have come from Ethiopia.
From there, the plant made its way to the Arabian port of 'Mocha' with the first cultivated coffee originating in Yemen (in contrast to salmon fishing if you've read the book or seen the film) in the 15th century, from where it was smuggled out by Dutch traders and then spread around the world. It is now one of the most valuable primary products in world trade, providing employment for hundreds of millions of people and accounting for $15.4 billion in worldwide exports in 2010.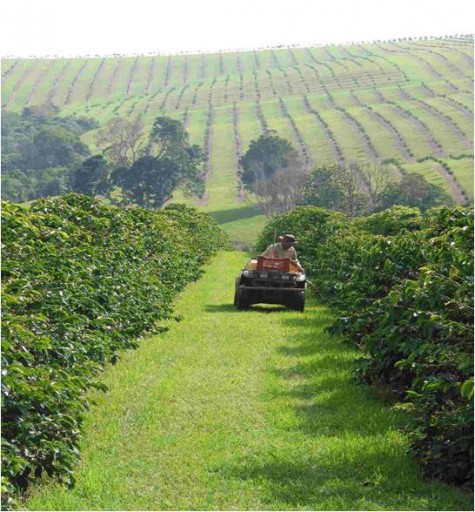 Australia also has flourishing coffee plantations, many of which are open for visitors where you can go for a tour around the plants, see how a bean becomes coffee and, of course, take a taste test.
The most prominent locations include two of the nation's most fertile food bowls - the hinterland behind Cairns around Mareeba and northern NSW.
If you're in either place these school holidays, drop in and have a look around. And enjoy the coffee.
Did you grab a coffee from your local cafe this morning? What's your favourite type of coffee?