Everyone knows that Lego is fun, and it also gives kids an opportunity to develop other skills.
Lego gives children a large range of creative play opportunities - so much better for them than being on a touchscreen all the time!
Beyond the fun factor, for younger children, the brightly coloured pieces and easily interlocking combinations provide hours of patterning practice and fine-motor development. Playing with the pieces helps children of all ages also hone creativity, problem-solving, and teamwork if they're playing with someone else.
But don't just take our word for it. Have a look at primary school teacher, Kylie Johnston's review here from last year.
We've got SIX Lego City sets to give away valued at $80 each, comprising:
Lego City Starter set, and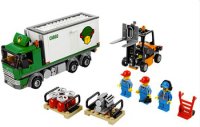 The competition closes on March 19th - and there's more than one way to enter!
And if you're in the mood for more competitions, we've got others going also. Just check out our Competitions page for what's on offer.