With winter approaching, it's always a good idea to have some children's entertainment on-hand for those rainy or cold days.
Thanks to our friends at ABC Kids we have four fantastic DVD entertainment packs to give away. Each pack contains four DVDs suitable for pre-schoolers and younger school-age children, each with a G rating, and one DVD suitable for the older child with a PG rating. The DVDs included in the entertainment pack are:
Toby's Travelling Circus – Roll Up, Roll Up!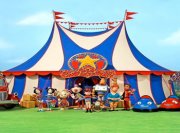 "Roll up! Roll up!" to Toby's Travelling Circus. This fast-paced, warm-hearted and funny animated preschool series follows Toby, a free-spirited 8-year-old who also happens to be the world's youngest ringmaster. Toby guides his travelling circus on fantastic adventures full of thrills and spills.
Toby and his friends push themselves to the limits to put on the greatest show at every stop. Along the way they learn that practice makes perfect, to believe in your own capabilities, and that teamwork helps you succeed.
Little Princess – Teddies, Toys & Tantrums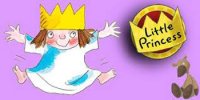 The Little Princess is just like any other four-year-old - she's shy, exuberant and boisterous in turns. The Little Princess is based on the original books by Tony Ross, and is narrated by Julian Clary with Jane Horrocks providing the voice of the Little Princess.
Postman Pat – Mission Accomplished

With his new and demanding job as Head of the Special Delivery Service, Postman Pat is busier than ever before. This well-deserved promotion means that Postman Pat will now be called on by the SDS to deliver anything, anytime, anywhere! Can he do it?
Bookaboo – The Canada Tour Continues
(main picture)
Meet Bookaboo - the world famous rock puppy! Bookaboo plays the drums in his own rock band and tours the world. But Bookaboo can't perform until he gets one thing: a story. Once the story is finished, Bookaboo takes to the stage and wows the crowd with the best canine drum solo ever heard!
Max Steel – The Invasion Begins - PG

Max Steel has faced some out-of-this world challenges before, but none as fearsome as Makino and his army of Ultralinks. They plan an all-out invasion of earth and it will be up to Max Steel to defend the planet. But with Dredd launching his arsenal of missiles to destroy the earth's defence grid, there will be no stopping the march of Makino and his forces. Can Max Steel prevent Dredd from accomplishing his devastating mission - or will the world's turbo-powered hero have to face the might
of Makino and his army here on earth?
Each ABC Kids entertainment pack is valued at $85 with a total prize pool of $340, with the competition closing on 18th May.
Make sure you check out our other competitions also – you've got to be in it to win it!