Studies tell us that the average working mother spends 15 to 17 hours a day fulfilling a role where they are attending to someone else.
That ranges for people at work, children, partner, parents or someone in the community. The bad news is in that in the 7 to 9 free hours they have to sleep, wash, go to the bathroom and eat.
From this we can observe that they spend their day jumping from one role to another. The challenge is that each of these roles require them to be very different things to very different people.
One minute they can be clearing out emails, then all of a sudden they have to solve conflict between two people.
They can be coaching one of their staff then all of a sudden they have to talk to a customer and solve their problems. Or they can be negotiating with a senior executive then suddenly have to negotiate with a three year old child.
Our studies have shown that people are struggling to be this adaptable and flexible.
This level of transitioning is tiring, mentally draining and can often make people feel out of control and overwhelmed.
We have just wrapped up a five year research project looking at how people effectively transition from one role to another to perform at their best.
The finding of this research has been released in a book called The Third Space.
Why the Third Space? The first space is the role/environment you are in now and the second space is the role/environment you are about to transition into. The Third Space is the transitional gap in between.
We found that what people did in this transitional space was vital to performance, happiness and balance.
This gap allowed palliative care nurses to spend a day with terminally ill people and grieving families yet not take that home with them.
It allowed surgeons to go from a family disagreement to performing a delicate operation.
It allowed sales people to get over rejection and move into the next sales call with enthusiasm and optimism.
It allowed people to have a demoralising day at work, yet not take it out on their loved ones when they got home.
While altering behaviour in this space applied to many different transitions where it was most effective was in the area of work life balance.
One of the most popular theories in work/life balance is the 'boundary theory', where you have clear boundaries between work and home. However Forbes in their report titled "The @Work State of Mind Project," showed that boundaries between work and home no longer exist.
Ninety eight percent of people surveyed said that they regularly did work in home/family time. If you are mother that works from home these boundaries become even more blurry, making you feel like you are always on.
How do we get balance?
Interestingly when we asked people why they wanted balance. There were two overwhelming responses - "to be happy" and "to have better relationships".
This showed us that saying you want balance is like saying you want to be on a diet. You don't want to be on a diet you want to lose weight. Like wise you don't want balance you want to be happy and have better relationships.
These two outcomes are less about time management and scheduling (which most work life balance strategies focus on) and more about behaviour. Therefore the key to balance is to stop focusing on where you spend your time and focus more on how you behave in the home.
Psychological studies show us that when we have a challenging or stressful day we often let that negative emotion and mindset affect our behaviour in the home (it's referred to as negative spill). The key to balance is stopping this spill over effect of the day.
Stopping negative spill
So if you are a mum that works from home, how do you stop negative spill? The key is managing how you shift your mindset from work mode to mum/partner mode.
I conducted an experiment with Deakin University where we asked 250 small business owners (many of which who worked in the home) to practice three behaviours after finishing work for the day as they shifted into home mode.
Step 1: Reflect: This is where they reflected on and analysed the day. However they were encouraged to only focus on what they had achieved and what had gone well for them. This activity of examining how they had grown and improved increased their level of positive emotion and put them in a growth mindset.
Step 2: Rest: In this step they took time to focus their mind on a single thought and relax their breathing. Being calm and present, allowed their physiology to recover from the stressful day. This phase also allowed their brain chemistry to support more constructive behaviours.
Step 3: Reset: This is where they became clear about their intention for the home space and articulated the specific behaviours they wanted to exhibit. In other words how they wanted to 'show up' as a parent/partner.
People in the study did this in various ways. Some did it as they walked around the block, others took one minute as they shut down their computer, while some did the three steps as they got changed out of work clothes.
After a month of the participants applying these principles, we saw a whopping 41 per cent improvement in behaviour in the home.
Ideally you would do something that signifies the shift from work to home mindset, such as go to the gym, take the kids for a walk to the park, take them to extracurricular activities. However many of us don't have that luxury.
Whatever way you transition from work to home mode, ensure that you Reflect, Rest and Reset.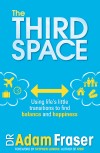 The Third Space is published by William Heinemann and is available to purchase nationwide from July 1. RRP $29.95. Visit www.thethirdspace.com.au for a full list of stockists and further information on Dr. Adam Fraser and the book.
Congratulations to our lucky mums: Pauline, Sian, Kirsty, Niki and Aerlie who won a copy!
Thank you, you have entered the competition.