Forget socks, handkerchiefs and ties! Father's Day is in two weeks time on Sunday 1st September, and we've got ideas for the dad (or dads) in your life. They're fun, practical, quirky, gorgeous or just different - and range from $5.95 through to $350.
Blast in the bath

Perfect for when dad wants to lie back in the bath and relax. It's a relaxing 'Man Grenade' bath blaster from Get Drenched made with natural ingredients that are gentle to sensitive skin. Made from Pure Essential Oils that help stimulate, uplift and energise, the fragrance is a spicy green black pepper and rosemary. These blasters fizz more because they are all handmade, which means more aroma is thrown into the air for a truly fragrant explosion.
$5.95 from GetDrenched.com.au
This is fun!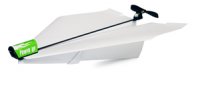 There's hardly a dad around who wasn't in to 'paper airplanes' when much younger. This is the grown-up version. The world's first electric-powered paper airplane. Yee-haa! Only 20 seconds to charge for over 30 seconds of flight duration. Durable, lightweight carbon fibre body. Make your own free flight origami airplanes and experiment with different models.
$29.95 from good toy stores.
It's so cool - but also hot

Is your dad interested in the weather? Here's something that will fascinate him. It's
one of those unusual yet amazing little things that you happen to stumble across from time to time - a fancy bit of science that will help him accurately predict the kind of weather that is looming on the horizon! Composed of a fully sealed, 23cm hand-blown glass tube filled with liquid, he can forecast the weather by observing the appearance of the liquid in the glass. When the temperature and pressure of the atmosphere change with different weather patterns, the water and crystals inside the glass change too! It's the perfect gift for someone who loves to predict how the weather will turn out – such a dad 'thing'!
$29.95 from CoolThings.com.au
3-into-1 goes

Why have three bottles hanging around the shower when you can do it all in one? Developed for everyday use offering a convenient shampoo, conditioner and body wash all-in-one, the American Crew 3-in-1 is perfect for men on the go. The cream-wash cleanses and conditions to achieve nourished skin and healthy hair in one easy step. Made with sage extract, 3-IN-1 works to moisturise and soothe the scalp whilst providing natural moisture to soften, detangle and add shine to hair.
$32.95 from selected stores (or cheaper if you shop around online)
Sustainable cooking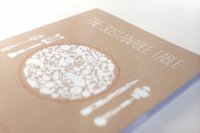 If dad is eco-conscious, he'll know that up to 60% of his personal eco-footprint is embodied in the food that we buy. This beautiful cookbook is a collection of recipes and stories from notable chefs, farmers, producers, winemakers, gardeners and everyday people who are reducing their impact on the environment by altering their food choices. These inspiring people eat seasonally, shop locally, buy organic, reduce food waste, purchase ethically and make backyards and public spaces productive.
$40 online at SustainableTable.org.au
Don't let baby break the beer glass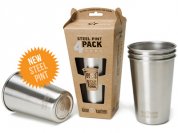 Little ones can't break these, so they're awesome for a backyard BBQ cup/outdoor cup or just for every day use. It's a pint cup made from food-grade stainless steel that's durable, won't break, dishwasher proof and light and easy to take to a BBQ or picnic.
$43.95 from LittleEcoNest.com.au
Dads like bathroom luxury too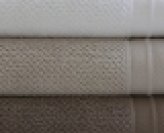 Wouldn't dad love a luxurious soft, thick, highly absorbent and long lasting towel? Or maybe mum would like him to have one? JThe towels are woven in Turkey on jacquard looms in a weight of 650gsm and come in six neutral colours that will be fashionable for years to come.
From $12 for a face washer through to $65 for a bath towel and $93 for a bath sheet from Lavender Hill Interiors
Home theatre anywhere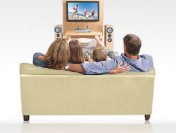 This NETGEAR Push2TV Wireless Display Adapter is smaller than a deck of cards but will help dad take home theatre to the next level. It allows dad to wirelessly mirror content such as videos, photos, apps and websites from his compatible smartphone, tablet or laptop to his big screen TV. With simple setup and no need for any cables or wires, the Push2TV wireless display adapter is a perfect way for dad to unwind and enjoy his favourite content at the end of a long day. And maybe you might get to use it too!
$89 from JB Hi-Fi and Dick Smith stores nationwide.
Say it in words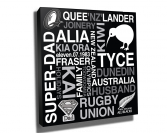 We love this idea – especially for the dad who has almost everything. Give him something that is bound to make him both smile and cry with a personalised artwork from BeyondAWord. Choose nice meaningful words, or even a poem or quote, and have these words made into a stunning bespoke artwork that can be displayed for all to see. As a bonus, it will also keep him busy for half an hour being useful by drilling the holes and mounting it on the wall! Artwork is available as canvas prints or framed prints and ready in as little as a week so no need to panic if you leave it to the last minute.
Prices start from $108 at BeyondaWord.com.au
Mind the smallprint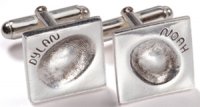 Give something that is extra precious and personal with this range of hand-crafted silver jewellery from SmallPrint. You can choose from cufflinks, charms, keyrings and more and also choose the milestone of your baby or child to commemorate – fingerprints, first word, drawings. It's a really different way to keep the memories of childhood close.
Fingerprint cufflinks are $185 and key chains are $170 available online at SmallPrint.com
Whiz in the kitchen

Does your dad fancy himself in the kitchen? Or maybe you think he needs to do more? Whatever the reason, this KitchenAid Artisan Hand Blender is the sports car of the kitche - and it has a storage box that looks just like a tool kit! It can whiz, whip, grind – it's an all round great 'power tool' for the kitchen. He'll also love the utilitarian looking storage toolbox to house all the parts.
$249 at all good kitchen stores.
For dad's best friend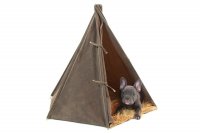 Dad might have everything he needs, but what about his beloved companion? Lavish Tails has a range of designer canine and feline gear. The canine beds are handmade with exceptional organic fabrics and high quality craftsmanship. The range includes dog whistles, Merino lamb travel beds and this popular and fantastic Deluxe Canine Field Tent. It's built from American-made tent waxed canvas with heavy-duty flooring, sewn-in floor construction and a roll-up fury floor mat to help our canine friends get extra cozy - ideal for the Aussie camper or warehouse-style apartment!
$350 for the tent, but other products are less from LavishTails.com.au