Mastering the art of accessorising is not an easy task, but for any busy working mum accessories are the holy-grail. When you master the art of accessorising, you will master the ability to take your look from day to night, no matter what the occasion.
Great style is not only about dressing for your body shape, your colouring or age, but also choosing the right outfit and accessories for the occasion. The accessories that you choose can make a significant impact on your outfit. Whether you are accessorising to highlight your best assets or compliment your body shape, you can transform your look to take it from the office to a night out in no time.
Investing in few staple accessories will keep your wardrobe current and allow you to easily alter your outfit, which is especially important when you're working with a limited budget (and timeframe!).
The key to accessorising well is to choose pieces that will enhance your overall look, and not overdo it, as Coco Chanel once said, "Before you leave the house, look in the mirror and remove one accessory", if you do this you will be sure to have the perfect outfit.
Top tip from the Style Doctor : Don't be afraid to play around with your accessories, if you're wearing a minimally-styled outfit, try making only one accessory your 'hero' piece, go for a bold shoe, belt or bag to amp up your look or even try a scarf or statement necklace would also do the trick.
Your Everyday Look:
The great thing about accessories is that they can take a simple, everyday outfit and make it unique to suit your own style. By introducing a hint of colour in a beautiful scarf during the day and swapping it for a statement bag for the evening, your look can truly be transformed.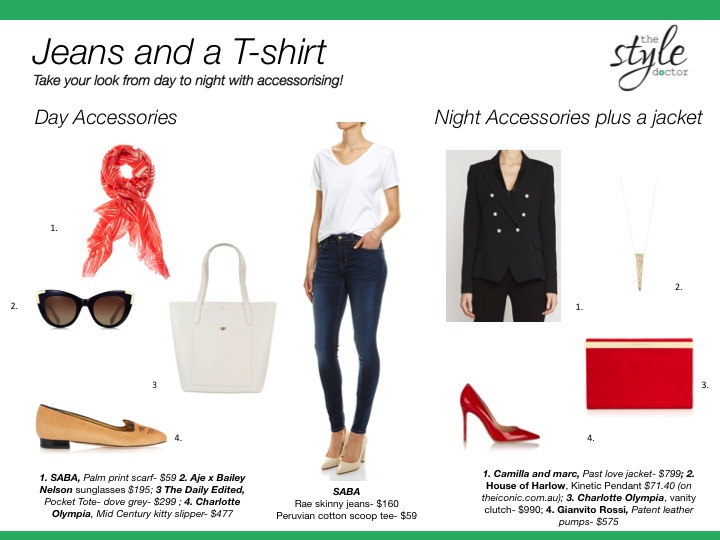 Summer dress:
For a print, minimal styling is best, less is definitely more in this case. Nude shoes and simple fine jewellery are great choices and will work best to complement a bold print, or for something a bit more daring, pick up a colour in the print and pair it with matching accessories.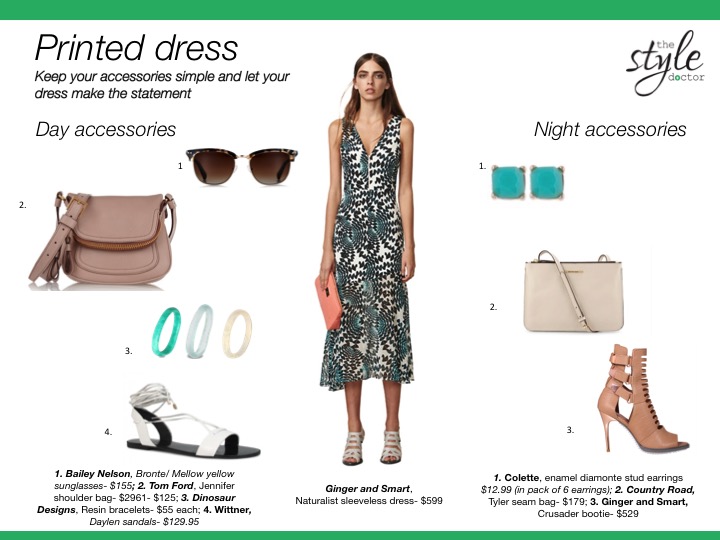 Work wear:
Whether you prefer pants or a dress suit for the office, a good belt is a must have for any fashion aficionado. With work wear, opt for monochrome and natural tones to make your outfit more versatile and tran-seasonal.
These colour tones work well for everyone, and introducing a belt will give you shape and allow you to flaunt your waistline. It is also a great way to bring your personality to the office so don't hold back.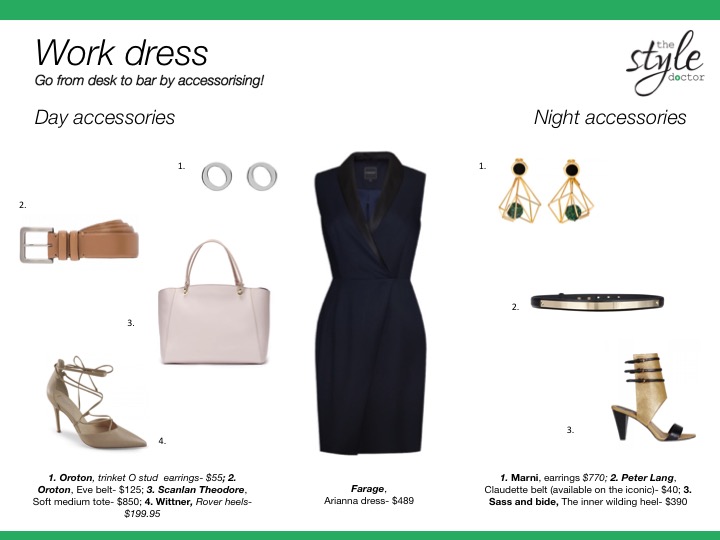 About Kash O'Hara l Founder and Head Style Doctor at The Style Doctor
With a long held interest in fashion and styling, Kash O'Hara, founder and head style doctor at The Style Doctor. Gaining extensive experience within the Australian fashion industry and becoming heavily involved in styling work, overtime Kash has worked as a fashion designer, personal stylist, editorial stylist and celebrity stylist for the likes of Danni Minogue, Lizzy Lovette and Lynette Bolton.
With her experience in styling and fashion design working hand in hand, in 2015 Kash launched the diverse offering of The Style Doctor, the online styling expert which is the first of its kind in Australia.