Scientists may disagree about whether what a woman does, feels or eats when pregnant could determine the gender of her baby - but research from Roy Morgan suggests the reverse may be true: the gender of their children may affect mothers' attitudes and behaviours.
Women living with three or more children all of the one sex display remarkable and surprising differences, both to each other and to mothers with three or more kids of mixed genders.
Mothers of boys are 70% more likely than mothers of girls to sometimes use force to get things done (22% v 13%), 37% more likely to consider myself a leader rather than a follower (52% v 38%) and almost 40% more likely to love to do as many sports as possible (25% v 18%).
Instead, mothers of girls are much more likely to be security conscious (61% to 46%), enjoy grocery shopping (60% to 43%) or say they were born to shop (28% to 16%).
Mothers of girls are also more left-leaning in their beliefs. 74% believe homosexual couples should be allowed to adopt children, compared with only 54% of mothers of boys.
There are also some unexpected findings around mothers' body image, fashion and food.
More than 1 in 4 mothers of only boys say it's important to look fashionable compared to just over 1 in 5 mothers of 3+ kids overall, while mothers of only girls are even less sartorially inclined at fewer than 1 in 6.
Other points from the research include:
88% of mothers with only girls say they would like to be able to lose weight, 13% points above the proportion of mothers of boys - but at 49% the latter are more likely to be constantly watching my weight, 9% points above the mothers of girls
62% of all mothers with 3+ kids say people often compliment me on my cooking. However, it's 70% of mothers of only boys while only 55% of mothers of only girls are often complimented, and perhaps this is

because mothers with daughters are almost 60% more likely to

often buy frozen or chilled ready prepared meals.
While 97% of all mothers of 3+ kids say they are very proud of my family, marginally more of those with just daughters are proud than those with just sons.
Mothers with a single-sex brood do agree on some points. Regardless of whether they have boys or girls, they are more likely than mothers of 3+ with a combination of genders in the household to like to drink wine with my meals, and less likely to think terrorists deserve the same rights as other criminals.
There are around 680,000 mothers in Australia with three or more kids under 18 in the household, and 160,000 or so living with three or more kids all the same sex.
According to Michelle Levine, CEO of Roy Morgan Research, the differences in attitudes between mothers of all boys and all girls is striking, especially with three or more children.
"It is natural that having a child - let alone three or more - would change a woman's attitudes and priorities. What surprises are the changes seeming to result from having a few kids all of the same sex: all sons and no daughters increases the likelihood of using force, playing sport or wanting to look fashionable, while the opposite makes a mother more likely to want to lose weight, enjoy shopping or be security conscious."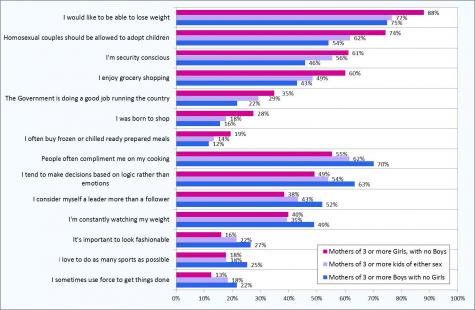 Chart from Roy Morgan Research