She is an athlete, an Olympic medal-winning swimmer. She is 176cm tall. She weighs 70kg. Her shoulders spike upwards and outwards, a bit like quizzical eyebrows.
She is a Queenslander, but lives in Canberra. She has never met an Edamame bean she doesn't like, and her passion for cake decorating is an increasingly poorly kept secret. Last year she baked a man's 60th birthday cake in the shape of a football jersey. Half black and half red. He was an Essendon and Swans supporter.
She is a lover of animals. She works part-time in the cattery at the RSPCA and owns three rabbits, two cats, one dog and two chickens. The other day she stopped on the side of a highway to save a crossing turtle. A car swerved and ran over it. The turtle died in her hands.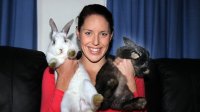 Alicia with two of her pet rabbits
She worries more about disappointing others than herself. At the world championships in 2013, she sobbed after she was overtaken in the final leg of the freestyle relay. The Twitterverse was alight with recriminations for her display of emotion. "I apologise if I upset Australia for being human" she tweeted in her defence.
She is one of Australia's finest swimmers, but has toyed with retirement. After winning five medals at the 2012 London Olympics, as many as Ian Thorpe in Sydney, she sat at home and put on seven kilograms. She felt normal.
But now, at 26 and 16 months after her London triumphs, she feels the recognition she deserves is finally emerging. In the final stretch of her career, Alicia Coutts is determined to assert herself as Australia's Golden Girl of the pool.
Tough learning curve
We sit at an outdoor table on the AIS campus in the Canberra suburb of Bruce. Coutts recently returned from Beijing, where she competed in the final World Cup short-course meet for 2013. She wears a sleeveless hot-pink tank top, exposing taut, bronzed shoulders, and during breaks in conversation sips from a plastic bottle filled with protein shake. She just finished her first gym session of the day.
Coutts has a reputation for being reserved, more in the mould of her softly spoken idol Susie O'Neill than brash-talking team-mate James Magnussen. A true ironwoman — one of the world's best across freestyle, butterfly and medley events — until earlier this year she was known for her ability to keep her emotions in check.
But a mention of what happened at the world championships in Barcelona last July — and the public's reaction — sees Coutts' eyes light up and her tempo rises.
"There are a lot of people who just don't realise the work you put in to be an elite athlete," she says as she adjusts one of her multiple ear piercings. "They think that you just swim once or twice a week and get to go on free trips overseas and see the world.
"I train my arse off. Every day of the week. Yes, I get to go overseas, but do I get to see anything other than the hotel and pool? No. It's not like a holiday. We're there to do a job, and when we don't do the job that we expect of ourselves, or the public expects of us, the backlash can be hard to deal with.
"I didn't cry because I lost. I cried because I felt I'd let my team down. It's the first time in my career I felt like that."
While it was a tough learning curve, 2013 was nonetheless another remarkable year for Coutts. She left the world championships with five silver medals — a display of all-around excellence that hasn't been seen by a female Australian swimmer since Shane Gould took the world by storm in the 1970s.
But it was almost the year that wasn't. Coutts struggled with motivation in the months following London and this carried over into 2013. She wasn't at her ideal race weight in Barcelona, and admits candidly, "It was like it was okay for me to stay at that weight. That it didn't matter."
Her revelation, however, underscores how much more Coutts has to give — something many in the swimming fraternity have known for a long time.
"She is right up there with the great female swimmers of the country and I don't think she got the kudos she deserved [after London]," O'Neill said recently. "I think she is really tough and similar to me in the way it has taken a few successful events to get noticed."
It's a message that is starting to penetrate, even with down-to-earth Coutts. When speaking to her you sense she is craving life after swimming — a tell-tale sign is the conversation slipping from swimming to quotes for new floorboards or her latest cake creation — but she also seems to have found a new level of energy and commitment.
"So many people have said to me that I can't retire, I'm doing so well," she reveals. "And it's true, I'm finally getting some recognition. I've thought about it and realised that you're a long time retired. I definitely don't want to be one of those swimmers who retires and then a year later announces they're making a comeback.
"When I retire it'll be for good."
Making of a champion
Coutts' first serious swimming competition was when she was seven. It was also the day her father passed away.
"I was playing with my toys when my older brother came up to me crying and told me 'Daddy's dead,'" she recalls. "I remember my Mum made us give him a kiss goodbye and then the ambulance took him away."
The competition was scheduled for the afternoon, and despite the devastating circumstances a precocious Coutts insisted on swimming. "I have to do it for Dad," she said to her disbelieving mother.
She won every race she entered that day — spurred on by the memory of her father — and hasn't looked back. After years of family sacrifice, during which Coutts was ferried to and from the pool by her mother, she moved to the AIS to pursue her dream of becoming an Olympic medallist.
"It was only supposed to be a one-month trial, but at the end I just never went back!" she exclaims.
But luck wasn't on her side and it wasn't until 2010 that Coutts finally struck gold. She wrestled with glandular fever in 2005, had abdominal surgery in 2007 and a second round of surgery two years later. While she made it onto the Aussie team for the Beijing 2008 Olympic Games, it was at the Delhi 2010 Commonwealth Games that she made a name for herself by swimming away with five gold medals.
Since that time Coutts has won 13 medals at major meets — the Olympic Games in 2012 and world championships in 2011–13 — but, surprisingly, only one has been gold. Sitting in front of her now, it seems that — much as she doesn't want to admit it — the missing pieces on her resume is what is driving her 4am starts.
Not that she intends to cut back on her schedule in pursuit of gold.
"It would be like telling James Magnussen to pull out of the 100-metre freestyle," she says of dropping an event. "I'm one of the best in the world my events. Of course, it would be different if I wasn't a chance of winning a medal or making a final. But I don't want to be in the situation where I pull out of one of my main events only to find out I think I could have won it."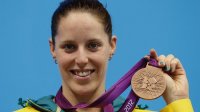 With her Bronze Medal at the London Olympics
Levelling the playing field
After Coutts' exploits in London, she was awarded the Australian Swimmer of the Year award — for the second time in three years — as well as the AIS Athlete of the Year honours.
But when it came to The Daily Telegraph naming its top sportswoman, the gong went to a horse.
"It made me and every other sportswoman angry,' Coutts says with a groan. 'I don't deny that Black Caviar is an amazing animal and female horse, but that's a slap in the face to every female athlete out there. Gee, we couldn't pick a female athlete so we went with a horse. How much is that an insult?
"I'm not saying I should have necessarily won it. But think of all the worthy athletes. Sally Pearson. Anna Meares. There were a lot of women to choose from."
Coutts is clearly passionate about women's sport, and would like to see the playing field levelled somewhat before she calls it a day.
"It's not an even playing field in Australia," she says bluntly. "You can be the worst player on a men's football team and get paid more than a female swimmer. It's just the way it is and I've had to come to accept that. But, really, how many times do you have to prove yourself worthy?"
But regardless of the extent of recognition she receives, Coutts will continue turn in outstanding performances. She is looking forward to the Glasgow Commonwealth Games later this year, after which she will marry her fiancé, Steve, and make a final decision on whether to chase gold in Rio in 2016.
* * *
The Glasgow Commonwealth Games is on from 23 July - 3 August.