When my husband, Zenon, first signed for Gold Coast United, it was an exciting time. A brand new team was being built in the A-League and a new addition to the squad was released through the media every day.
"It was a weird feeling when Mikey signed", Zenon says. "I was excited, most definitely. But I did wonder if it would be awkward after all those years."
The 'Mikey' he refers to is Michael Thwaite, current Socceroo and Perth Glory centre back, also known as the 'Smiling Assassin'.
Both hailing from Cairns, Zen and Mikey met in pre-school and were inseparable for the next eight years.
"One of the first things I remember about Zen is he had the coolest hair. It was spiked up with half a tub of gel but all the kids loved it," Michael says with a laugh. "He and his spikey hair organised all the games at little lunch and big lunch."
Watching the boys reminisce is adorable and frustrating all at the same time. Going off on a tangent seems to be a recurrence and I keep having to drag them back to the point.
Boys! Enough about Mrs Jancoski and, err, about your stint in rugby league! Yes, you heard that right.
"Everyone knows Michael Thwaite for his smiling during games. For as long as I have known him he has always been happy. He's the nicest guy you will meet," says Zenon.
Mikey laughs and returns the compliment but not entirely.
"While Zen is still the same genuine, light-hearted character he always was, what definitely hasn't changed is that, even at 30, he still has that mischievous streak he did as a kid."
Surprised (not!) I ask him to elaborate.
"When we were younger, Zen would always be the one to start trouble and because I would laugh, I would get into trouble too. I always copped the rap for his antics. Same thing happened at the Christening."
Michael is referring to our daughter Vida's Christening in Cairns, where we asked him to be her godfather.
Being at St Francis Xavier - the Church that the boys spent many a School Mass reluctantly singing Liturgical Hymns - brought back all kinds of memories and it meant they became 8-year-olds again ... laughing in the pews.
Growing up in Cairns and its wide-open spaces meant that Zenon and Mikey have many childhood memories that significantly differ from how we raise our kids today.
"I remember Mikey and I walking in the rainforest for hours when we were 8 or 9 amongst snakes, spiders ... everything. Looking back, I didn't know how we were allowed to wander aimlessly in the bush but I am sure that's just because I have been out of Cairns for so long and kids probably still do it all the time."
Michael agrees and adds: "We still try to keep technology away from our kids and try to encourage the outdoors. It's an important part of growing up."
As well as sharing a very similar pathway in their professional football careers, this also extends into their personal lives where they are both married fathers of two little girls of similar ages.
"I think I knew I wanted to be a professional footballer when I first met Zen's Uncle Frank at his house in Cairns. He would come and kick a ball around with us and he had really 'made it'. I looked up to him and can honestly say he was my idol," Michael says.
Michael is referring to Frank Farina, current coach of Sydney FC in the A-League, former Socceroo and Brisbane Strikers coach and one of the greatest Socceroo players of the 1980s and 1990s.
Zenon adds: "Of course my uncle was the example. He had been everything, a professional player, player-coach, coach of Australia. He motivated not only me but other hopefuls growing up in Cairns."
The boys agree the football bonding also extended to their fathers.
"Both of our Dad's have coached our team at some point or another," says Michael. I am talking when we are 5, 6 years old. There are just so many memories and years there. It's like family now."
While Zenon and Michael were practically in each other's pockets for the great majority of their childhood, when Zenon was 12, the Caravella's hit the road for the big smoke - Sydney.
"My family moved to Sydney and so we naturally lost contact. No one had mobile phones then and Michael and I weren't really the penpal kind of people. So we would just hear about each other through our Dad's and start bumping into each other occasionally when we started playing professionally.
"I always felt like I had a connection to him given we had grown up together. But it wasn't until Gold Coast United that we managed to properly catch up again after all those years."
And how did it feel catching up again?
"The friendship is and always was a very natural one," Michael says. "There is never any awkwardness. I remember that first coffee seeing him after so many years and it was just normal. "
Zenon agrees. "There was a definitive moment at that first coffee when I knew it was exactly the same as it was when we were kids. Someone we had just met called me 'Zane', and Michael and I just looked at each other and smirked. It was the first of many situations where we just knew each other's humour and it was like we just picked up where we had left off, 15 years ago."
Michael explains what has kept them such good friends since the reunion that was Gold Coast United.
"I am a very loyal and honest person and I look for the same in a friend. That's what makes our friendship so easy without much effort. We genuinely support each other in everything we do."
So after 8 years of childhood friendship, a 15 year hiatus, a reunion at Gold Coast United, a few interstate moves and Skype chats since then, Zenon and Michael are closer than ever and it was a lovely moment when my husband told me who he wanted as Vida's Godfather.
"I just know Mikey is real," he said.
"Even though our profession takes us all over the place I know we will always be in each other's lives in some way. My wife Kat and his wife Chantelle are friends and our kids are the same age. You never know, we might all live in Cairns again one day."
But before the rollercoaster ride of football is over and the boys settle down in their chosen place with their families, Michael tells me he would like to play in the same team professionally as his mate Zenon (who currently plays for the Newcastle Jets) again.
"We had a great time at Gold Coast United - and I was especially disappointed when Zen left. Hopefully, we get that chance to play together again."
* * *
To find out the latest on the A-League and football in Australia, visit Motherpedia's sister-site, Australian Football PRSS.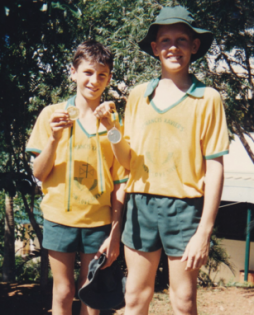 Zenon & Michael around 1993.