You may have already heard about the Meatless (or Meat Free) Monday movement. It is becoming increasingly popular across the globe with many households now swapping meat for legumes, tofu or eggs for their Monday eats.
More and more households are pledging to go meat free each Monday, including my own. In fact, my husband and I often enjoy more meat-free meals in a week compared with meaty meals.
There are many reasons why I enjoy (and my husband has learnt to enjoy) more meat free meals.
First of all when it comes to red meat I don't particularly favour it and I don't believe we need too much in our diets. This is because a higher red meat intake, whether the processed or unprocessed type, has been linked to an increased risk of type 2 diabetes risk, cardiovascular disease and bowel cancer. It looks like the risk is particularly high for people who regularly consume processed meats such as hot dogs, bacon, sausages and salamis.
If you consume red meat more than three times weekly, you can replace it with poultry, fish (particularly the oily type) or other seafood, but why not make it a vegetarian meal and make it a Monday ritual!
Another reason why I just love meat free meals is the way it can really bump up your veggie count to the recommended five serves a day.
Having more meat free days can also increase your longevity through the prevention of chronic conditions (such as cardiovascular disease, some cancers and type 2 diabetes) and this approach to eating can also reduce your carbon footprint, something our future generations will thank us for.
How and what?
You may be reluctant to dedicate just one day a week to meat free eating - maybe due to the unknown?
Not knowing how to put a meat free meal together and not knowing what to substitute meat for. These are the most common barriers to meat free eating. To ensure a good source of protein and essential nutrients such as iron, zinc and B12 in your meal you can substitute meat for 2 eggs, one cup of legumes, 170g of tofu or 30g of nuts – EASY!
Often these meat free meals are very quick and easy to prepare, another reason why I love them so much. Some of my favourite balanced veggie meals include:
Vegetable stir-fry with noodles and cashew nuts
Roast vegetable and quinoa frittata
Capsicums stuffed with kidney beans, vegetables and rice
Vegetable stir-fry with with firm tofu and soba noodles
Spiced chickpea patties with salad and Greek yoghurt
Chunky vegetable and cannellini bean soup
Vegetarian Chilli con carne with chickpeas, kidney beans, capsicum and zucchini instead of meat
Vegetarian lasagna with ricotta cheese instead of white sauce.
Legumes – the good and the windy
My favourite meat substitutes without a doubt are legumes.
A food that serves so many purposes but does not appear on our plates enough. There are so many health benefits of these little delights as they boast a variety of vitamins and minerals and are a great source of protein, healthy fats and low GI carbohydrates. They can also bulk up our meals and give us more bang for our buck when we look at the cost for nutritional benefit.
A dish featuring legumes can also be one that is quick and convenient for busy people.
Of course legumes have the reputation to make us a little windy, but some professional organisations also claim that having legumes more regularly in your diet can reduce this somewhat displeasing effect. I'm still waiting for my husband's body to adapt …
What is a legume?
Think lentils, baked beans, chickpeas, kidney beans, butter beans, cannellini beans and pinto beans just to name a few.
They come canned or dried, so choose whatever you prefer. If you opt for canned (which gets extra points for convenience) just rinse them with water before you use them.
Prove them all wrong!
Your friends and family will tell you that they don't like legumes, so prove them wrong! They are a blank canvas for so many different flavours, just be creative and don't hold back on adding herbs and spices to make them more appealing.
Take the challenge to show your housemates, friends and families that legumes can be a tasty and enjoyable eat.
I hope this article has inspired you to consider devoting one day a week to meat free eating. You may be pleasantly surprised by the taste and diversity of these meals and the way your body responds.
* * *
To encourage you to take up Kerryn's Meatless Monday challenge, here's a vegetarian dish that is also gluten-free, as it uses Portobello mushrooms as a burger 'bun' instead of bread, from Francis Morissette and Joshua Sprague.
Portobello and cumin spiced eggplant burgers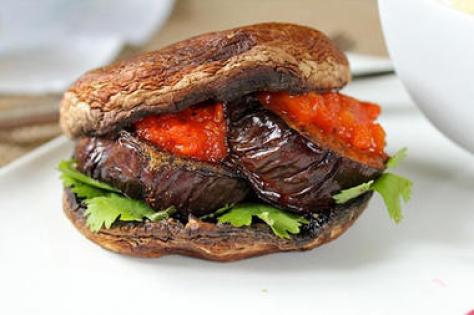 Makes 4 burgers
Ingredients
8 portobello mushroom caps
1 large eggplant
Olive oil
Eggplant spice (see below)
1. Set the oven to 200 degrees C. Using a paper towel, wipe clean the mushroom caps. Remove the stem. Brush the mushroom caps on both sides with olive oil and season the underside with salt and pepper. Set them on a baking sheet with tops facing down.
2. Slice the eggplant into 1-2cm slices. Brush the eggplant slices with olive oil and toss them with the spice mixture and place them on a cookie sheet.
3. Bake the mushrooms and eggplant for 20 minutes, flipping the eggplant halfway through.
4. To assemble, top 4 Portobello mushroom caps with 1 to 2 slices of roasted eggplant, roasted red pepper jam, and fresh cilantro. Cover with second mushroom cap and serve.
5. Bring a big napkin. These are juicy.
Eggplant spice
For each large eggplant:
2 teaspoons ground cumin
½ teaspoon smoked paprika
½ teaspoon salt
Mix the 3 seasonings together and toss with eggplant before roasting.
Tips:
You can cook the mushrooms and the eggplant on the grill if you prefer. The mushroom caps only take about 8 minutes per side. Eggplant will be approximately the same.
Additional topping suggestions include avocado, tomato salsa, grilled haloumi, pesto or feta.