The battle continues in the high-tech Kingdom of Knighton, and it's up to the LEGO Nexo Knights to race to the rescue. The five young knights assemble to save the day as they brave across the kingdom in their latest quests yet, in LEGO® NEXO KNIGHTS - Season 1 Volume 2, available to own on DVD from June 16, 2016.
This time, the evil mastermind, Jestro, has returned to the Knighton and is back with a vengeance. Joining the Book of Monsters, the pair of villains travel to find the Book of Destruction and unleash a pack of destructive monsters who split up in different directions. With the Monsters of Destruction in tow, Jestro orders them to raid the villages, wreaking havoc all over the Kingdom.
Clay leads the NEXO Knights to take on Jestro, but the clan soon find out that they are stretched thin. As the Knights become captured one by one, they must quickly figure out a plan to regroup in time to thwart their never-ending attack of monsters and enemies.
It's the highly anticipated final showdown between might over magic, in LEGO® NEXO Knights Season 1 Volume 2, available on DVD from June 16, 2016.
Continue to power up for battle with your NEXO KNIGHTS heroes with new play sets including: Beast Master's Chaos Chariot and Clay's Rumble Blade, available now in all major retailers and specialty toy stores.
Please visit the official Viewing Lounge Facebook Page here for more information and updates on all our releases.
DVD Bonus Content:
Character Spots – Clay, Aaron, Lance, Macy, Axl, Jestro, Merlok
Price: DVD RRP $19.95
Duration: 106 minutes
Genre: Family – Animation
Rating: PG – Mild fantasy violence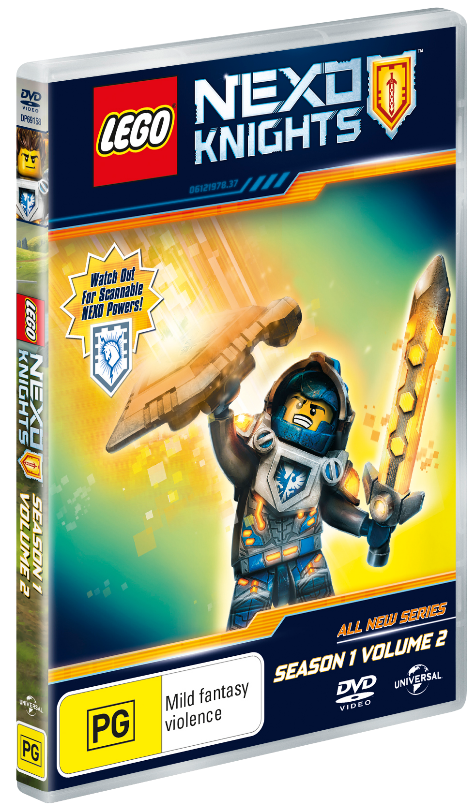 THE PRIZE
10 x LEGO NEXO KNIGHTS ­ Season 1 Volume 2 DVD Giveaway