If you know someone who's pregnant or breastfeeding, we've put together two wonderful 'New mum, new baby' prize packs with a difference thanks to Blackmores, Closer to Nature, Britt, Thermos and Lamaze Toys.
Each 'New mum, new baby' prize pack includes:
a jar of Pregnancy and Breastfeeding Gold from Blackmores – which provides a daily dose of 20 important nutrients for mother and baby including folic acid, DHA and vitamin D3. It also contains low-constipation iron in a smaller and easy-to-swallow vanilla-flavoured capsule. Each jar contains 60 capsules (RRP $28.95)

a jar of Belly and Body Balm from Blackmores, comprising sunflower oil, coconut oil, evening primrose oil, natural vitamin E with lavender, citrus and bergamot (RRP $19.95)
orthodontic soothers from Closer to Nature (one pack for 0-6 months and the other for 6-18 months) (RRP $7)
a Thermos Foogo stainless steel sippy cup (RRP $30) for 6 months + OR straw bottle (RRP $28) for 18 months +– both dishwasher safe and kid-proof


an adorable Britt bear made in Australia from signature soft chenille featuring simple hand-stitched eyes and nose – perfect for baby's first comforter (RRP $39.95). Please note that both are pale pink.

and either
a Lamaze Octotunes (RRP $34.90) – a tuneful octopus with large, friendly eyes that invite baby to focus on a single object supporting healthy eye development, and with tentacles that can be pulled, squeezed or hugged to help strengthen muscles. Each of the eight tentacles plays a different note when squeezed and you can also download additional tunes - main picture
OR
a Lamaze Pond Symphony Motion Gym (RRP $72.90) – an activity gym which is a life-size mobile featuring a colourful round machine-washable playmat that features arms which suspend and move above baby bringing the toys to life, which helps with visual tracking.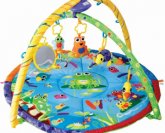 One prize is valued at approximately $163, the other at $197 with a total prize pool of $360. The competition closes on 24 August.
Don't forget to check out our other competitions also.