There's no place like home when it comes to a holiday break and school holidays at Easter in April may be the first opportunity to have a break, and are as good a time as any for the family to have a few days or a longer holiday away together. Here are 5 top ideas for an enjoyable family holiday.
Sydney
It's our biggest city, our global city, our most recognised city and it's full of brash, hassled and sometimes seemingly unfriendly Sydney-siders. But it also is one of the most naturally beautiful cities in the world .... the trouble is, it sort of knows it too!

When Sydney turns on a glorious autumn day, it shouts "Look at me, look at me!".
It doesn't matter where you venture around the CBD or the suburbs to which tourists flock, there's water - either by way of Sydney Harbour or one of the many suburban and gorgeous beaches. Of course, if you venture 30 minutes by ferry to Manly, you can experience both the Harbour and the beach within a short walk of 5 minutes. There are plenty of fun things to do in Sydney with children, whether for a few days or a longer break, and not all of them are expensive.
As well as Manly, Bondi, Tamarama and Bronte beaches, try the Bondi to Bronte walk; Nielsen Park in Vaucluse; visit North Head or Clifton Gardens; feel as if you're almost on your own stretch of private beach at the secluded Camp Cove; and – a favourite – take the Spit to Manly walk through bushland and around a series of stunning headlands. It doesn't matter which way you take this particular walk, you'll finish at a spot with a nice beach and coffee shops with views. And that's just what Mother Nature has to offer.
Around the city itself are museums, galleries, the aquarium, shopping, The Rocks, the islands in the Harbour, Luna Park and the twin icons of the Harbour Bridge and the Opera House. No visit to Sydney at Easter is complete without a visit to the Royal Easter Show in the Sydney Olympic Park precinct. And Taronga Zoo is worth a visit for the animals and the views - the best way to get there is by ferry.
And, while you're in Sydney, take a day tour to the Blue Mountains; and take a train out west to visit Little Vietnam in Cabramatta for some great food.
Where to stay? Somewhere by the water! Compare what's on offer in Darling Harbour, McMahon's Point and Manly.
Age suitable for children? Any age.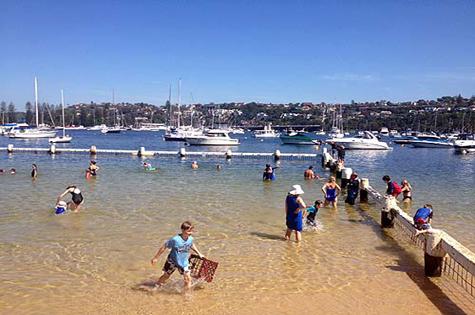 Harbour beach in the suburb of Clontarf - at the beginning (or end) of the Spit-Manly Walk, depending on which way you go
Gold Coast
The Gold Coast is often unfairly maligned because of the somewhat outdated image of the nouveau riche in white shoes and meter-maid bikini babes, but even if you do see some 1970s leftovers, there really is a host of things to enjoy about the Gold Coast for the family.
Of course, there's the 'worlds' – Sea World, Dream World, Movie World and Wet 'n' Wild Water World. They might be hard work for tired adults but they are good fun for kids and a Theme Park Super Pass helps with the cost.
The Gold Coast hinterland is delightful. You can enjoy a range of free activities – such as relatively easy bushwalks in either Springbrook, Tamborine or Lamington National Parks including the Rainforest Skywalk at Mount Tamborine – or paid ones such as Adventure Parc on Mount Tamobrine and many fruit farms, small galleries, coffee shops and other little shops of curiousity. The Gallery Walk at Tamborine is enjoyable.
Then there are the beaches. From Southport in the north (yes, confusing) to Coolangatta in the south, you will find a decent stretch of patrolled beach (Burleigh Heads is one of the better ones), and you can also walk the Ocean Walkway which is paved the entire 18km round journey – or do a shorter walk if you wish. And if all of that is not enough, there's Currumbin Bird Sanctuary, horse trail rides, Art in the Park, North and South Stradbroke Islands and so much more.
Where to stay? There are some very convenient and well appointed family holiday apartments in Surfers Paradise or nearby Broadbeach.
Age suitable for children? Any age.
Who could resist Sylvester?
West Coast highlights, Tasmania
For a longer break, fly to Launceston, pick up a car and travel to the birthplace of former Prime Minister, Joseph Lyons, and visit the famous Nut at Stanley. On the way, stop off at Ashgrove Cheese Farm, Anvers Chocolates and the Christmas Hills Raspberry Farm near Latrobe. After you've climbed the Nut (easy) and dined on the fresh seafood, drive through the Tarkine Wilderness to World Heritage listed Cradle Mountain National Park.
Depending on the ages of your children, you may not want to climb the summit of Cradle Mountain (6-8 hours return), but there are other shorter and beautiful wilderness walks such as the 2 hour Dove Lake Circuit (main picture) where you are likely to sight platypus and wombat in the wild.
From Cradle Mountain, travel via Zeehan to Strahan on Lake Macquarie; take a cruise on Macquarie Harbour to the World Heritage listed Gordon River; and then spend a delightful half-day on the steam train ride from Strahan to Queenstown on the West Coast Wilderness railway. Return to Launceston via the Great Lake Conservation area.
Where to stay? This itinerary is based around 1 night in each of Launceston and Stanley, 2-3 nights at Cradle Mountain, 1 night at Zeehan, 2-3 nights at Strahan and a leisurely 1-2 days to return to Launceston. If you don't want to do the entire itinerary and be on the move too often, you could do Stanley and Cradle Mountain or the Strahan/Queenstown area.
Age suitable for children? Any age.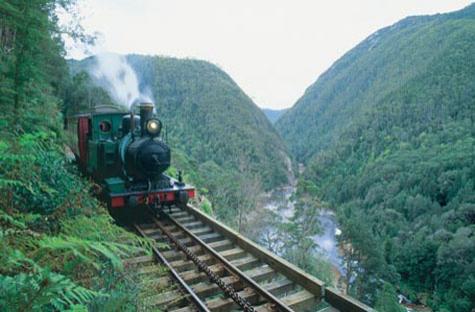 West Coast Wilderness Railway
Central Australia
There are some places in the world where you've seen the photos so often, you know precisely what it looks like – but nothing prepares you for that moment when you actually see it through your own eyes for the first time. That's Uluru (or, a long time ago, Ayers Rock).
If you love the rich red earth and clear blue sky of the outback, if your children are past the toddler stage and quite robust in terms of walking and enjoying the outdoors, and if you want to experience something different - go to Central Australia. Easter is a great time to do so.
Start at Alice Springs and learn a little about outback life through the Araluen Cultural District, the Alice Springs Desert Park, the School of the Air and the Royal Flying Doctor Service.
Check out the Aboriginal Art galleries – but don't buy the first thing you see as price and quality can vary – and also take the Heritage Walk.
From Alice Springs, it's a relatively quick trip to start exploring the geographical wonder of the local area with Simpsons Gap and Standley Chasm; while a little further west are Ormiston Gorge and Glen Helen Gorge.
Other worthwhile day trips are to Hermansburg Aboriginal Station and Palm Valley in Finke Gorge National Park, and Rainbow Valley to the south of Alice Springs. Uluru and the (relatively) nearby Kata Tjuta (formerly The Olgas) are about 3 hours drive away and are worth 3-4 nights stay. If you don't want to take the drive yourself, you can fly or hop on a fairly regular bus from Alice Springs. Both are just stunning and a 'must-see'. Uluru alone is worth seeing and photographing at sunrise, early morning, late afternoon, early evening and sunset, and can also be viewed from the air in a hot air balloon or a single engine tourist ride. Venture further north to the spectacular natural formation known as King's Canyon in the Watarrka National Park.
Where to stay? In Alice Springs, try one of the self-contained apartments around town. At Yulara (for Uluru and Kata Tjuta), there are good quality budget and family options as well as Longitude 131 with luxury tented accommodation. At King's Canyon, all options are suitable for families so pick the price range that suits you as soon as you decide to go.
Age suitable for children? Recommended for around 8 years or older to get the most out of the experience.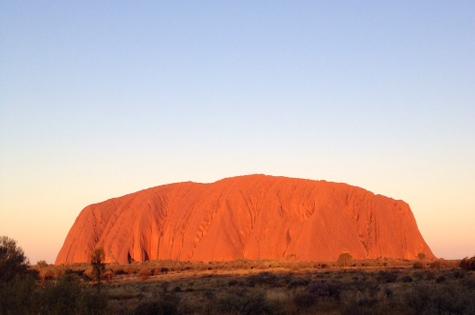 Beautiful Uluru
Kangaroo Island
Kangaroo Island may not be everyone's idea of a holiday – but if you fancy the Australian bush, wildlife and pristine beaches together with the best King George Whiting and crayfish you can imagine, this is the place to go.
Depending on where you're travelling from, the most convenient way to get to 'KI' (as the locals call it) is to fly to Adelaide and then onwards to KI, or hop in a car at Adelaide Airport and drive the very pretty Fleurieu Peninsula to Cape Jervis to join the massive Sealink car ferry with its four services daily.
Depending on the age of your children, there's a range of things to see and do including the Remarkable Rocks at Flinders Chase National Park (featured in the advertisement), the Seal Bay Conservation Park, watching the fairy penguins come home at night, caving, Little Sahara, 4WD tours, boating and kayaking and KI's many food producers. A favourite is the Island Pure sheep farm known for its premium artisan cheeses and yoghurts – and including a free taste test!
Where to stay? Once again, there are many options – including the luxury Southern Ocean Lodge. There are some great beach houses to rent for a few days or longer. Around Vivonne or Emu Bays are very nice or, closer to amenities, Kingscote or Penneshaw.
Age suitable for children? Any age.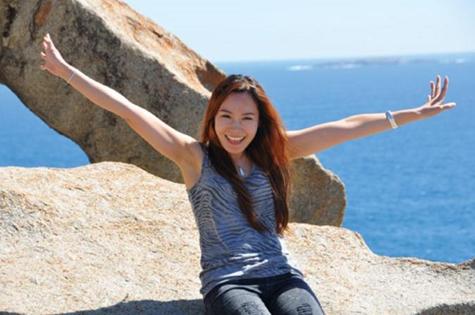 Even teenagers enjoy Kangaroo Island's Remarkable Rocks
* * *
For more great family travel ideas, visit TravelMuse.com.au