Life today is a struggle. Everything in Australia is getting more expensive by the day and, in most cases, salaries are staying the same. So if you see that your money is running short every month, you might be a perfect candidate to start saving for a rainy day.
And don't think that saving automatically means you have to live like a Buddhist monk! Here are a few tips for all future frugal mums on how to save a few dollarydoos:
Set easy goals
If you want to start saving, the best thing you can do for your motivation and discipline is come up with a goal. Those mums with very short attention spans (now we know who your kids got it from) should set small and easily achievable goals. Instead of saving for a whole family trip, you can focus on saving $200, which is more realistic.
In general, it's best to save as much as you can, because in today's world, you never know what kind of crisis will strike next and you'll need money to keep your family afloat. As your savings fund gets bigger and you get better at budgeting, you can increase your goals.

Add a second income to your budget
Being a working mum is not realistic for every mother. If you have more than two young kids to take care of and a nice home to maintain, it's very hard to also keep a full-time job. Those mums that choose to stay at home, though, can contribute to the family budget through a side-hustle or two.
For instance, you can start a daycare at home for friends, family and neighbours' kids. Or you can consider teaching, sowing, blogging, etc. There are many amazing jobs you can do from home and earn a few extra bucks for your budget.
Repay debts
It's really hard to make any savings when you have debts hanging over your head, therefore, it's best to focus on paying off those pesky overdue before you do anything else. And this is much easier said than done, but it's possible—people managed to pay off huge amounts with hard work, discipline and smart loans.
For instance, if you have debt coming from many places, you can consider
easy quick loans
to pay off debts and have just one centralised debt. These loans include fast and simple applications and 60-second transfers, all online. Once you pay off various debts and remove overdue fees, you can focus on just one monthly debt that's much easier to include in your household budget.

Give up credit cards
Australians are using cash less and less every year, and who can blame us: plastic is convenient, fast and easy to use. However, if you notice that your credit cards are causing you to spend more than you can afford, it's best to say goodbye to them. Leave one or two cards for planned purchases and bills, and use cash for other purchases.
Make sure your cards have a smaller balance and that you pay debts off right away or, at least, monthly. People are usually more conscious of the amounts they spend when using cash so it can be a great way to motivate you to save.
Focus on sales
If you're not used to keeping an eye open for sales, this might be a bother at first, but in time, you'll learn to time your shopping trips according to sales. If you know you, your kids or your household will need certain things in the future, keep an eye on sales and other benefits. You can also set notifications for certain sales and coupons if you're a busy mum with no time for shopping around.
While the sale is active or when you have a bunch of coupons in your hand, don't hesitate to buy in bulk. This way, you can save hundreds of dollars a year and save yourself a few unnecessary trips to the store.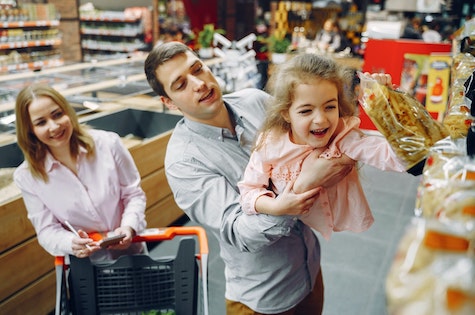 Manage daily purchases
We all love our daily cuppa from our favourite place, but the reality is that these little purchases we mindlessly make every day add up and cost a lot of money. For a week, try to write down every purchase and see how much you've managed to spend on these little luxuries.
The easiest way to cut your spending is to make coffee at home, pack snacks instead of getting them from vending machines and prepare meals at home instead of opting for takeout. When you're saving, these luxuries should be reserved for certain special occasions when you want to treat yourself or your loved one.
Wrapping up
Saving for your family and yourself doesn't have to be a prison sentence. With these tips above, you'll manage to create a nice emergency fund and enjoy great financial comfort.
Written by Lana Hawkins