It's National Literacy and Numeracy Week so we're turning the spotlight on children's books. Familiarise yourself with some of the popular children's books, by checking out the word cloud in Kylie Johnston's article of a few weeks back.
Our seven suggestions below include recent Australian reads as well as a few oldies-but-goodies. All of them are strong children's books that attract and maintain interest from kids and helps encourage them to keep going with their reading.
Most are available in both digital and traditional format.
The Rainbow Fish

An oldie but a goodie for pre-schoolers, the Rainbow Fish learns a valuable lesson about sharing, generosity and friendship by Swiss author Marcos Pfister. It was written in 1992 and has stood the test of time.
Ages: 0-4 years
Cost: $8.99
Buy: Amazon or good book stores
Peppa Goes Swimming

Currently Australia's favourite digital book for kids, Peppa is a pig whose parents want him to learn to swim. But Peppa is scared. How do his mum and dad help him deal with it?
Ages: 2-6 years
Cost: $7.99
Buy: ABC Bookshops or iTunes.
National Geographic Little Kids
You can check out the iconic National Geographic for kids online, but they also have an offer of 6 magazine editions for just $15 for the year.
Besides the fantastic colour photographs and learning that goes with National Geographic, a magazine helps children embrace the joy of reading as well as the joy of learning. Each edition has simple stories, fun facts about animal behaviour and playtime suggestions to help them learn.
Ages: 3-6 years
Cost: $15 for 6 editions (1 year)
Buy: Online here
Princess Smartypants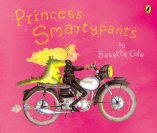 Another book that's been around for a while (1997), it's a bit of a feminist fairy tale; a humorous story about a princess who really isn't 'in' to it that much. Her parents want to marry her off, but she's not that interested so she sets her suitors some impossible tasks.
Ages: 4-7 years
Cost: $6.50
Buy: from Amazon
Neptune's Challenge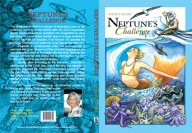 Another new Australian book that follows the struggles of teenage Charlotte who wants to be a marine biologist and who is transformed into a mermaid to help Neptune save the Great Barrier Reef from the Crown of Thorns starfish.
Based on the real life environmental problem faced by Australia's Heritage-listed great natural wonder, the book by Wendy Busby helps kids understand about the fragility of the Reef as well as learn about some of the beautiful and amazing wildlife under the sea.
Ages: 6-12 years
Cost: $24.95
Buy: Online here or at any good bookstore (published by Zeus Publishing)
Krazy Kow Saves the World – Well Almost

We road tested this book on both boys and girls aged from around 8-11 years and they couldn't put it down. The title sort of gives the plot away, but it's a wonderfully silly and clever story written by a former primary school principal and now award-winning children's author, Jeremy Strong, and published by Puffin.
Krazy Kow is a cow superhero with some amazing udder attachments who is to star in a film, but not before she battles a villain and copes with some of life's little problems such as exploding strawberries, rampaging toddlers and hostile football fans.
Ages: 8-11 years
Cost: $8
Buy: from Amazon
Anna Flowers

Anna is a 14-year-old whose mum dies, and who moves with her dad to another town hundreds of kilometres away where the only people she knows are her grandmother and an elderly great aunt. She is bullied on her first day at school by the netball captain but, with the help of her nana – who happens to be a former Australian netballer – and some friends, Anna is determined to shine as a sportswoman herself.
It's not only a familiar story, but one which reinforces the positive aspects of sport for young people, written by former Melbourne Phoenix and Australian player, and now coach of Melbourne Vixens, Eloise Southby-Halbish and comedy writer David Lawrence.
Ages: 10-14 years
Cost: $14.95 soft cover or $8.99
Buy: At the iBookstore or through publisher Slattery Media