VTech understands that play is the work of children, learning to navigate their world, themselves and those around them. Each and every electronic learning toy VTech creates encourages children to Learn. Play. Develop. Learn in ways that are relevant and age-appropriate, through fun and engaging Play, to Develop the necessary skills for each stage of their young lives. Parents can know this play is supported by VTech's use of the latest, innovative technology, to create trusted, quality learning toys that are always current, teach about real-life, and can be passed down to other young family members. From babies to school-age, you can always find the perfect VTech toy for your child, safe in the knowledge that they will learn and develop through that play. Check out what's on trend now!
BABIES
VTech is relaunching its iconic collection of baby toys! The award-winning range is getting a full makeover, featuring brand-new packaging with softer colours, and a host of cute new characters who will be treasured by both girls and boys, including Fox, Koala, Fawn and Caterpillar and many more. The new collection will launch across 2021, with the first two, My Friend Fawn and Roar & Explore Wheel, available now. VTech Baby toys are designed to enhance a baby's natural curiosity, utilising the new adorable animal characters to help babies explore different developmental milestones. Each product features age-appropriate content delivered via a variety of textures and colours enhanced by lights and sounds.
My Friend Fawn, RRP $19.95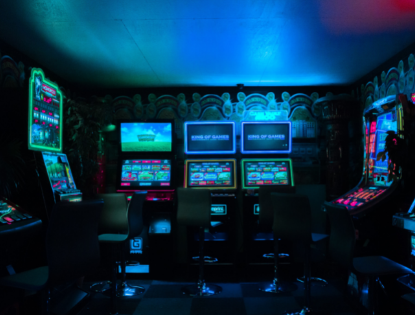 Cuddle up to the My Friend Fawn three-in-one soft fawn, comforter and dummy holder. With soothing nature sounds and music, this snuggly woodland creature brings will comfort your baby. Unfold the fawn to create a little security blanket with an attachment for the included leaf teething toy or a dummy (not included). As babies reach for the teether toy and bring it to their mouths, they practice fine motor skills and hand-eye coordination. The soft plush, embroidered features and textured teething leaf stimulate your baby's senses. Soft lights and sounds help your baby learn to self soothe with this cuddly companion which includes more than 35 songs, sounds, phrases, and melodies. And the removable electronic module means it's machine washable. My Friend Fawn is suitable for babies from birth, and available now at Kmart, good toy stores and online retailers.
Roar & Explore Wheel, RRP $16.95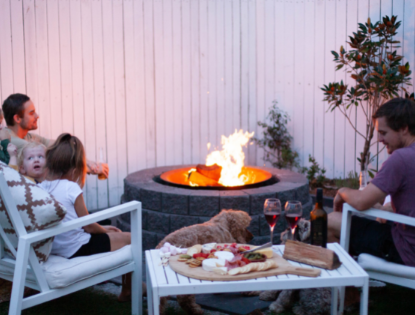 Let little ones take the wheel and explore with the Roar & Explore Wheel. The interactive lion drives the fun with music, car sounds, colours and lights. Press the friendly lion's face and steering wheel buttons to hear more than 45 songs, melodies, sounds and phrases. Turn the motion-activated steering wheel to play silly sounds and melodies and watch the beads roll as the wheel moves. Grabbing and exploring the rubbery hand grips and bumpy steering wheel helps babies and toddlers develop their fine motor skills. Kids love to imitate their favourite adults, and this educational toy lets them pretend to drive as they go along on walks, errands and road trips. The signal lights flash just like a real car's as they play tunes and sound effects. Press the car button to hear driving phrases and engine sounds. Steer little ones toward learning! Attaches to strollers and infant carriers with hook and-loop strap. Roar & Explore Wheel is suitable for babies from 3 months, and available now at Kmart, good toy stores and online retailers.
TODDLERS & PRESCHOOLERS
Popping Surprise Seal, RRP $39.95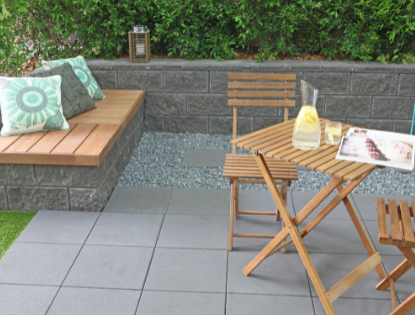 Meet the fun and playful Popping Surprise Seal. This happy and mischievous seal really is baby's best friend. Place Seal's ball on his tail to see him perform his trick and to hear fun sounds and playful melodies. Seal also magically moves, wobbles and flips his tail. Press one of the three shape buttons to hear fun phrases, colours, sing-along songs, melodies and sounds. Bop his nose to make him move and to hear fun phrases and sing-along songs. Featuring 3 catchy songs and fun melodies, Seal helps develop motor skills and teaches cause and effect relationships. Popping Surprise Seal is suitable for toddlers from 12 months to 3 years, and available in June from Big W, good toy stores and online retailers.
3-in-1 Ride with Me Motorbike, RRP $89.95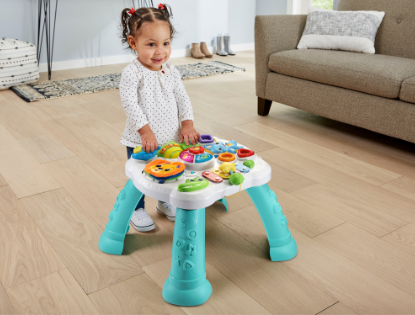 Get revved up and zoom around on the interactive 3-in-1 Ride with Me Motorbike. With a light-up dashboard and ignition key, this combination push walker and ride-on vehicle will capture the imagination of little walkers and riders. Use the motorbike with the handle as a push walker to cruise around and strengthen walking skills. Ready to ride? Start them off with the three-wheeler to keep them steady, then try the two-wheeler to practise balancing. Keep the learning journey going with more than 80 songs, sounds, melodies, phrases and activities that teach about the community, colours and daily life. Active toddlers can enjoy three ways to use this motorbike – push walker, three-wheeler riding, and two-wheeler riding – for endless fun. Also available in Pink. 3-in-1 Ride with Me Motorbike is suitable for toddlers from 12 months to 3 years, and available now from Target, good toy stores and online retailers.
Toot-Toot Drivers Mickey's Repair Centre, RRP $69.95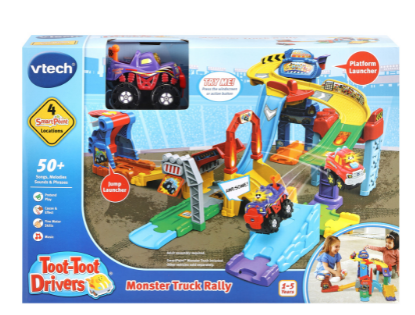 It's time for a tune-up at the Toot-Toot Drivers Mickey's Repair Centre. Explore this full-service petrol station with the toy Mickey Mouse Truck. Place the truck on the role-play repair lift, raise it up and pretend to fix the truck using the wrench. Give the truck a good scrub in the car wash, pretend to add a fresh coat of paint and fill it up with petrol, activating seven SmartPoint locations along the way. Listen to Mickey Mouse say playful phrases and encouraging words for imaginative play with this toddler toy. Roll down the twisty ramps for more exciting track play. Let's go! Toot-Toot Drivers Mickey's Repair Centre is suitable for toddlers from 1 to 5 years, and available now at Myer, good toy stores and online retailers and from June at Big W.
SCHOOL-AGE
Switch & Go Dinos Micro Crew, RRP $15.95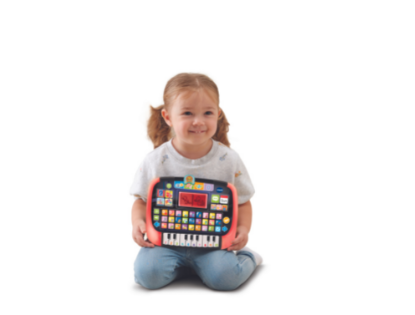 Discover the new Switch & Go Dinos Micro Crew! Switch & Go Dinos are a special breed of dinosaurs that transform from cool vehicle to fearsome dinosaurs in a few easy steps. You get two toys in one! Each character plays different sound effects as you push them along, and when you switch from dino to vehicle and back. Press the action buttons to activate dinosaur facts and sound effects. Each Switch & Go Dino comes with an educational flash card, so you can learn all about your dino friends. Switching between the two different modes promotes motor skill development, with exciting sounds and facts that encourage imaginative and independent play.
Switch & Go! There's four to choose from:
• Claw the T-Rex,
• Soar the Pteranodon
• Slam the Stegosaurus
• Thunder the Spinosaurus
Collect them all! (Each sold separately).
Switch & Go Dinos Micro Crew are suitable for children 3-8 years, and available now from Kmart, good toy stores and online retailers.
Kidizoom Camera Duo 5.0 & Travel Case bundle, RRP $99.95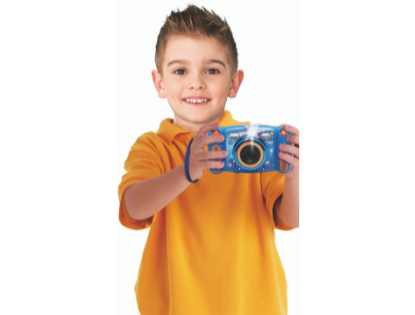 Take great photos and videos of you and your friends with the Kidizoom DUO 5.0 dual lens digital camera that you can take anywhere in its matching travel bag. The front and rear lenses can be swapped at the touch of a button, making it simple to take photos, videos, and selfies! Add fun effects, stamps and frames to your photos and videos, or use the auto-portrait feature to take photos automatically. Record your voice and apply funny effects too! Other features include: 4x digital zoom, built-in auto flash, fun learning games, voice changing effects, wacky photo shaker, photo editor, and more. All of this is easily seen on the large 2.4" colour LCD screen. You can also transfer files to your computer to edit and enhance your photos and videos. Kidizoom Camera DUO 5.0 and Travel Case bundle is suitable for children 3-9 years, and available for a limited time in June from Big W and Target.
Kidi SuperStar DJ, RRP $89.95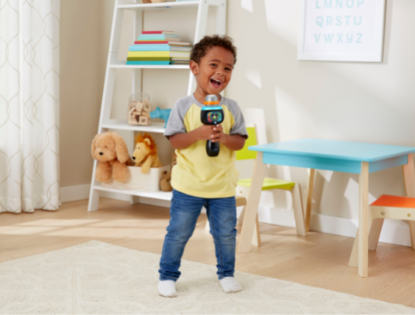 Be the star of your own party with the Kidi SuperStar DJ! Sing, dance, show your creativity and mixing skills, and so much more. This awesome all-in-one karaoke and DJ mixer includes a microphone, adjustable stand and a 3.5mm jack audio cable, so you can connect your own music player. Use the Music Magic feature to remove or reduce the vocals of songs and replace them with yours. Play four fun games and add in over 30 sound effects to your awesome performances. You can even record your own sound effects and tracks. Sing along to the six songs in Singing Fun mode or DJ to the songs in DJ Mixer mode. The colour changing disco light also synchronises to the music. Let's get this party started! Kidi SuperStar DJ is suitable for children 6+ years, and available now from Big W, Myer, good toy stores and online retailers.
For further information on VTech and its products, visit http://www.vtech.com.au , or check out the VTech news on Facebook @ VTechANZ and Instagram @vtech_toys_anz.