Beloved puppy Blue invites you to join her and Josh on a clue-led adventure to solve a puzzle. With each paw print, little people are inspired to interact with Josh and Blue and figure out Blue's clues.
Can you see Blue's clues? Where are her paw prints? Will you help Josh? Can you solve the puzzle?
Maybe the grownups remember playing with Blue back when they were little too! Imagine that! Blue and her buddies have been helping children think it through since 1996.
The newest collection of Blue's Clues & You! toys mean today's little fans can bring adventures with their favourite blue puppy to life at home. They can sit down on their own thinking chair and think, think, think! Puzzling out the answer, solving the riddle.
Plush
Bedtime Blue RRP $49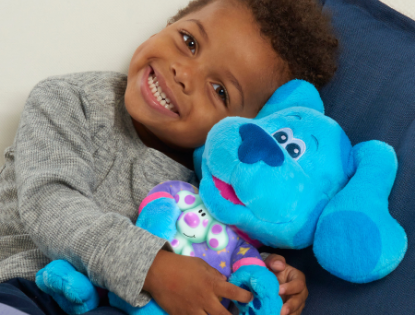 Kids will love to snuggle up with Blue as they fall asleep with the Blue's Clues & You! Bedtime Blue plush. This adorable plush features Blue in her star-patterned pyjamas, holding her beloved bedtime lovey, Polka Dots. Press Blue's paw and Polka Dots glows and plays music.
Dance-Along Blue RRP $89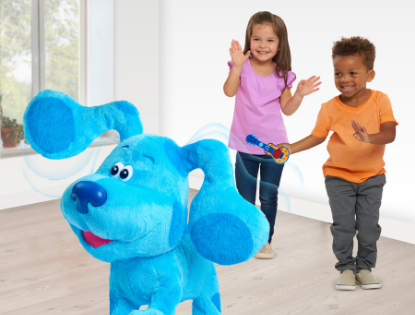 Watch the adorable Blue dance along to the music, wiggling her bottom, lifting her paws and ears, and rolling her head in time to the music. This interactive plush Blue uses Josh's iconic Handy Dandy Guitar as a controller. Press the paw print button to activate motion, songs and phrases, including the Blue's Clues & You! theme song!
Role Play
2-Sided Handy Dandy Notebook RRP $19.99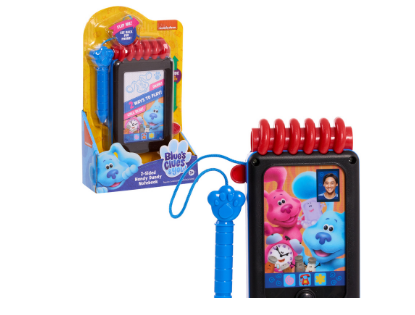 This adorable Handy Dandy Notebook is just like the one Josh uses in the show. Kids can draw their clues on the front of the notebook with the magnetic pen. Move the sliding tab up and down to erase and draw the next clue. You just got an email! Turn the notebook over to use as a smartphone and press the button to activate phrases from the show.
Sing-Along Guitar RRP $29.99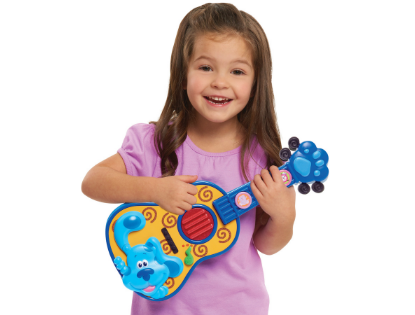 Kids can sing and groove to great songs with the Blue's Clues & You! Sing-Along Guitar. Featuring three different modes of play and two songs, this adorable electronic guitar is inspired by the Handy Dandy Guitar Josh plays on the show. Little musicians can listen to and play along with the Blue's Clues & You! theme song and an instrumental version of 'Old McDonald'.
Playsets
Blue's House Playset RRP $75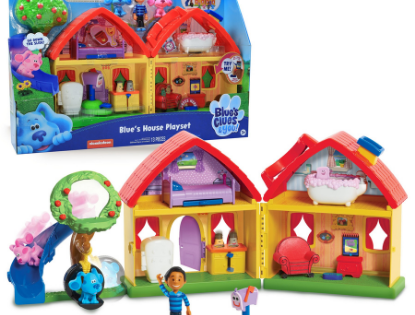 Recreate great games of Blue's Clues with the Blue's House Playset. Kids will love searching for hidden surprises within each room of this two-level playset. Press Blue's paw print to see and hear what to find. Blue, Magenta, and Josh are even included as poseable figures.
Is it Mail Time? Push the lever on Mailbox to open the mail and reveal a surprise letter. The refrigerator even opens to reveal lots of healthy snacks. Take Blue and Magenta outside to play on the swing and slide. After playing, it's time to give Blue and Magenta a bath. Place either figure in the bathtub and find Slippery Soap. Press the pillow on the bed and a secret compartment opens to reveal Josh's Handy Dandy Guitar. The folding playset holds all accessory pieces and features a handy dandy handle for kids to carry it wherever they go.
Blue's Clues and You! Toys are available at Target, Coles, Big W, Kmart and all good independent toy stores for kids aged 3 and up.
For more information here and to join the fun visit:
https://www.facebook.com/NickJrANZ/ and https://www.instagram.com/nickjr_au/ 
Blue's Clues & You airs 7.30am and 4.00pm Weekdays on Nick Jr and 8.30am Weekdays on 10 Shake From Monday, 11 October.
#justplay #justplayallday #justplaytoys #justplayproducts #newtoys #bluesclues #nickjr_au #bluescluesandyou #nickjr #bluesclues #bluescluescollab