The countdown to Christmas is officially on and it's time to start thinking about Christmas gift ideas. New educational toys from Hape, a world-leading educational toy brand, offer the ultimate play experience while developing early childhood skills and young minds.
A leader in designing and manufacturing high quality toys made from sustainable or organic materials, this eco-friendly company endeavours to develop a child's learning spirit through play experiences, and prepare them for the better world ahead.
Hape's philosophy, "Love Play Learn" is central to all their toys, designed for the intuitive process of play. "Love" is the mutual love between child and parent, "Play" is the experience of success or failure, and "Learn" is the natural outcome from love and play.
Hape Monster Math Scale ($54.95)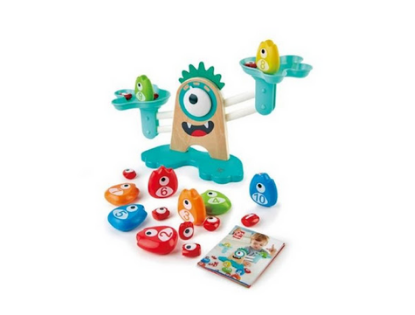 Introducing the Monster Math Scale, a cute, fun and interactive way to get your little one playing and learning about basic mathematics, weights and balance.
Hape Monster Math Scale has 22 pieces including 9 large and 11 smaller, soft weights. Place the monster weights on the scales and join the funny monster family to start developing basic mathematic principles of simple addition and subtraction skills. Enjoy three difficulty levels of play and hours of entertainment as children test the weights and start weighing items around the house as well.
Hape Monster Math Scale is ideal for pre-schoolers three years old and up.
Hape Adventure Van ($69.95)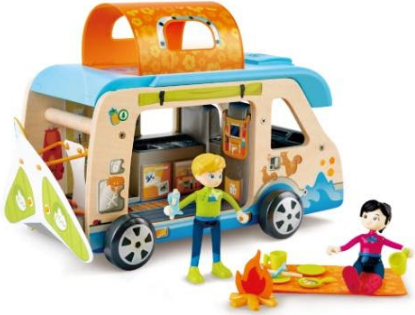 The all-in-one camper van with dolls, accessories and activities is perfect for children three years and up and encourages social, family play and communication skills, as well as getting kids excited about the great outdoors and exploring the world around them.
The developmental toy has 23 pieces, including the camper van with wooden panels and wheels, dolls, a campfire, a picnic set for two, navigation cards, surfboards, a hang-glider and cooking accessories. On top of the van is a tent which can be removed for the dolls to sleep in, and the roof of the van can be opened and doubles as a wave for the dolls to surf on.
Children can take their dolls on a perfect seaside getaway with their adventure van and let their imagination and creativity shine. Use navigation cards to tell where they're going, cook their own BBQ with the campfire, cooking accessories and pretend fish. The holidays look like they are going to be lots of fun!
Hape Doll Family Mansion ($315)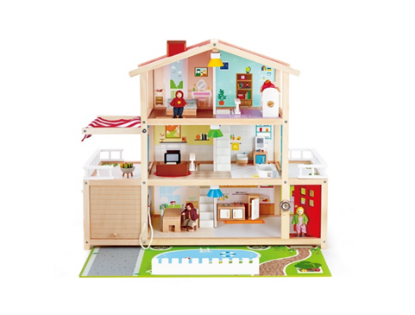 Hape's Doll Family Mansion is as realistic as it gets. The Mansion includes a master bedroom, a children's room, a living room, bathroom, two balconies (including awning), a dining room, kitchen, hallway, garage and a garden area with a swimming pool. There's also a family of four dolls and seven doll furniture sets.
The moving parts allow children to arrange the household appliances in any way they like. The doll family can rest well in the bed, clean up in the bathtub and barbecue outside using the grill. Uniquely shaped rooms offer realistic appeal and moving parts encourage interaction, with access to the 'outside' as well.
The durable, child-safe paint finish and sturdy wood construction make this toy one that a child will love for years to come.
Hape Deluxe Kitchen with Fun Fan Fryer Stove ($299)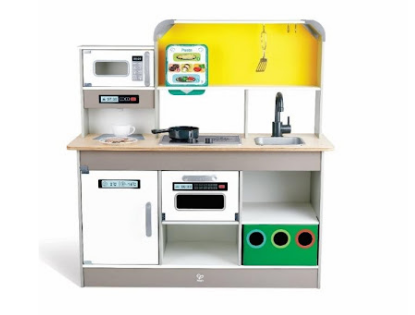 This delightful wooden kitchen with accessories will help children become familiar with using kitchen appliances, recycling and cooking.
The set includes a microwave, coffee maker, sink with tap, oven, fridge, coffee cup, plate, pan and spatula. It also comes with a recipe book, six dishes and food shapes, giving little chefs plenty of pretend-cooking options. The red stove top lights up and makes bubbling sounds while the other fryer top lights up blue using the fun fan technology to make the food levitate, turn and shake in the pan.
Hape's Deluxe Kitchen includes a recycling bin to teach kids about sorting garbage and recycling.
The playset is big enough for friends to play together, making it the perfect set to develop social skills. Little ones will be serving the best imaginary food in no time.
Hape products are available from Big W, The Iconic, Kidstuff, MYER, Catch, David Jones, The Nile, Amazon and all good toy retailers.
For more information visit www.ugames.com.au/stockists