You'd hope that a female novelist who writes about life with humour, insight and a deep sense of its fleeting wonder, would be immune to the pain of depression.
Yet, in October 2009, while promoting her latest novel, author Marian Keyes began having panic attacks that blossomed into painful, mental illness.
She tried antidepressants, acupuncture, reiki, meditation, Bach Flower Remedies, even ice-cold showers, but nothing relieved her sense that life was ugly and frightening.
It got so bad, the writer had even decided on the hotel where she intended to commit suicide. And it was only the sense of responsibility she felt towards her husband and family that stopped her.
Writing about those tortuous years, in the introduction to her new book Saved By Cake, Keyes describes the 'suicide bag' she'd created, which contained warning signs she would leave hanging on the hotel door, so as to prevent a chambermaid from being traumatised by the event.
By anyone's standards it's a harrowing way to begin a cookbook.
But any woman who's ever made a cake in order to soothe themselves, take their mind off an awkward day, or simply to drink in the smell of their childhood, will identify with the feelings of consolation Keyes experiences when she begins baking.
"My friend Helen was visiting. And all of a sudden I decided I wanted to bake her a cake," writes Keyes.
"I hadn't baked in decades, not since myself and my classmates had been forced to assemble joyless rock cakes in Home Economics when we were 13... But things were different now."
Keyes, who had suffered milder bouts of depression previously, was now almost completely paralysed by her mental health problems.
"I couldn't make an off-the-cuff remark about the weather, never mind write a novel," she explains - and yet, some unknown force prompted her to enter the kitchen.
It was the beginning of a new start, and three years later her cookbook is the result.
"Baking makes me concentrate on what's right in front of my nose, but it hasn't cured me," explains Keyes, frankly. "It gets me through."
Here are three recipes from Marian's book to remind everyone why making a cake is one of life's most basic pleasures.
ROCKY ROAD CAKE
(Makes 16)
500g rich tea biscuits
300g dark chocolate (70 per cent cocoa solids)
300g milk chocolate
200g butter
300g golden syrup
100g dried dates, chopped small
100g dried apricots, chopped small
120g hazelnuts, skins off, roasted and chopped roughly
100g mini marshmallows
You can use ready-roasted hazelnuts with their skins off, but if you prefer to roast your own: place plain hazelnuts in a single layer on a baking tray and roast in a 180C oven for five to eight minutes, or under the grill for two minutes, until browned, checking regularly that they aren't burning.
To make the cake, begin by lining a 20cm square tin with cling film, leaving bits overhanging the sides so you can lift the cake out easily.
Break the biscuits into small pieces, smaller than bite-sized, but not reduced entirely to crumbs.
Melt the chocolate, butter and golden syrup in a large heatproof bowl set over a pan of simmering water.
Remove the bowl from the heat and stir in the broken biscuits, then add the dried fruit, nuts and marshmallows.
Stir well, then pour into the prepared tin and refrigerate for six hours. Lift out of the tin and peel off the cling film. Cut into sixteen chunks.
SHOE AND HANDBAG BISCUITS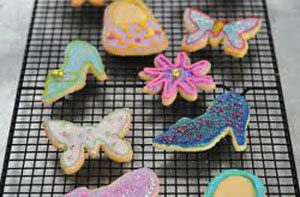 (Makes a variable number depending on the size and shape of your cutters)
For the biscuits:
200g butter
200g caster sugar
1 vanilla pod
1 egg, beaten
400g plain flour
Shoe and handbag biscuit cutters (or any shapes of your choice)
For the icing:
500g icing sugar
Your choice of icing colour, writing icing and edible decorations
Beat the butter and sugar together until light and fluffy. Scrape the vanilla seeds from the pod and add to the mix, discarding the pod.
Beat in the egg, sieve in the flour and mix until a soft dough forms.
Divide the dough into two roughly equal-sized balls, cover with cling film and refrigerate for at least an hour.
Meanwhile, line three baking trays with baking paper. Preheat the oven to 180C.
Take the balls of pastry out of the fridge, remove the cling film and divide each one into two.
Roll one of the lumps out on a well-floured surface to a thickness of about 5mm. This is something you'll get better at gauging the more you do it.
Use the cookie cutters to cut out shapes. Press the cutter right down until it reaches the floured surface, then give it a tiny little 'shimmy' to loosen the shape from the pastry around it. Gently manoeuvre your palette knife under it and lift on to the baking paper.
If it all goes a bit wrong - and it might well, especially if you're a beginner - just roll out the pastry and try again. You only need to leave a couple of centimetres between each biscuit on the tray because they don't spread much.
Gather up the scraps of unused pastry, roll them into your next ball and repeat until all your pastry is in biscuit shapes. Bake for nine to 12 minutes until the biscuits are a - funny, this - biscuit colour and are set but not too hard.
Take the trays from the oven and use your palette knife to lift each biscuit on to a wire rack. Leave to cool.
Now for the icing. Use a wide-bottomed shallow bowl (that's assuming you have one and if you don't, don't worry, any bowl will do). Mix the icing sugar with four tablespoons of cold water and your preferred colouring until you have the runniness you desire. Place a biscuit, face-side-down, in the bowl of icing until one surface is entirely covered. Tilt it from side to side, letting the excess icing run off (this is a messy business), then place on a wire rack. Even more icing might run off then. All fine. (You could place paper towels under the trays if you're worried about the mess.)
Do a batch of perhaps eight biscuits, then decorate them before the icing has a chance to set. I use writing icing to define the edges and give a more 'finished' look, but that's entirely up to you. Either way, I predict you'll have a wonderful, wonderful, wonderful time. You'll feel like a child again.
VICTORIA SANDWICH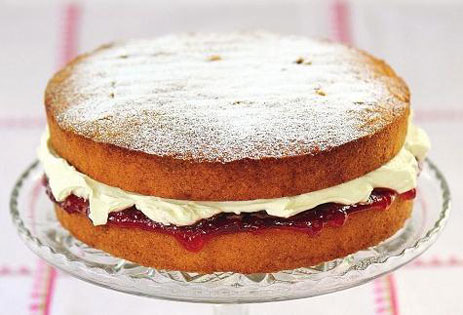 (Makes 8 slices)
For the cake:
200g butter
200g caster sugar
4 eggs
The seeds of 1 vanilla pod or 1 tsp vanilla extract
200g self-raising flour
To decorate:
200ml whipping cream
200g strawberry jam
4tbsp icing sugar
Butter two 20cm cake tins and line the bases with baking paper. Preheat the oven to 190C.
Cream the butter and sugar together until pale and fluffy. Add the eggs, one by one, beating between each addition. The mix might curdle a little. Don't be alarmed. Simply add a tablespoon or two of flour and it should be OK. Stir in the vanilla seeds or extract. Sieve in the flour and fold through.
Divide the mix between the two tins and bake for about 20 minutes, until your skewer comes out clean or the cake bounces back at you when you press it gently.
Cool on a wire rack and remove from their tins. When the cakes are fully cooled, whip the cream until stiff, almost buttery.
Place one cake on a serving plate (could you get your hands on a paper doily? This retro cake simply cries out for a doily!). Cover the surface of the cake with a layer of the strawberry jam, then a layer of the cream. Place the second cake on top. The jam and cream might squish slightly out of the sides, so use a knife to scrape off the excess.
Using a sieve, sprinkle the icing sugar over the surface of the cake. Because this recipe uses fresh cream, don't hang about too long before serving it.
* Saved By Cake: Over 80 Ways To Bake Yourself Happy by Marian Keyes is published by Michael Joseph, rrp $23.99