Had a great holiday overseas? Come back enthused about different house and garden styles? Or maybe you'd just like to imagine yourself in the holiday mode all year round?
Here are some tips and ideas for bringing favourite holiday gardens into your own home.
A Touch of Tuscany
Think romance, a spot of intimacy and the perfect place to sip on an afternoon vino with loved ones as the sun goes down.
The Elements: Courtyards, creeping vines
Materials: Sandstone, limestone, soft colour palette
Think of incorporating:
Water features
A pergola laden with vines providing shade in summer and sunlight in winter e.g. wisteria
A pond of waterlilies
Trees of pine, oak, fig and cypress
Fountains, water features (under staircases or in the centre of a courtyard)
Rectangular shaped lawns and potted lemon trees
Urns and vases full of geraniums amid topiary shrubs
Long pathways/driveways flanked by cypress trees
Plant Creeping vines/ plants on pillars, sides of the house, garden walls/ fences.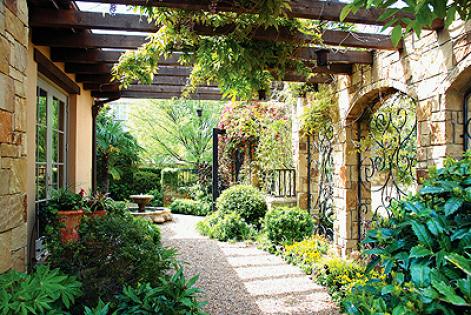 Harmony in the Hamptons
Keep it clean and classic with this all American inspiration. Suitable for any environment, climates and scale can easily be adapted to suit any backyard. If you love to entertain, this is for you.
The Elements: Classic/ pretty, well-kept/ trimmed hedges
Materials: Linens, outdoor fabrics (whites, yellows, blues and stripes), teak furniture or white washed wood
Think of incorporating:
Patio/ alfresco dining with awnings/ canopies
Ornamental grass, hydrangeas, tailored shrubs and vegetables,
Traditional grey, blue and white floral palette
Plants growing into each other - like a romantic tangle i.e. cottage style
Contrasting colours give the crisp edge to keep your garden high-class.
A weekend in the English countryside
Want to escape the city? Transform your garden into a weekend getaway. Nestle up with a good book and a cuppa in your own countryside escape right outside your back door.
The Elements: Gravel paths, natural stone, and garden walls to look natural and mysterious
Materials: Brick, benches, thatch, cobblestone, gravel and English pots
Think of incorporating:
Hedges or walls to develop garden rooms
Emulated materials from your home in your outdoor features – repeating the use of materials like stone or brick in garden walls
Plants the change throughout the year e.g. Ornamental pears and other deciduous trees, bulbs
Scaled down versions of ponds and plant groups of flowers, with a nice fragrance, to best fit what you're working with.
Spend it in Spain
Ideal for those with a hot, dry climate, the Spanish garden is all about relaxation, enjoyment, sustainability and attention to detail
The Elements: tiered Spanish fountains, Moorish lanterns, carved Cantera forms, urns, , Saltillo tiles, Cantera stone, plaster
Materials : ceramic or handmade tiles, large terracotta pots, bright blue glazes accent décor, wrought iron against the light coloured or white plaster walls
Think of incorporating:
Courtyards include seating areas and potted plants,
Ceramic mosaics as wall features
Fountains; in true Spanish design the garden will consist of multiple small fountains rather than one large fountain
Reflecting Pools; often made the focal point to major entryways and courtyards, designed amongst geometric shaped, symmetrical planting beds
Symmetry; one of the most important elements of the original Spanish garden.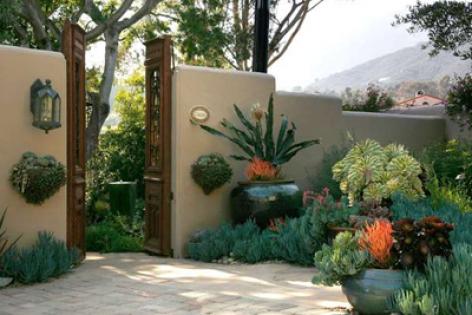 Lazing in LA
Keep it simple and look for modernist inspiration. Suitable for most of Australia, perfect for families and entertaining
The Elements: structured layout with more contemporary desert style plantings using succulents and palms, interesting levels achieved with large steps
Materials: Concrete, glass, breeze blocks, stone, square lines, pools and open grass areas and sunbeds.
Think of incorporating:
A bar, outdoor lounging and sunbeds … or even a touch of flamingos for a bit of fun!
Open grass alongside a pool with sunbeds
Boulders meeting garden beds and concrete
Blues, Yellows, some bright colours, stripes and lots of whites
Plants – palms, succulents, cacti.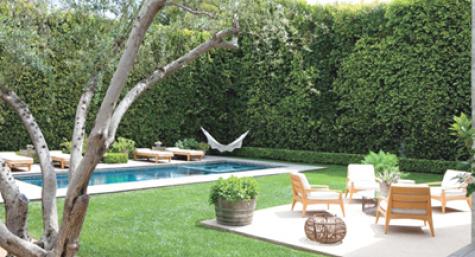 Pining for Provence
Perfect for larger spaces, backyards in need of some direction. If you don't mind a little maintenance and some pottering in the garden then perhaps Provence is for you…
The Elements: Privacy focused, intimate atmosphere, alfresco dining
Materials: Natural timbers/ wood, sandstone; rustic/ iron furniture (round tables)
Think of incorporating:
Veggie patch/ garden
Planting in large pots - Citrus trees and lavender in terracotta urns
Make a grid of paving squares using terracotta pavers – use geometry to divide the space into useful areas
Use climbing plants on the house, shed or wall for a romantic, informal look (Boston ivy, climbing roses, honeysuckle).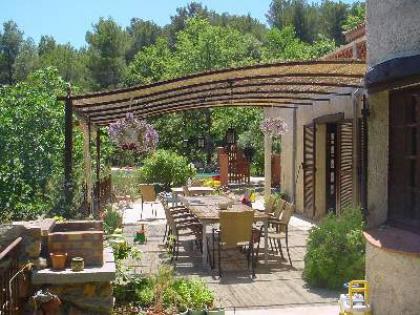 The Beauty of Bali
Always been a fan of the tropics? Enjoy spending warm afternoons under the shade of your palms or in the comfort of your outdoor lounges. Create the perfect zen environment
The Elements: Flowering plants palm trees, bamboo, open/ airy spaces
Materials: natural tones e.g. Timber decking, limestone framing, large clay/ coated pots, hammocks
Think of incorporating:
Statues – dark stoned Buddha's for example
Low to ground day beds, plush outdoor furniture, covered garden cabanas/ gazebos
Water features/ fish ponds
Feature lighting from garden/ plants/ trees
Stepping stones, garden paths
Lanterns.