There's nothing better than a gift of reading and while it's impossible for us to compile a top 10 list for every genre and age group (as much as we'd like to!), we've put together a list of our favourite reads - for one reason or another - from 2014. We hope it gives you some inspiration, along with our Christmas gift guide.
KIDS
Once upon an alphabet – Short stories for all the letters – Oliver Jeffers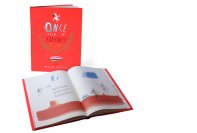 Judged one of the best children's books of the year by Amazon, this is a gorgeous collection of words and illustrations that is both a story book as well as one that gently educates children in the alphabet. All the characters from A-Z have interconnected stories which will keep kids entranced. Ages 3-6. RRP $19.60
The little girl/boy who lost their name – David, Pedro, Asi & Tal

A trio of dads and an uncle set out to create the world's best personalised book- and we think they've nailed it with this amazing, magical, beautiful book. This book tells the story of a child who has lost his or her name and bravely sets off to track down the missing letters via a magical journey encountering different characters who each has a letter of the child's name. The book is printed A4 size, landscape and digitally printed on thick, uncoated, environmentally-friendly paper.Order by10th December for guaranteed Christmas delivery! Ages 3-6. RRP $33.95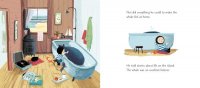 A beautifully illustrated picture book that tells a simple, poignant but powerful story about a lonely boy, his hard-working single dad and a stranded baby whale that helps parent and child grow closer. Ages 3-6. RRP $11.99 (e-book).
Bad Kitty Drawn to Trouble – Nick Bruel

This is the seventh in a series of children's books centred on Kitty Cat. This time around she encounters her most formidable foe yet – the man who created her! Kitty soon learns that feline manipulation can work both ways, especially when your author isn't happy and he has a pencil in his hand. Along the way, Nick Bruel shows kids how books are created. Ages 6-9. RRP $23.99
The Fourteenth Goldfish – Jennifer Holm

Eleven-year-old Ellie has never liked change. She misses fifth grade. She misses her old best friend. She even misses her dearly departed goldfish. Then one day a strange boy shows up. He's bossy. He's cranky. And weirdly enough . . . he looks a lot like Ellie's grandfather, a scientist who's always been slightly obsessed with immortality. Could this pimply boy really be Grandpa Melvin? Has he finally found the secret to eternal youth?Jennifer Holm celebrates the wonder of science and explores fascinating questions about life and death, family and friendship, immortality . . . and possibility. Ages 9-12 RRP $25.99
ADULTS
And for adults, we've got books that range from funny guides for new parents, a cookbook, an interesting autobiography from a professional lapdancer and travel guides to two top places - Australia and New York!
Sh*t on my hands – Bunny Banyai & Madeleine Hamilton

'The upside of being a parent is pure love, but the downside is sh*t on my hands' write Bunny and Madeleine who wrote this hilarious guide to not just getting through new parenthood but also getting a laugh out of it. Sh*t on my hands covers everything from bathing, nappy changing and endless feeding to single parenting and just staying sane. The aim is to cast no judgement, tell no lies and soothe the nerves of anxious first-time parents. As they say: 'remember – you've had house pets. You can do this.' RRP $19.95

Join this year's Masterchef winner as he recreates his favourite recipes and his own interpretation of much-loved classic dishes. Brent Owens charmed Australia with his simple but sophisticated take on Australian cooking in the 2014 Masterchef series. Featuring Brent's original recipes, this cookbook is an inspiring collection of dishes that will spark the fire in thousands of home cooks around the country. With chapters on entertaining with friends, quick meals, best breakfasts, Brent's Masterchef recipe favourites and much more, Brent brings his trademark taste and simplicity to Australian classics. RRP $49.95 (reduced to $37.50)
Full Brazilian – Cintia Silver & Teena Lyons

The autobiography of young Brazilian modern, Cintia Silva, who arrived in the UK with nothing but a burning desire to make some money and turn her life around. Before long she had plunged into the murky but multimillion-pound world of lap-dancing. Sacked from her first club within a week, Cintia resolves to reinvent herself. After creating a seductive new stage persona, Gabriella, she hones her skills and takes the lap-dancing scene by storm, using her looks and her smarts to earn serious money. In Full Brazilian, Cintia lays bare the opulent world of the high rollers, the glamour and wealth of life in the fast lane. And she tells of her struggle to find love and acceptance - and how she came to terms with the demons of her past. RRP $24.99
Australia's Top 100 Places To Go – The Ultimate Bucket List – Jennifer Adams & Clint Bizzell
This is a book that every Australian family could do with to help plan the next family holiday. You'll find plenty of places you can explore with your kids, whether you want to walk amongst the treetops, feed kangaroos, watch penguins or camp under the stars. It's your bucket list of places to see before the kids move out of home that Jennifer and Clint have road-tested first-hand by travelling around Australia with their two-year-old daughter Charli in tow (and a couple of mothers-in-law!). RRP $34.95
New York in Style – Janelle McCulloch

The city that never sleeps – literally – from the perspective of writer and photographer Janelle McCulloch who has been fortunate enough to visit the city for work for more than a decade. This travel guide takes you through New York's fashion, design and style destinations from the sophisticated Upper East Side to the slightly retro bohemian West Village. Whether you've not been at all, or are a seasoned visitor to New York, you'll love this book full of gorgeous photography and insider tips and recommendations. RRP $39.99