With a mid-year break about to start for some, and inspired by Kylie Johnston's suggestion in Motherpedia of challenging the entire family to read a book over the school holidays, we've compiled a list of some of the top, recent reads for adults and kids alike.
We've got some of these books to give away also, so keep reading to the end as we invite you to let us know which book or books interest you for a chance to win one.
ADULTS
Blue Hydrangeas – Caroline McMahon

Written by Motherpedia contributor, Caroline McMahon, this short volume is a charming, humorous and touching tribute to the two strong women who inspired Caroline, her strong friendships with other women as well as the many families, mums and babies she's helped along the way. Now co-director of Caroline's Angels, Caroline trained and worked as a nurse in Perth – her first placement as a 17-year-old university student was in a nursing home – and became a midwife. It's a personal and heartfelt memoir which is lovingly shared.
Available in-print from a range of bookshops or as an e-book, ranging from $3 to $15.95.
Don't Eat the Marshmallow – Robert Bihar

Robert has also written for us to give an idea of what's in this 'must read' for parents of young children. At what age do you start teaching kids about money and saving? And just how do you do it? A finance professional and dad, Robert shares his experience and insights on how to get kids started on the 'right path' to understanding and managing money – with the right attitude.
Available from www.robertbihar.com for $19.95.
Reservoir Dad – Clint Greagen
Clint's Reservoir Dad is a funny, sharp and witty account of every day life from a stay-at-home dad of four sons. It starts with Clint getting all hot-and-bothered in Canberra – of all places - when he's about to pop the question to the woman who said 'yes' (Tania) through to musing on the lessons learned, the laugh-out-loud times and the times that make you cry. Clint has been a stay-at-home dad for seven years, and shares his parenting experience in ways which are a funny and moving tribute to those who enrich his life and to those who matter most.
Available in-print and as an e-book from $16 to $33.
Parenting from the Inside Out – Daniel J Siegel & Mary Hartzell

Have you ever found yourself thinking: 'I can't believe I just said to my child the very thing my parents used to say to me!' Child psychiatrist Daniel J. Siegel, MD, and early-childhood expert Mary Hartzell explore the extent to which our childhood experiences shape the way we parent. Drawing upon new findings in neurobiology and attachment research, they explain how interpersonal relationships impact the development of the brain, and offer parents a step-by-step approach to forming a deeper understanding of their own life stories, to help us raise compassionate and resilient children.
Available in-print or as an e-book from Scribe Publications from $10 to $30.
What Lies Within – Gary Hipworth

Put this book down, take a deep breath and be grateful for the little things that make life good. This is a harrowing memoir: starting with Gary's childhood where he prayed in the next room that his mum would stop crying after a beating from his father, recounting the other tragedies in his family, to his discovery of just how close to the surface violence may life within all of us. It's a harrowing journey, mixed with some humour – and it's not for the faint-hearted, but for those who want to read a courageous and honest account of the human condition.
Available in-print and as an e-book from www.bookpal.com.au from $9 to $29.
CHILDREN
Age 3+
Chicken Clicking – Jeanne Willis & Tony Ross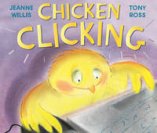 A cautionary tale about a modern predicament – a young chicken hops into the farmer's house and there discovers the Internet! One-click shopping and little chick has purchased a hive of bees, a motorbike, a diamond watch and 100 handbags. The farmer blames his wife. And the chicken can't stop! Soon, there are scooters for the sheep, skates for the pigs, a new car for the cows – and a new friend. But just who will that friend turn out to be?
Available from Amazon for around $13.
Kimochis

The range of Kimochis books go hand-in-hand with the Kimochis characters. The books, written by Amy Novesky and illustrated by Hanako Wakiyama, introduce children to the world of feelings. As with some of our other suggestions for this age group, the books are ideal to share between parent and child. They include simple tips for parents in dealing with challenging moments and help children deal with feelings of frustration, courage and being cross without being mean. The downside? They're pricey compared with other children's books.
Available from Kimochis stockists for $29.95 each: Not so Perfect Sandcastle, Bug Makes a Splash and Cloud's Best Worst Day Ever.
Lessons of a LAC – Lynn Jenkins

Another Motherpedia contributor, psychologist Lynn Jenkins' children's book (illustrated by Kirrili Lonergan) is a resource for all families to help them equip their children with the right approach to dealing with emotions. Lynn gives children a 'different' way to deal with their feelings of worry and anxiety and helps kids to understand that just because dangerous things might happen, it doesn't mean they will. A great read for parents and kids to share.
Available from www.macleansindies.com.au for $14.95.
Age 4+
Max the Champion – Sean Stockdale, Alex Strick, Ros Asquith

Max is sports-mad. It's all he thinks and dreams about and nothing stops him from achieving his dreams! For example, in his real school day he and his class win a football match but in his imagination, he and his friends are winning the World Cup. This book has a lively and fun approach to sport with good illustrations. It's inclusive for children with a disability as well as those without and shows how they can enjoy different sports together, covering football (soccer), rugby, athletics, cricket, diving, discus throwing and cycling.
Available from Waterstones for around $20.
The Mouse Who Ate The Moon – Petr Horacek

A gorgeous and thought-providing picture book with the added bonus of cut-outs and flaps. Little Mouse looks at the lovely, round, yellow moon and decides she'd like a slice for herself. Stepping out the next morning, she finds a perfect slice – and she can't resist a nibble. Then she has some more. And more. Soon it's all gone! Little Mouse feels terrible … has she really eaten the entire moon? Check out the author on YouTube sharing how he prepares his illustrations.
Available from Amazon for around $12.
Age 7-10 years
Barney and Barry, The Hitchhikers– Sharon Powers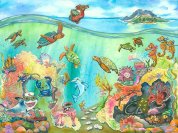 This is the first in the MySeaBuddies series of children's books from Sharon Powers. The book follows the adventures of a sea turtle named Fletcher who is satisfied with his solitary life roaming the world's oceans but is dismayed to find a pair of homeless barnacles – Barney and Barry – have chosen to attach themselves to his shell. Life takes another interesting turn when a dodo bird called Babs lands on his shell, resulting in adventures which sees a once-ordinary 'loner' turtle become a friendly, outgoing and courageous friend.
Available in-print and as an e-book from Amazon from $4 to $13.
Age 11+
Head Over Heart – Colette Victor
A story of female adolescence, friendship, family and mixed cultures through the eyes of 13-year-old Zeyneb. Highly topical, it tells the story of a modern Muslim girl in the UK staying true to herself while also finding a balance between two cultures. It's a thought-provoking and inspirational read to get tweens, teens and their friends talking about the issues it presents.
Available this coming week on Amazon and elsewhere for around $20.
Age 14+
Louder than Words – Laura Jarratt

A powerful story exploring the confusing and challenging choices that teenagers can be faced with, centred around 14-year-old Rafi who is a 'selective mute'. It's not that she hasn't got anything to say – she just doesn't say anything, but she is a keen observer of everything around her and is a very good listener. When Josie needs someone to turn to after being the victim of online bullying, Rafi is the perfect choice but they also need to protect Rafi's older brother, Silas, as he gets out of his depth.
Available in-print from Hardie Grant Books for $16.95
* * *
We've got a selection of some of these books to give away to readers. Just enter here by letting us know which book (or books) interest you the most from this list, and tell us why in 25 words or less. Competition giveaway ends on Wednesday 9th July.