Preparing a sumptuous and healthy meal can be challenging for mums, especially with the busy schedules of today's modern families.
Functional yet fun, the innovative Philips Airfryer XL (HD9240) can help busy mums serve healthier, yet still delicious family favourites with a great tasting crispy result and any excess fat drained away! With the Airfryer's patented Rapid Air technology, you can now depend on air to cook great-tasting fried food that contains up to 80% less fat.
Visit the Philips Airfryer website to access 69 delicious recipes and handy cooking tips & tricks and recipe videos. On a special ratings & review page you can see how many people already love the Philips Airfryer.
For mums on the go who are in need for more cooking inspiration, simply download the Airfryer app, from iTunes or Google Play, which has an additional 188 international recipes from fans and Philips alike, tips and tricks for guilt-free cooking and Airfryer FAQs. Below is just one example of a delicious recipe you can make with the Philips Airfryer XL.
And, in the meantime, thanks to our friends at Philips, we have one Philips Airfryer XL with a RRP of $449 to give away. The competition closes on Sunday 21st December. You can enter via the link, and make sure you check out our competitions also.
PORK TENDERLOIN WITH BELL PEPPERS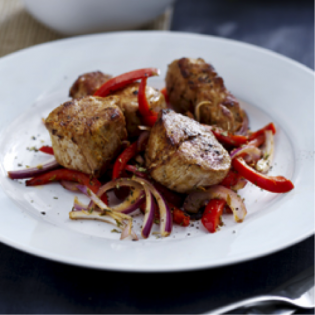 Ingredients
1 garlic clove
1 tbsp olive oil
800 g rack of lamb
Pepper & salt
75 g unsalted macadamia nuts
1 tbsp breadcrumbs (preferably homemade)
1 tbsp chopped fresh rosemary
1 egg
Method
1. Finely chop the garlic. Mix the olive oil and garlic to make garlic oil. Brush the rack of lamb with the oil and season with pepper & salt.
2. Preheat the Airfryer to 100°C.
3. Finely chop the nuts and place them into a bowl. Stir in the breadcrumbs and rosemary. Whisk the egg in another bowl.
4. To coat the lamb, dip the meat into the egg mixture, draining off any excess. Coat the lamb with the macadamia crust.
5. Put the coated lamb rack in the Airfryer basket and slide the basket into the Airfryer. Set the timer for 25 minutes. After 25 minutes, increase the temperature to 200°C and set the timer for another 5 minutes. Remove the meat and leave to rest, covered with aluminium foil, for 10 minutes before serving.