Beetle Bottoms' new range of dolls support healthy body image in children and counterbalance trends of over-sexualisation in dolls.
Studies show that poor body image in children is escalating with almost 40% of children thought to be dissatisfied with how they look.(1)

Many children's dolls put pressure on children to look and act older than they are; they are over-sexualized and introduce adult ideals to children well before they are ready.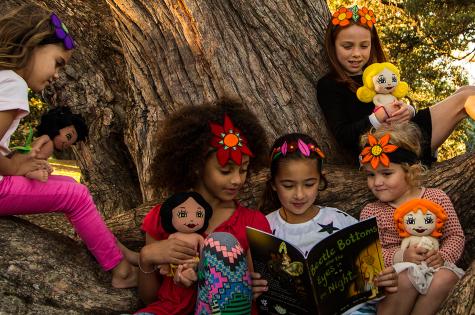 A visionary family team has created the new Beetle Bottoms range of dolls - mum Fiona Whyte, her daughters Sarah Hill and Madison Holroyd - to support a child's strong healthy body image, their aim is to 'keep kids kids' by showing it is great to be exactly who they are. For the team this means showing racial inclusivity and natural healthy children's bodies, not exaggerated, hyper sexualized adult bodies. Beetle Bottoms dolls keep childhood magic.
Beetle Bottom's fun, soft toy range includes four Beetle Bottoms characters: Pip, her best friend Hummer, her sister Petal and Pollen. Beetle Bottoms are little people that live in gardens and parks all over the world and most likely right outside children's doors.
"Children's dolls teach children about the world. They communicate what is normal, desirable and accepted," says psychology major and mother of 3 year-old Briar Rose, Sarah Hill.
"Children feel a huge pressure to be and look like the doll they played with. Many popular dolls on the market put adult pressures on children," adds Madison Holroyd. "They show unrealistic body ideals and are often sexualized well before they are ready."
The UK's Daily Mail(2) reported that, "if Barbie was a real woman she'd be forced to walk on all fours and would be physically incapable of lifting her over-sized head."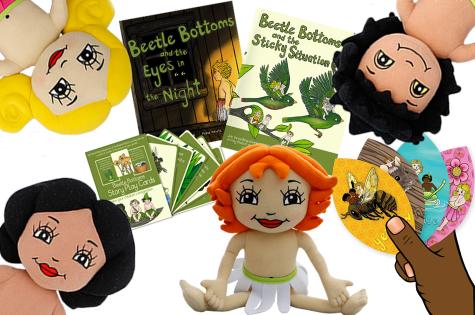 Parents and studies in Australia and the UK(3) all echo concerns about how children connect the images they receive from toys and clothing and how they feel about themselves.
Poor body image is one of thetop three issues according to a Mission Australia Survey of Young Australians (2006-13); with girls as young as five reporting weight concerns and wishing they were thinner.
"It's important for dolls to represent real children, encourage them to enjoy childhood and not race to grow up," adds Ms Hill.
"Social stereotypes are entrenched early with 3-5 year olds associating larger figure sizes with characteristics such as 'naughty and bad'," says Sarah. "It's well known that thin-idealisation encourages eating disorders and body dissatisfaction which fosters low self esteem."
"We need dolls that empower our children to be themselves and believe in themselves," adds Ms Holroyd.
"Beetle Bottoms breaks the mold by making dolls that represent all children and are for all children," says Fiona Whyte, a celebrated NZ artist who creates all the Beetle Bottoms illustrations and images.
"We also see that not all races are adequately represented in children's toys. Our family is multi-racial family and we want to address that."
"It is time for all of us to learn to celebrate our differences, and this starts in childhood," she says. "This is why we have developed our range of Beetle Bottoms dolls to represent healthy, natural and robust children."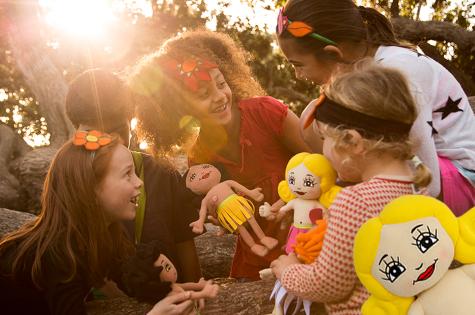 The Beetle Bottoms dolls join the range that includes books, games and stunning wall decals.
THE PRIZE
Get a chance to win a prize package from Beetle Bottoms by joining below!
Dolls
1. Pip Plush Doll
2. Petal Plush Doll
3. Pollen Plush Doll
4. Hummer Plush Doll
Story books
5. Beetle Bottoms and the Sticky Situation
6. Beetle Bottoms and the Eyes in the Night
Extra
7. Colour Memory & Snap Game
8. Hummer and Pip Wall Decal
9. Story Telling Cards

Total prize pack value: $199

Win a prize pack from Beetle Bottoms for your child's strong healthy body image
BEETLE BOTTOMS YOUTUBE CHANNEL
https://www.youtube.com/user/TheBeatleBottoms
Should we be giving such grown up, sexualized dolls to our impressionable kids?
Kids believe in true beauty and we want to keep it that way
Why it is time for kids dolls show healthy achievable bodies
What are dolls teaching your children?
Kids dolls to represent real children, and keep childhood for kids
Reference: