Memories! They can be good or bad, happy or sad, inspiring or just plain depressing. Some memories are worth keeping, while others need to be deleted from one's "memory-bank" forever. The removal of unwanted recollections, however, is often easier said than done.
Yet there is a way to conquer bad memories - and doing so is good for your health.
Memories of the Vietnam War
There was a time when each ANZAC Day reminded me of being shot at, bombed, flown over enemy territory in a helicopter gunship, and performing on a stage where Australian singer Cathy Wayne had been shot dead just days earlier. Remembrance ceremonies also prompted memories of highly dangerous travel to American military and fire bases all over South Vietnam, singing on the back of trucks in cleared patches of jungle, and on crude open air stages such as Freedom Hill in the northern city of Da Nang.
Although my dark memories of singing for troops in the Vietnam War may have dimmed over time, I can still recall the gruelling schedule of performing with my brother in 133 shows in 120 days, and having to live in a simple Vietnamese village. As a young woman it was my first time away from the shelter of my family, and the peaceful suburbs of Melbourne.
While my memories are not as profound as the soldiers who later suffered psychological trauma, depression and even suicidal thoughts, nonetheless they had an impact on me. For the first two weeks after returning home, I simply lay on my mother's couch unable to get up or speak about Vietnam. I was very underweight, physically exhausted and mentally traumatised by the awful memories of war, death, racial tension, and 'culture shock'.
Conquering bad memories
I was helped back to mental and physical health through the loving support of my family. Their tender care, which included my mother's sincere prayer for my mental wellbeing, really had a restorative effect on me. I was gradually able to conquer the bad memories, regain my confidence and calmness, and cope with life again.
So how can you, and others affected by bad memories, do this too?
Stop trying to control things all by yourself. Realise that you aren't responsible for everything that happens in life.
Let others comfort you. Draw on their courage and strength of spirit.
Allow spiritual thinking to reconnect you to the world and help you feel part of a greater whole.
Refuse to replay bad memories over in your mind. If they try to return, (1) shut them out, and (2) immediately replace them with constructive, happy, healthy, good memories.
Have faith that dark thoughts can be conquered.
Kindle the flame of hopefulness that exists within your thinking.
Believe that it's possible for everyone to live a normal and fulfilling life, free from bad memories.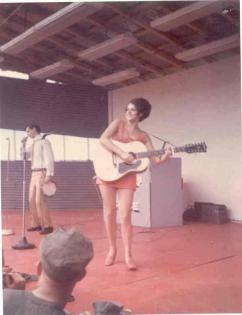 Above: Beverly singing with her brother as the Temple Two of 'Sugar and Spice' at Freedom Hill, Da Nang, Vietnam